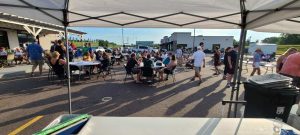 Happy Whisk(e)y Wednesday everyone! Last week was eventful, and a huge success. I owe everyone that helped and attended a huge thank you for their roles in making things run smoothly, and for creating such an invigorating atmosphere. Our focus this week is on whisk(e)y pairings with food, our new food menu in the 3.0 Bar that is. Half priced whisk(e)y flights all day, as well as $1 off draft beer and 25% off glasses of wine from 4pm-6pm during happy hour. Check out below for all the details about this week's featured whiskies.
Wrap up of Last Week
First off, a very special thank you to everyone that attended our OFC Tasting, Blanton's Release Event, and Scottish Highland Games with Scotch and Irish Whisk(e)y tasting events last week. Wednesday through Saturday was a marathon for the team as we hosted several large gatherings in the parking lot off the 3.0 Bar patio, and I can't say thank you enough to everyone for the help. Terry, Skip, Chris, Ron, and Markus all played an integral role in making sure the food on Friday was ready and delicious. They spent the entire day out in the heat and sun getting everything prepped, and stuck around after to help me clean up as well. The team at JJ's did a pretty fantastic job, putting in lots of extra hours to clean up and prep for the next day. Overall, I was very pleased with the results of each of our different events and tasting experiences. We hope you found them equally as enjoyable. 
Featured Whiskies
This week for featured whiskies, I'm putting an emphasis on food and whisk(e)y pairings. We've got a really great new food menu in the 3.0 Bar and some stellar whiskies to match it. Try any of these whiskies as a single or double pour, or put all four in a flight for half price.
First up is our Shrimp Risotto paired with Glenlivet The Enigma Scotch whisky. The palates on these two items are very different, but I think that is what makes them work so well together. The soft, creamy, and rich texture and taste of the shrimp risotto is complimented well by The Enigma's rich honey and citrus notes, with underlying smokiness and a touch of wood. It's like enjoying a glass of red wine with your pasta.
Next, we have our Mandarin Chicken Salad paired with Booker's Granny's Batch. When I initially tried the first quarter 2020 release of Booker's, a salad like this one was all that I could think about. It's citrus notes were that of mandarin oranges, the nuttiness on the back palate reminded me of fresh almonds, and the tanginess to it reminded me of a sweet vinaigrette salad dressing. I think that this combo is a homerun, with the whiskey accentuating the flavor profile of the salad, and the salad perfectly enhancing the profile of the whiskey.
Our next food/whiskey combo is the 3.0 Cubano and Knob Creek Store Pick Single Barrel Rye #2. With great balance of pepper spice and strong oak character, Knob Creek Single Barrel Rye goes incredibly well with the natural sweetness of the 3.0 Cubano. Our house aioli sauce is to die for on the Cubano, and a higher proof whiskey doesn't drink so hot after letting the slightly fatty character of the pork from the sandwich coat the inside of the mouth.
Finally, the Brisket Nachos paired with Michter's Small Batch Bourbon. If you remember back a few weeks, I fell in love with this pour at my parents house and haven't stopped thinking about it since. When we decided on nachos as one of our staples for the new bar food menu, we knew we needed to have something stellar. Brisket was the right choice, and Kaleb has found a recipe that met and exceeded our expectations, so it's only right that we have a whiskey option to match it. I chose the Michter's Small Batch Bourbon because the candied sweetness, medium body, and long, lingering finish go well with something that is bold in itself like the nachos are. The Michter's isn't overly complex, but it carries vanilla and caramel like it's no ones business, and it works quite well with the nachos that have a lot of changing and competing flavors going on.
Where and How to Enjoy Whisk(e)y Wednesday
We'll host everything on Zoom and Facebook beginning at 6:00pm this week. It will be a tasting experience as I will do a flight of the four whiskies with you all and compare notes that we get. I'm not sure if I will be sampling the food at the same time, so it might  be a fun experience to taste and compare with food and without. You can participate from home by getting one of the meals to-go and also get a 2oz pour of any of the whiskies to enjoy at home as well. Cost for to-go pours is 80% of the "Price Double" listed at www.jjswine.com/the-list for that whiskey, plus a $3.00 deposit for the glassware. We've got new JJ's Glencairns that work fantastic to enjoy your neat pours out of and they're available for $10/glass. 
It's also encouraged to join us in the 3.0 Bar and enjoy your food and drink in our space. We really want to show off our new menu, and we also believe you'll find our space safe and sanitized. Did I mention that the patio is also open, so grab a cigar while you're here and relax for a bit. I plan to sit on the patio for the show tonight and am always happy to be joined by anyone that wants to engage in conversation during Whisk(e)y Wednesday with Zac.
Bottle Raffle
We are again at a low for allocated bottles, but we do have some of the library collection whiskies that we tasted on Friday that are available in this week's raffle. Bottles include Buffalo Trace "Have You Met Brad?", 1792 5th Ed., Knob Creek 13th Ed., and Four Roses OESQ Jan. 2020 pick for store pick bottles.  Tickets are going to work a little differently since we don't have a featured flight. You'll get one ticket for stopping in or emailing in for an entry. If you order a single or double pour with a meal today, either to stay or to-go, you will get 2 tickets. If you get a flight of the 4, you will get 2 tickets. The maximum number of entries will be 2 this week.
Whiskey With Z
Last week was incredible for me in a lot of ways, but the one bummer was that in the midst of all of the events I didn't take enough time to sit down and relax with many good pours of whisk(e)y for myself. I got a couple in on Friday after the event, but other than that there wasn't much. What I did have though was quite good. On Friday afternoon, I snuck out to check on the smoked meats and enjoyed a smoked Whiskey Sour with Terry and Skip. I haven't always been a big proponent of smoked cocktails because I've always lost interest once the smoke smell and flavor disappears. This was the first time that I had a drink that kept the smokiness throughout the entirety of the drink. The egg white froth on top seemed to trap the aroma and flavor profile and I was impressed. About half way through the Blanton's Release Event I had my second pour of the day with some of our Jack Daniel's Barrel Proof Single Barrel #2. I was sad to see that bottle end up empty before the event was over. And finally, as we cleaned up, I finished my evening with a pour of Old Forester 1920. It was the perfect ending to a great night.
That's it for this week. We hope to see you all at some point this week. Cheers!