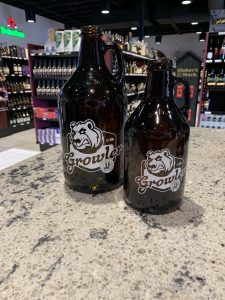 Hey all, hoping you are all enjoying the decent weather we are having and enjoying some great beers that are hitting the shelves. Stop in and check out what we have stashed in our very cold-temperatured cooler that was just fully restocked with all the good stuff! Also tomorrow is beer Friday, so that means 30% off the list price of our sixteen tap beers. So go to your garage and dust off those growlers you've been holding onto and get them filled by the best on the block!
New Beers!!
Ben's Brewing Mango Wheat Ale (Tap)

Ben's Brewing Cold Brew Blonde Ale (Tap)

Ben's Brewing Salty Watermelon Gose (Tap)

Ben's Brewing Fifteen Double IPA (Tap)
Joe's Week 
On the drive up to the lake on Friday we made a pit stop at Drekker's Brewhalla. It is very impressive what they turned the building into. I recommend anyone in the area to stop in and check the place out. A trip to the Duluth area to visit Gooseberry State Park and some other scenery meant a quick stop into Castle Danger Brewing. Their facility in Two Harbors is magnificent. Of course being that close to Wisconsin meant we had to cross over the bridge to search for some New Glarus, and it paid off by snagging some Strawberry Rhubarb along with Serendipity.
As some in the beer community might know and had read about last week, one of our own is dealing with some health troubles. Tim Gjoraas has been a valued member of the Washington High School staff for over 20 years. He has also spent the last 15 years or so serving up beers to us at Monks on Sundays. To say he is a craft beer enthusiast would be quite an understatement. The fundraising event is next Friday, July 31st, at Newday Church in Harrisburg located at 27365 472nd Street. Bring something to drink, and maybe even a specialty/fun/interesting beer to leave for Tim to enjoy. There should be some small snacks but feel free to bring more, along with a lawn chair.  A free-will offering will be available to make to the Tim Gjoraas F&ck That F&cking Cancer Fund.  Any help will be greatly appreciated!
Josh's Week
This last week I stuck to my roots, drinking from home. And I tried some really fantastic beers, sticking closer to the IPA's this week. So to start I dug into Lupulin's Fruitsmack- Blood Orange Creamsicle. I was a little nervous about the creamsicle portion but it actually fit in very nicely with the hoppiness of this beer. Next was Brewing Projekts Dare Might Things IPA from last month. I love the fact that it is a New England-Style that is smooth and doesn't hide from the flavors. And finally I was super excited to try this new beer from last week, The Fair State Double Universe DIPA. I already love the Mirror Universe IPA and this was two-times just as good, if not better. I am jumping back and forth between the New England Style and the super hazy stuff but man I will not lie, HOPS ARE GREAT!
This weekend I will be heading up to the lake cabin with some family members and I will be floating in the middle of the lake enjoying the rays and the beers I got stashed to drink. Stay safe out there everyone!
Until Next Time…
We can't wait to see what new beers are to come in the upcoming weeks. We can't wait to see all your faces regularly again. So stay safe and make smart decisions! ALSO, if you are looking for Oktoberfest beers, THEY ARE HERE! So come and get them before they disappear before October actually comes.
Cheers and Beers

Joe and Josh