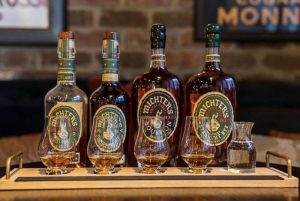 Happy Whisk(e)y Wednesday everyone! Raven Fuller, Brand Ambassador for Michter's joins us this week for our featured flight. Lot's of new whiskies hit the shelf with more coming soon. Bottle raffle offerings are slim this week, but worth it. Later this week I will be venturing back down to Kansas City to see my parents again, and I've got a couple special bottles to pick up while I'm there.
Featured Flight
I've been wanting to line up this week's featured flight for some time now, but we just couldn't quite get it pulled off until now. Joining us this week is special guest, Raven Fuller, Brand Ambassador for Michter's. She'll be guiding us on our tasting journey through Michter's American Whiskey, Michter's Small Batch Bourbon, Michter's Sour Mash, and Michter's 10 Year Single Barrel Rye. I'm excited for this week's tasting as I believe the Michter's brand is one that often gets overlooked for having high quality products at a very affordable price. They are becoming harder and harder to find, but they are definitely worth picking up and having in the stash for an easy sipper.
One of my goals with this tasting is to hopefully find out what we need to do in order to get some of the Michter's 20 and 25 Year Old juice that is hitting the market. As far as I am aware, South Dakota hasn't seen any of their older expressions, and I would love to change that. I am optimistic that we can demonstrate our love for the product, and that with some continued conversation we can find a way to get some into the state.
JJ's Gives Back/Bottle Raffle
Remember back in the day when we used to collect all of the tips in the 3.0 Bar on Wednesdays to donate to charity? We do, and we miss the good that we were able to do with that money and we want to get back to it. The scope of Whisk(e)y Wednesday has changed a bit since then, and I don't get to bartend like I used to, so taking the tips from our hardworking bartending staff doesn't quite seem fair. We have a solution though, and it's going to be tied to our weekly allocated bottle raffle.
The Make-A-Wish Foundation is the center of our focus for the month of August, and we have partnered with Buffalo Trace Distillery to help us raise funds by releasing a special single barrel of Blanton's for $100/bottle plus tax. $50 will be donated to Make-A-Wish for each bottle sold. Each week we will release a set number of bottles to be drawn for during the weekly bottle raffle. You can register one ticket per customer per week for the Blanton's drawing, and you must purchase the bottle if drawn. This ticket will be separate from the other allocated bottle raffle drawing tickets that you get for emailing myself or stopping in for a flight. The raffle will be held at it's usual time of 6:45 p.m., but you DO NOT need to be present online or in person when drawn for the Blanton's. If you wish to participate in the raffle for our other allocated items then you must be present at the time of drawing in order to select your bottle. This week in our allocation raffle we have Old Forester 1910, Jim Beam Old Tub Bourbon, Wild Turkey Rare Breed Rye, Michter's Sour Mash, and Michter's 10 Year Single Barrel Rye. To go along with that, we will be releasing EIGHTEEN bottles of JJ's Store Pick Single Barrel Blanton's.
There's a lot of info there, so if you're unsure or have questions about how it will work, please email me at zac@jjswine.com. You can also email me to enter you in both raffles, with one ticket going into the Blanton's raffle and one going into our other allocated raffle.
New Whiskies
The whisk(e)y gods have been good to us lately in the form of new whiskies to grace the shelves. Imported whiskies have seen the largest uptick of new items with labels such as The Whistler Oloroso Sherry Cask finished Irish Whiskey, The Whistler Double Cask Irish Whiskey, Hatozaki Finest Japanese Whisky, Hatozaki Small Batch Japanese Whisky, and Wiser's Old-Fashioned. Each of these products are brand new items to the South Dakota market, and come in at very affordable prices. I personally have tried the Wiser's and both of the Hatozaki's. The Wiser's was impressive, as it wasn't too sweet or have too much of an alcohol bite. Many times with the premixed items like that I worry that the sugar content will be extremely high and I'll end up just drinking syrup, but that wasn't the case at all. With the Hatozaki whiskies, there was an herbal/floral note to the nose and palate that made it light, delicate, and rich with flavor. Cereal grain and fruit are the most noticeable aromas and flavors, and I found both whiskies to be quite delectable. 
On the domestic side, Old Grand-Dad Bottled-in-Bond, Old Tub, and Wild Turkey Rare Breed Rye are all hitting the shelves Wednesday morning, and I know I'm pretty jacked up about them. I'm a big fan of anything coming from Jim Beam Distillery right now, so I'm excited to be able to add a bargain drinker in the Old Grand-Dad BiB to my collection. The Old Tub and Wild Turkey Rare Breed Rye will be allocated items, so expect to see these in the weekly bottle raffle. Maker's Mark recently released a statement about Maker's 46 Cask Strength being released outside the distillery for retail purchase, and we are awaiting the official announcement about it making it to South Dakota. Elijah Craig Barrel Proof Batch B520 is expected to land here shortly, and we're hopeful that with it will also be the Elijah Craig Toasted Barrel Finish which is scheduled for release to wholesale in September. 
Whiskey With Z
I am making another trip down to see my parents in Kansas City this weekend and am really looking forward to the couple days off that it will give me. The last few weeks have been quite busy, and my body is ready for a few days of rest. I always appreciate the time I get to spend with my family, and this time will be no exception. Kenadi isn't making the trip with me, but she'll be there in spirit.
Last week was very uneventful for me in terms of drinking whisk(e)y. It might have been the most disappointing week I've had since I started working here actually. My one whisk(e)y drink was a triple whiskey sour made with Old Scout Single Barrel Bourbon on Saturday evening. Other than that, my only other pours of whisk(e)y came last Wednesday during the Live Broadcast. I promise this week will be better, and I'll be much more active on my Instagram @WhiskeyWithZ. On Thursday, I'll be posting a video of me making a Whiskey Sour featuring Gentleman Jack for the Gentleman Jack Whiskey Sour Classic Competition.
That's it for this week. We look forward to seeing you all soon. Cheers!