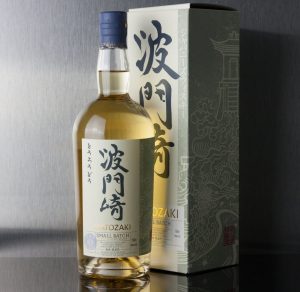 Happy Whisk(e)y Wednesday everyone! Our featured flight highlights several different single malts and blends from Japan as we broaden our horizons across the Pacific Ocean. You'll notice some new faces in the bar, and we're excited to introduce you to our new team members. This week's bottle raffle will include 12 more bottles of Blanton's from our Charity Barrel selection, as well as some other great allocated products. I had an adventurous weekend that included lots of heavy lifting, and to pat myself on the back, I enjoyed some great bargain brands that have been hard to find.
Featured Flight
A couple weeks back, we had some pretty stellar new Japanese whiskies make their way into the store, and seeing that we haven't focused on any Japanese whiskies for a while I thought this week would be a perfect chance to explore them further. As one of the fastest growing categories in whisk(e)y right now, Japanese made whiskies have become increasingly popular with single malt Scotch drinkers, and bourbon drinkers that are wanting to branch into single malt whiskies without all of the peat that tends to come with Scottish made products. Japanese whisky is distilled and produced much in the same manner as Scotch, with most being pot distilled, most consisting of a mashbill that is barley based, and most aging occurs in a used barrel to produce a softer, lighter style whisky that is still jam packed with complex flavors. I will admit that this is still a category that I am relatively green in, as I don't drink much other than bourbon and rye, but I have tried all 11 that we carry, and I enjoy most of them. They're fun to play around with and taste through, and for only $15.50, the flight is a great way to open yourself up to something new. This week's featured flight will consist of Hatozaki Small Batch, Mars IWAI Tradition, Kamiki Maltage, and Ichiros Chichibu Whisky, with all pours being available to enjoy here in the 3.0 Bar, or to take home as a kit to-go.
New Faces
We've added several new team members to our JJ's crew, and we have a few more that will be joining us in the next few weeks. Our food program in the 3.0 Bar has really taken off, and we want to make sure that we have enough bodies to meet all of your needs. Like any job, there's a learning curve at the beginning, but we have brought our new team members in because we believe they are smart, hard working, and capable of learning our store and business model, while also recognizing that our most important factor for success is making sure that you, our beloved customer, is being taken care of at all times. So say hello to Maria, Ted, Jeremy, Troy, and Sydney and get to know them, because we certainly plan to have them around for a while.
Bottle Raffle/JJ's Gives Back
Last week, we started getting back into our charitable component of Whisk(e)y Wednesday by raffling off bottles of Blanton's Single Barrel Bourbon. For those that didn't catch it in my last post, we partnered with Buffalo Trace Distillery to bring a charitable single barrel into the Sioux Falls market. The original plan was to sell all of the bottles at Hot Harley Nights to raise money for Make-A-Wish Foundation, but when that got cancelled we had to shake up our plans. What we settled on was to release anywhere from 6-18 bottles of this specially selected barrel each week until it runs out. Bottles are priced at $100, with $50 of that going to Make-A-Wish for the month of August. This raffle is separate from our regular weekly allocated bottle raffle, and carries the stipulation that if you register and your ticket is drawn you must purchase the bottle. You can donate above the $100 price with all additional funds going to Make-A-Wish. To enter, please stop into the store on Wednesday for a ticket, or email me at zac@jjswine.com and I will enter your name. To avoid confusion and to better keep track of who is entered, please email or stop in each Wednesday to get registered for that week's raffle. We will not be rolling names over to the next week if you are not selected.
Our regular raffle is also going on, and this week's selection includes Old Tub Bourbon, Eagle Rare, Angel's Envy Rye, and some Woodford Reserve Kentucky Derby Edition Bottles. Just like all other weeks, you get one ticket for stopping in to the store and asking for one, or by emailing me to drop your name in. You get up to an additional 3 tickets if you purchase the featured flight for the week. 
Both drawings will occur at 6:45pm and will be broadcast on Facebook Live so you can tune in live. For Blanton's, you will not need to be attending live as you are tied to that bottle if your name is drawn. For our regular allocated raffle, you will need to be tuned in live in order to select which bottle you would like.
Whiskey With Z
I traveled south this weekend, heading to see my parents in Kansas. I had a few bottles to pick up while I was down there, but I also traveled with a few to leave down there. I took with me an Old Grand-Dad Bottled-in-Bond along with a Buffalo Trace Single Barrel #9. A few weeks back, I had my sister snag me 3 bottles of Baker's 7 Year Small Batch (the original Baker's releases), so I was pretty happy to be able to pick those up to bring back to Sioux Falls. I cracked the Old Grand-Dad while I was down there and enjoyed a couple pours on Sunday evening as we sat around and caught up. It had the typical Beam nuttiness to it, with a fair amount of vanilla and oak spice on the back end. It finished long, and lingered for quite some time. I was sad to leave it at my parents because I thoroughly enjoyed it, but I know a place where I can get another at a pretty good price. 
I never got around to making the video to submit to Jack Daniel's for their Gentleman Jack Whiskey Sour competition, and I'm pretty disappointed in myself for not getting it done. It really has become my cocktail of choice, and even though I likely would not have won, it would have been fun to get the competitive juices flowing for old times sake. I guess I will have to wait until next year, and in the meantime I'll work on perfecting the drink.
Kenadi and I are a little over a month away from tying the knot and want to thank everyone that has expressed an interest in our impending nuptials. Our excitement is building, even though the day itself won't play out as originally planned. Life in the world of COVID has been strange, but we are adapting and making the most of it. I'm plugging this now because the original plan was to open the wedding up for our friends from the store, both customers and coworkers, so they could come enjoy some time with us as well, but our venue has a capacity restriction of 150 people. Instead, I want to invite everyone to our rehearsal dinner that will be held in the north parking lot just off the 3.0 Bar patio on Friday, September 25th. Our hope is that you'll stop by for a couple minutes and say hello. You all have played an integral part in our relationship development whether you knew it or not. We want to say hello and thank you as a couple, and I couldn't imagine a better place to do it.
That's all that I have for this week. Keep tagging me in your dram pours and great bottle finds @whiskeywithz on Instagram. Stay safe out there, and stay enjoying the good stuff. Cheers!