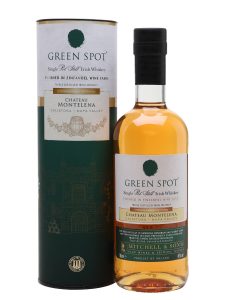 Happy Whisk(e)y Wednesday everyone! This week's featured flight highlights Irish Whiskey, with an emphasis on secondary cask finishing. Buffalo Trace products are the hot items in this week's bottle raffle, and we have twelve more bottles of Blanton's to raffle off to raise money for Make-A-Wish Foundation. Some new whiskies, as well as some that have been gone for a while, launched in the last week. My dog destroyed my couch and I decided to drink about it. All of that and more below!
Featured Flight
The last month or so has brought in some really stellar new Irish whiskies from a few different producers. Since St. Patrick's Day, we haven't done much with Irish whiskies, but I'm excited to introduce you all in this week's featured flight. The two newest offerings to our shelves come from Boann Distillery in the form of The Whistler Double Oaked and The Whistler Olorosso Sherry Cask Finish. These two new whiskies are merely a small showing of everything that is available from Boann Distillery, but I think that you will find them both to represent the brand well. To fill out the flight, two different cask finished variations of Green Spot Irish Whiskey. The Château Léoville Barton cask finish takes advantage of a shared Irish heritage between the wine maker and distiller, producing the first ever Irish single pot still whisky to ever be finished in Bordeaux casks. Green Spot Chateau Montelena finishes in Zinfandel barrels from Napa Valley, California. Much like the Château Léoville Barton, the Chateau Montelena winery capitilizes on the strong Irish tradition of the family who heads up the winery.
Stop in to grab a kit to-go, or join me on the patio at 6:00 p.m. We'll broadcast on Zoom for those that get a kit to-go and Facebook Live for those that just want to tune in. The flight this week is $14.
Bottle Raffle/JJ's Gives Back
Many of you I am sure saw all of the allocated Buffalo Trace products that made their way out into the wild at the end of last week. We did not put ours out and instead held it for this week's raffle. To enter, stop in to get a ticket and maybe a bottle or two, or send me an email at zac@jjswine.com by 5:30 p.m. You will receive one ticket for inquiring, and additional tickets for purchasing the featured flight. Available this week, Stagg Jr., E.H. Taylor Small Batch, Sazerac 6 Year Rye, and Old Tub Bourbon.
Don't forget about our weekly Blanton's raffle as we again have twelve bottles to draw for. We have a couple weeks left in August to raise money for Make-A-Wish Foundation, and you can help us and land yourself a great bottle of bourbon. Each one of the bottles available was selected by Tom and myself back in January in anticipation of Hot Harley Nights 25th Anniversary. The plan was to auction off each bottle as a fundraiser, but we had to change our plans. Instead, we are raffling off bottles for $100 with $50 of each bottle sold going to Make-A-Wish. To enter, please stop into the store or email me at zac@jjswine.com. Please denote which raffle you would like to be entered in. You can enter both, but can only be entered once per week in the Blanton's raffle and are tied to that bottle if your ticket is drawn.
Both raffles will occur at 6:45 p.m. You must be present on the Live Stream for the Allocated Raffle in order to select a bottle.
New Whiskies
A few new arrivals last week, as well as the return Crown Peach, have kept us busy filling shelves. For you peach whisk(e)y lovers, Rich and Rare Peach and Bird Dog Peach are now both available in a 1.75L, as well as Bird Dog Blackberry. For traditional whisk(e)y fans, Belfour Bourbon and Belfour Rye are now available. We'll get these on a Whisk(e)y Wednesday featured flight within the next few weeks, but for you hockey and whiskey fans out there, check out www.belfourspirits.com for more information about the cool story behind these whiskies.
Whiskey With Z
So I have a confession to make, I don't only drink aged spirits. Sometimes I dabbled with a seltzer or two. My go to is the Truly Lemonade, but they've been pretty hard to come by lately so I've been doing some experimenting. Last week, I tried the Corona Seltzers, and while I liked them, they can't replace the thirst quenching feel I get from the Truly's. It's sad, I know, and sometimes I question if I can call myself a whisk(e)y drinker, but I think too much of any one thing will spoil it for you, so for now, I'll keep mixing in the occasional seltzer.
Now don't think I didn't drink whisk(e)y last week. I certainly did, especially after Sampson got a hold of the couch cushions. FInding couch stuffing all over the house sure did make me want something strong, so I poured up some Jack Daniel's Barrel Proof JJ's Store Pick #1. I took some time to reflect, and while I wanted to be mad at Sammy, I gave up after an hour because he's just too damn cute. Other than that, I drank a few Redwood Empire and Squirt while Kenadi and I sat around, eventually killing the bottle. Overall, a pretty quiet week.
That's it for this week's Whisk(e)y Wednesday. Make sure to catch me on Instagram @WhiskeyWithZ, or feel free to send me an email. Exciting news coming in the near future about some upcoming Store Pick Single Barrels, so stay tuned. Cheers!