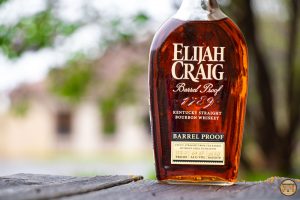 Happy Whisk(e)y Wednesday everyone! This week's featured flight is a primer for next week, with an emphasis on cask strength bourbons. We're putting the finishing touches on the next round of Store Pick Single Barrels, but we need your help. Our allocated bottle raffle has lots of new whiskies this week, and we have another 18 bottles of Blanton's Charity Barrel to draw for this evening. Last week was a great week for me personally as I indulged in several high quality pours. All that and more below!
Featured Flight
A week ago, I thought we would be making a single barrel selection of Barrell Bourbon tonight, but I jumped the gun and schedules didn't match up to make it happen. Fret not, we will use this week to prep the palate for cask strength bourbon by drinking full proof bourbon. I've selected some really good bottles, including a couple that are in tonight's allocated raffle. Maker's Mark Cask Strength, Stagg Jr., E.H. Taylor Barrel Proof, and Elijah Craig Barrel Proof Batch B520 make up our featured flight for $15 plus $3 glass deposit if taking it home. We'll start the live stream on the patio at 6:00pm, with the bottle raffle to occur at 6:45pm.
Single Barrel Selections
With our trip to Kentucky in early September postponed until sometime next year, we have to get creative with the Store Single Barrel Selections. We're doing something we previously haven't liked to do, taste through sample kits. Part of tasting through the sample kits though is that you have a pretty good amount of whiskey to try. Probably too much for just two people. We want to invite some of you in to taste with us and help us select this round of barrels which should be arriving just in time for the holidays. I'll discuss on the stream tonight the barrels we're looking to select and how to get in on selecting them.
We'll live stream the tasting with an ambassador on Facebook and Zoom, so you all get a chance to see what it's like to select a single barrel of bourbon. Don't worry if you aren't helping to select, you'll still be able to get a featured flight of 4 whiskies from the distillery we're selecting from. It'll be a fun new take on Whisk(e)y Wednesday as the dog days of summer begin to wind down.
Allocated Raffle
This week's allocated raffle has some awesome new stuff in it from many of the major Kentucky distilleries. From Jim Beam, we have Old Tub. Buffalo Trace brings us Stagg Jr., Sazerac 6 Year, E.H. Taylor Small Batch, and E.H. Taylor Barrel Proof. Finally, the new Belle Meade Cask Strengthhas finally made it to the South Dakota Market. To enter, stop in and grab a flight for 4 tickets, or just send me an email at zac@jjswine.com and I'll drop one in for you. This raffle is separate from our Blanton's Raffle. If your name is drawn and you select a bottle, you have two weeks to pay for it and pick it up before it is placed in the raffle again.
Blanton's Raffle
This week is the last week for all Blanton's Charity Barrel drawings to go to Make-A-Wish Foundation. There will be 18 names drawn this week, and just as previous weeks, if your name is drawn, you are tied to that bottle. We ask that you please make plans to pick the bottle up within two weeks of the drawing. Bottles are $100, with $50 going to Make-A-Wish Foundation. So far, we have raised over $1500 this month, and can't thank you all enough for your donations and for participating in this fundraiser.
Van Winkle Allocation List
I haven't talked about the allocation list for a while, and the season for allocated releases is fast approaching. For those of you that have been participating in this for a while, hopefully you know how we handle allocated bourbons, but here's a refresher. We have an allocation list that tracks several factors of your purchases with us. The most important factor is how many Store Pick Single Barrel purchases you have made throughout your shopping history, as each bottle purchased rewards you with an additional 50, 100, or 150 points depending on the price of the bottle. If you're not sure whether you're on the list or not, just ask and we can look at your VIP account and make sure you are. 
Whiskey With Z
I had a great week of pours last week, and officially counted down to one month remaining before Kenadi and I are officially married. It was time to finally crack open my bottle of Store Pick Eagle Rare, and it made my whole week on Thursday night. Kenadi and I wandered out to Skip's on Saturday night to enjoy some great food and drink. I had brought out a bottle of Smoke Wagon that found its way around the table, along with Skip's bottle of Booker's Granny's Batch. It was an awesome time getting to enjoy great company.
While I love to enjoy my bourbon neat and be a bit of a snob, sometimes I like to kick back with something light and sweet. One of my favorites: bourbon, Sprite, and pineapple juice. I fill a big mason jar with ice, 2oz of Old Forester Signature, 12oz of Sprite, and a splash of pineapple juice. That's what I did last night as Kenadi and I sat down and talked about her new job. It was the perfect way to end a hot, busy day.
That's it for this week, we hope to see you all soon. Cheers!