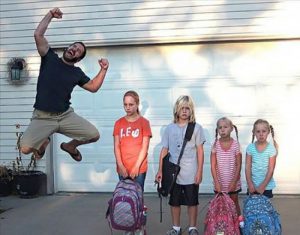 Hey all, we hope you guys are having a great August because September is sure creeping its way closer. I'm sure you are all busy sending your kiddos to school and finally getting a chance to get out more. Well, we would love it if you would get out and come on down to JJ's and grab some cold beer.
New Beers!!!
Founders 2018 KBS (tap)

Woodgrain Nap Culture: Rainbow Sherbet (tap)

Zipline Haze Phrase IPA (tap)
Come on in and check out the selection of Oktoberfest beers we have as there are just way too many to list right now!
Josh's Week
It's been a weird weird week for me as I've started my process of getting ready to student-teach. The protocols and precautions being taken by us teachers is enough to make you want to have your head explode. But for me, just gives me an excuse to crack a cold beer after the day. This past weekend, some coworkers and I got together to just chill and hang out. While we were there, I tried a coworker's Brau Brothers Moo Joos Tiramisu. I think like most new beers you're intrigued by the first few flavors that make you want more and by the end you just kind of wish you hadn't kept going. That's what happened with this one. I know that Joe has mentioned this one last week to me and I had to try it and let me tell you, Brewing Projekt Cowabunga Fruited Gose is DAMN good. The fruited flavors mixed with the hint of sea salt is magical on the taste buds. And last night, I dug out an older favorite that I've been holding onto, White Elm's PB Mood. Just a nice dark beer with peanut butter taste like no other and I was feeling like it was a good day to crack the last of that 4-pack open. 
Joe's Week
Holy smokes, we are already at the tail end of August! For a lot of you, that means you either have kids starting/returning to school or you are an underpaid and under-appreciated educator. I'll tip my cap and raise my glass to those of you helping guide today's youth as that is about as an important of a profession as there is.
Last Friday was a rare "early" shift for me at JJ's, which meant I got to sneak out shortly after 6 as the bar was filled with people enjoying Kaleb's delectable dishes, but not before I filled too many growlers to keep count as you all smartly took advantage of our discounted growler pricing on Friday's. Once out, I swung down to Covert Artisan Ales for Dan's birthday celebration. If you follow them on social, you know they were celebrating all week leading up to Dan's 40th birthday on Friday. He's starting to show a few gray hairs but can still play a round of GoldenTee as good as the best of them! The new beers they introduced during the week were Vajazzled, a mixed fermentation ale mashed with juniper berries, refermented with raspberries and conditioned with Madagascar vanilla beans. Along with that, their Pillow Fort series: No Bake, an imperial pastry stout aged with toasted coconut, peanut flour, cocoa nibs and a blend of rye whiskey and rum barrel-aged cold press coffee
Until Next Time…
We know that you are excited to get your kids back into school. And we know that some of you are a bit anxious to see what will happen next. Just know that we are hoping the best for you and your families in this time of COVID and uncertainty.
Cheers and Beers 
Joe and Josh