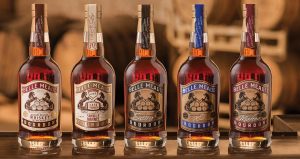 Happy whisk(e)y Wednesday everyone. My sample kit from Bourbon Spirits still didn't arrive, so we're going to yet another back up plan. We're highlighting some stellar Tennessee whiskies including Belle Meade Cask Strength. Our allocated raffle is Beam heavy with lots of new releases, and our Blanton's raffle will have 18 bottles to draw for, with proceeds going to Teddy Bear Den of Sioux Falls. It's officially wedding month, and crunch time is here as Kenadi and I wrap up final plans. And last week I drank a lot of whiskey, including several pours that were brand new to me. Check out below for all the details.
Featured Flight
I know I've been building up this Barrell Bourbon single barrel selection for a couple weeks, and believe me when I say I'm disappointed and frustrated that I can't bring it to you today. I promise it is coming, as well as a selection kit of Wyoming Whiskey, Balcones True Blue, and two selections of Knob Creek Bourbon. We have an opportunity to select a WhistlePig 15 Year Single Barrel as well, but I want to get a feel for all of your interests in it before we commit to something of that price caliber.
Last week, we tasted through several cask strength offerings to prepare ourselves for the impending Barrell Bourbon Cask Strength selection. So as not to just repeat last week, but still keeping with the theme of warming up for the selection, we're tasting through Tennessee whiskies, as our Barrell selection will be a 14 year old Tennessee bourbon. This week's featured flight includes Uncle Nearest 1856, Bib and Tucker 6 Year Old Bourbon, Belle Meade Sour Mash, and Belle Meade Cask Strength for $12.50. Several of these whiskies will be new to many of you, as Belle Meade is fairly new to the market, and Bib and Tucker is an under-the-radar brand that delivers high quality juice, with a unique flavor pallet that will surprise many of you. It should be a great flight for novice and experienced whiskey drinkers alike.
Allocated Raffle
Our allocated raffle is chock full of good stuff this week, including the newest edition of Booker's and Little Book #4. Also coming from Jim Beam is the Knob Creek 15 Year Old and the return of Basil Hayden's 10 Year Old Bourbon. If you enjoy the Belle Meade Cask Strength in this week's flight, there will be a few bottles in the raffle this week should your name be called. Rounding out the rest of the allocated items will be Kentucky Owl Confiscated Bourbon. Like I said, it's a pretty kickass allocated lineup this week.
You can enter this week's raffle by stopping in to pick up a kit to-go or a flight to stay, or send me an email at zac@jjswine.com. To avoid confusion with the Blanton's raffle, please indicate which raffle(s) you would like to be entered in this week. Without a clear distinction, you will be entered into both, and if your name is drawn for a Blanton's you are tied to that bottle.
Blanton's Raffle
For those of you that are new to the Blanton's raffle, we partnered with Buffalo Trace to bring a single barrel selection of Blanton's to the Sioux Falls market to raise money for various charities in the Sioux Falls area over 4 months. August was our first month, and it was a huge success, raising over $3000 in 4 weeks for Make-A-Wish Foundation. We hope to repeat that this month for Teddy Bear Den of Sioux Falls. We have 18 bottles of Blanton's available this week, each priced at $100 each, with $50 of each bottle sold going to our charitable efforts. Each person that stops in or emails me to enter will receive one ticket into the raffle this week. If your name is drawn, you are tied to that bottle. If you have any questions, either reach out to me through email, or call the store and ask to talk to me. I'll be around all day.
Whiskey News
Allocation season is quickly approaching, with limited releases beginning to trickle out to the retail market. Booker's Boston Batch is the newest release in the quarterly release series made famous by Booker Noe of Jim Beam, and Little Book #4 found its way out for national release last week as well. Old Forester's yearly release of Birthday Bourbon has been selected by the tasting panel from Brown-Forman, and we can expect to see that within the next few weeks. Soon, details on this year's Buffalo Trace Antique Collection will start to come out, and those bottles will be landing in late November. Fall is a special time of year for bourbon lovers, and combined with the return of football season, I find my spirits (pun intended) on the rise despite the dropping of the leaves. Buckle in for what should be a much better end to 2020 than it began.
Whiskey With Z
I drank a lot last week. Some of it is stress induced, some of it is just timing, some of it is the fact that I've listened to Tennessee Whiskey by Chris Stapleton about 100 times in the last 5 days. With several new releases coming into the store, it's only right that Tom and I crack some of them open to find out what we're working with. Research in this field is incredibly important, and while it is lots of fun to just open and try new things, I approach each new bottle with the same level of intensity that I would bring to game day prep while I was playing college football. No two releases are ever the same, and little intricacies in profile can make a big difference in a whiskies popularity. Tom and I try every new whisk(e)y that comes into our store because we want to be able to provide you with first hand reviews of the products we're selling. 90% of what we bring in is fantastic. What about the other 10% you ask? I don't talk about them, plain and simple. The whiskies you taste through our Whisk(e)y Wednesday program are what I believe to be exemplary products that we want to introduce to you. Whisk(e)y isn't just my job, it's my passion, and I love getting to share my passion with you all each week.
The list of whiskies I tried this week is long, and to be honest, I don't know if I remember them all. One of the biggest perks of my position is the relationships that I've built with fellow whisk(e)y lovers. It's not uncommon for a customer to stop by with a bottle that they found and offer Tom and I a sample. It brightens my day, and the majority of the time the whisk(e)y they have is one I have never tried, let alone even seen. That happened earlier this week when a good customer, and someone I consider a friend, stopped by with a bottle of Michter's Cask Strength Bourbon. Michter's has really been striking a chord with me lately, so I was thrilled to get to try a cask strength offering. Adding that and the Michter's Toasted Barrel Bourbon to my list of whiskies I have tried in the last few weeks was very rewarding. As mentioned before, Tom and I cracked open the Booker's Boston Batch and Little Book #4 when those arrived, and they delivered exactly what I was hoping they would. I try to collect the Little Book series each year, so I was thrilled to find that this year's release was just as good, if not better than last years. I finally tried the sample of Russell's Reserve 10 Year Single Barrel Bourbon that I got from a good friend, and Dylan Baker, our General Manager of Axes and Ales was kind enough to bring me samples of George Remus Straight Bourbon and James E. Pepper 1776 Rye that he picked up in Denver. I enjoyed all three pours in a mini flight at home paired with a La Aroma de Cuba Mi Amor cigar on the patio while Sampson terrorized the backyard. It was a fitting end to a busy day as I sat on the patio with Kenadi and enjoyed the sunset. Those moments are special to me, and as we are now only 24 days away from our wedding, it helped to bring some calm to the otherwise chaotic nature of life right now.
That is it for this week. We hope you all can make it to enjoy a drink or two with us in The 3.0 Bar, but if you can't, we look forward to seeing you in the near future. Cheers!