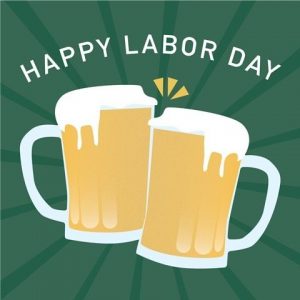 Happy Labor Day Weekend everyone! Hope you guys stop on in and make sure to fill up your growlers for Fill-Up Friday. Also, don't forget to check out our singles rack and fill up a 6-pack. All our beers on the single rack are 30% off so mix and match your favorites with some new ones!
New Beers!!!
Barrel-aged Peanut Butter Bomb (pro-tip: let it warm up about 10-15 minutes)
Ben's Strawberry Rhubarb Sour (tap)
Central Waters: 2019 Bourbon Barrel Stout (tap)
Surly and New Belgium: Culture Collab
Surly Oktoberfest (tap)
Surly Pina du Nord
West-O
: Westofest
While Elm Hazy Legs
White Elm Rollo
Woodgrain Disco Series: Simcoe Samurai IPA (tap)
Josh's Week
I have officially made it one week into the school year with my 2nd-grade class. I am sure as most teachers can agree, this new year hasn't been without a few trials and tribulations. So I haven't put away my beer drinking quite yet. In honor of Drekker week, one of the beers I dove into was the Slang De Jour Bumbleberry Pie. And dang was that one delicious. Blueberry strong with a bit cinnamon and graham cracker flavor to bring the idea of a pie to life. As you may have seen last week, we got new beers on tap. And I have been waiting for us to put on the Founders Kentucky Breakfast Stout that we had been holding from last year. The extra wait was so worth it as it is nice and rich with chocolate and coffee, my two favorite flavors put together. And last night I broke out one I've been holding onto, Brewing Projekt Breakfast Budz Stout. It is one of my favorites that I have bought from them most recently. This one is their chocolate chip edition that is sweet from the maple syrup while also being mixed with cold-pressed coffee. I hope you all have a fantastic weekend and stay safe while enjoying the holiday. 
Joe's W

eek

Last Friday was an unfortunate day trip around home for me, but I made the best of it by getting to visit my family. This time of year is prime time for me to go back and raid the garden. This year's crop doesn't have as many items as years past but the quality is superb. My dad decided to try yellow tomatoes for the first time, the plants grew so large and full of tomatoes it was hard to get to all of the ripe ones. As soon as I got back to town I went to the deep freeze and pulled out some bacon for BLT's and they were great! We also had some cherry tomatoes which I'm not sure could qualify as cherry variety. These bad boys were at least twice the size of what I've seen in stores before. I think I ate about 10 of those straight off the plant as I was throwing items in a box. While packing I enjoyed a Fair State Mirror Universe, which was hard to do with my hands full of produce! My beer consumption this past week was down as I was in a bit of an old fashioned mood. I did manage to snag a few items from Drekker on Wednesday so that's bound to change this week!
Until Next Time…
We both hope that you guys get to spend time with your family and friends, but we ask you to do it wisely and safely. There are families out there who are doing everything they can to stay safe and one slip-up by others can result in something as serious as death. So please, do your part. We also want to put a little reminder out for those that fill up their growlers with us. If you are bringing in growlers, you can throw your caps away. We have plenty of them and we always put new ones on anyway. Also, if you could rinse them out with warm water we would greatly appreciate it. Have a great Labor Day Weekend.
Cheers and Beers,
Joe and Josh