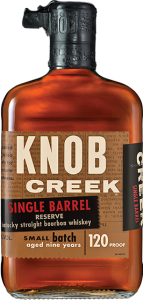 Happy Whisk(e)y Wednesday everyone! We've got a special show lined up for you this evening with not one, but two JJ's Store Pick Single Barrel selections being made live on Facebook and Zoom. Our allocated raffle looks similar to last week with 8 total bottles available, and we have 12 more bottles of Blanton's to draw for and use to fundraise for the Teddy Bear Den of Sioux Falls. Several new whiskies hit the shelves in the last week including one that made Whisky Advocate's Top 20 Whiskies of 2019. I tried several rare/hard to find whiskies, but also revisited one of the staples for an eventful week of Whiskey With Z.
Featured Flight
Two very important packages arrived in the last few days in the form of Single Barrel Selection kits. Barrell Bourbon and Knob Creek Bourbon make up this week's sample kits and we're excited to be joined by a hand selected group of panelists, including Tom's youngest son James who is freshly turned 21. For those of you not selecting with us, fret not as we have a specially curated flight put together for you consisting of our last two picks of Knob Creek Bourbon and the two newest batches of Barrell Bourbon. Our 14th Edition Knob Creek is a 15 Year Old selection that is absolutely stellar, and our 15th Edition is a 9.5 year old that really showcases the beauty of barrel char. Barrell Batch 24 blends 9, 10, 13, and 15 year old high-rye bourbons from Indiana, Kentucky, and Tennessee. Barrell Batch 25 combines 5-9 year old wheated bourbons, with 9 year old high-rye bourbons, and 13 and 15 year old corn forward bourbons to highlight what secondary grains add to whiskey. The featured flight will be $18 and can be enjoyed in the 3.0 Bar or as a to-go option at home.
Allocated Raffle
We're Beam heavy again this week for the allocated raffle with bottles of Little Book #4, Knob Creek 15 Year, and Old Tub Bourbon. From Belle Meade we have a couple bottles of Cask Strength. We also have single bottles of Kentucky Owl Confiscated Bourbon and Jack Daniel's Single Barrel Eric Church Limited Edition.
You can enter this week's raffle by stopping in to pick up a kit to-go or a flight to stay, or send me an email at zac@jjswine.com. To avoid confusion with the Blanton's raffle, please indicate which raffles you would like to be entered in this week. Without a clear distinction, you will be entered into both, and if your name is drawn for a Blanton's you are tied to that bottle.
Blanton's Raffle
For those of you that are new to the Blanton's raffle, we partnered with Buffalo Trace to bring a single barrel selection of Blanton's to the Sioux Falls market to raise money for various charities in the Sioux Falls area over 4 months. August was our first month, and it was a huge success, raising over $3000 in 4 weeks for Make-A-Wish Foundation. We hope to repeat that this month for Teddy Bear Den of Sioux Falls. We have 12 bottles of Blanton's available this week, each priced at $100 each, with $50 of each bottle sold going to our charitable efforts. Each person that stops in or emails me to enter will receive one ticket into the raffle this week. If your name is drawn, you are tied to that bottle. If you have any questions, either reach out to me through email, or call the store and ask to talk to me. I'll be around all day.
New Whiskies
I am excited for you all to get a chance to try the new Barrell Bourbon Batch #25 as it just arrived last week. Several other new whiskey labels made their way into the store last week. Templeton Rye Rum Cask Finish, Redemption Bourbon Cask Strength, and Whisky Advocate's number 5 whiskey of 2019, Aberlour A'Bunadh Alba all found their way into the store and are ready to come home with you. Take advantage of our 30% off the list price on all whiskies on Wednesday, and treat yourself to something you've had your heart set on for a while.
Whiskey With Z
If you follow me on Instagram (@whiskeywithz), you might have seen that I got a chance to try the new Maker's Mark SE4xPR5 last week. It wasn't my bottle, but sometimes it pays to know people that have good friends. Joe Wiltse was kind enough to bring his bottle in to share and I was blown away. It seems like the perfect fall time sipper as it was loaded with apple and baking spices, and it's warm, sweet burn will be the perfect thing to heat up your insides on a cold day. It hasn't landed in the South Dakota market yet, but expect to see it soon. On top of that pour, Clay Bleeker was kind enough to bring me a sample of a 12 Year Old Bib and Tucker single barrel that someone had picked up for him. It was a caramel bomb that was light and easy to drink. It was totally different from the 6 Year Old Bib and Tucker that we tasted in last week's flight, and I was glad I got to do a side by side of the two for comparison. But of all the things I poured last week, the most memorable, or maybe the hardest to forget was the Jack Daniel's Old No. 7 that I had on Saturday night. Kenadi, our GM of Axes and Ale's, Dylan Baker, and his right hand man Alec Blonquist took a trip to The Crow Bar on Saturday night and had a grand time. We definitely drank too much, but man did we have a good time. I stopped counting after the 4th shot of JD that we did, but I feel pretty confident that we didn't do many after that. It was great to go out and spend time with friends, something I haven't done enough of lately. It was one of those ah-ha moments that make you think about priorities in life, and reminded me that spending time with people I love outside of work is important, and I need to do a better job of that.
That's it for this week. We hope you'll join us for what will be a fun and educational Whisk(e)y Wednesday as you all will get to see how Tom and I approach single barrel selections firsthand. Cheers, and have a great week everyone!