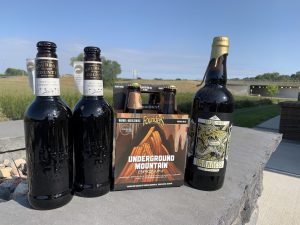 Hey everyone, Josh and Joe here. Today, as I am sure we are all aware, is 9/11. This day to many people around the world is one that will never be forgotten. We realize there is nothing that can cure the heartache and memories that some have of that tragic day, so we want to raise our glasses to you. We raise our glasses to the men, women, and children who lost their lives that day. We raise our glasses to those who lost loved ones on this tragic day as well. 
New Beers!!!
Ben's Brewing Barrel-Aged Barry's Brown Ale (tap)

Buffalo Ridge Cattalo Cream Ale (tap)

Lupulin Hooey IPA (tap)
We also have Goose Island Bourbon County Stout in stock as well as a VERY LIMITED amount of Barrel Aged Darkness left! There is also the return of Founders Underground Mountain Brown that will be perfect for these cooling temperatures.
Joe's Week
Hopefully, everyone had a safe and enjoyable Labor Day Weekend. Mine was filled with working along with a rush of fantasy football drafts. My first draft of the year on Sunday night I was able to enjoy a can of Flow Futuristic from Drekker, along with the passion fruit, mango, pink guava version of Costal Sunshine from Humble Forager. Not only was my Sunday eventful with my draft, but I also woke up to an email from Forager Brewing in Rochester that I was selected for their most recent lottery drawing. With a non-negotiable pickup window, it will make for a long day as I'll have to drive down and head straight back to make it to Zac and Kenadi's wedding dance. Hearing Zac sing karaoke in the store on multiple mornings putting the inventory away, I can't wait for the show that will be put on that night. 
Josh's Week
It was a pretty fun Labor Day Weekend of camping and tubing for me. To end Labor Day, the coworkers and I got together for a little work fantasy draft. And Joe, being the great guy, decided to share some of his beer with us. The first one was Synthesis from Covert Artisan Ales. A New-England style IPA dry-hopped with a few hops, including my favorite, Simcoe. Next up was also from Covert, their Pillow Fort: No Bake. I kid you not guys, this tasted like a cookie in a can and it was extremely smooth. To end the night, Joe and I headed over to our coworkers and finished watching the basketball game. This is where he broke out the Central Waters Twenty One Stout. To me, it was a simple stout with some advanced flavoring. I would highly recommend finding some of this and giving it a try. 
Until Next Time…
Football is back and I hope everyone had a chance to catch the game! Hopefully, we get to keep football in our lives for good now! Next week we have Brewing Projekt stuff coming on Tuesday and available for purchase Wednesday so make sure to stop in early if you want the good stuff! And don't forget it is Fill It Friday! Growler fills as well as our single bottle/can beers in the beer cooler are 30% off our LIST PRICE!
Cheers and Beers,
Joe and Josh