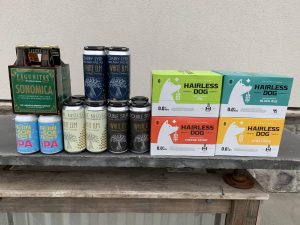 Happy Birthday, Tom! 50 has always looked better but some things you just can't fix. We hope it is the best one yet. Anyway, Tom has the whole day to him lets get back to beer. Did you know that we carry Non-Alcoholic beer? If you didn't well, now ya know. We have a wide variety of them including the one pictured here, Hairless Dog. While we haven't had a chance to try it, come on in and try it for us! We would love the feedback.
New Beers!!!
Brewing Projekt Dare Mighty Things (tap)

FernsonFest IPA

Hairless Dog N/A (pictured here)

Lagunitas Sonomica

Praire Artisan Rainbow Sherbet (tap)

Severance Ambidextrous Hitchhiker Rasberry Pomegranate (tap)

West-O French Toast Coco (tap)

White Elm Creme Brulee 

White Elm Double Stuff

White Elm Starry Eyed IPA

Woodgrain Barrel-Aged Hero Franchise (tap)
Joe's Week
A big thanks goes out to Tom for covering my shift on Saturday since I had the Covert Artisan Ales member party to attend. As member #1 I felt that it was only right I got there in time to be the first person through the doors! I'm not sure what the highlight of the day was, added draft pours from Covert along with a BA Stout from White Elm/Drekker, an incredible bottle share between members as everyone kept their space, or the delectable taco bar courtesy of Bread & Circus.  Anyone that stuck around long enough to enjoy one of Dan's taco boat creations was most likely in a food coma by late afternoon. Many thanks to Dan and Stacey, along with the rest of the crew at Covert for a fantastic party, and a great year for their membership program.  Looking forward to what the next year and beyond holds!
With old man winter fast approaching, and no, that's not Tom's new nickname, our coworker Barry was in a bit of a time crunch to get his new backyard shed put together. I did a little convincing to Josh and our old coworker Jeremiah to get together on Wednesday afternoon once we were all free to help out.  I'd like to say it was some great classic male bonding time, but between the temps dropping quickly once the sun went down partnered with the worst set of directions we've ever seen in our lives, it was quite the adventure.  The only saving graces we had were some new to the region Rainier beers as we worked, followed up with some Hamm's Special Lights as we enjoyed some Cody's Smokehouse once done. 
Hopefully, everyone gets a chance to wish Tom a happy 50th Birthday today.  It should be a lot of fun tonight in the 3.0 Bar with a new beer from Woodgrain, Jean has some new ice cream and cake using said beer, and we have an all-request show put on by Elisabeth Hunstad, Julie Eddy, and Micah Wetzel. You know it's going to be a great night when Kaleb's brisket is on the undercard!
Josh's Week
Monday night football is always a blast when it comes to us meeting at Barry's place. Joe, as always, brought over some stuff that Barry and I haven't tried of course and it wasn't a disappointment. The three beers we tried were all from BlackStack Brewing. The first two were POCKET DIAL and AND NOW, THIS. Both of these are double New England IPA's that were fantastic. Hops had great flavor and the bitterness was fairly minimal. The final one was FREE STRATA triple New England IPA. I honestly liked this one more than the two doubles. So that means another brewery to add to my list of places to visit. 
Just want to give a shoutout to the boss, Happy 50th Tom. Just remember, it doesn't get any easier to be hungover with age.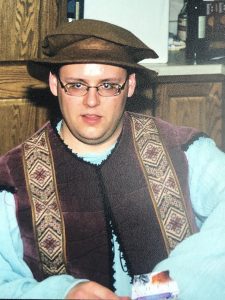 Until Next Time…
We both hope Tom doesn't die from celebrating with some great beer and we also hope he doesn't blow a hip out from enjoying that beer as well. Make sure to stop in as all growler fills are 30% off as well as all single bottles and cans from the beer single's rack are 30% off as well.
REMINDER: Rinse your growlers out. Throw your caps away. You will be greatly appreciated if you do. 
Cheers and Beers,
Joe and Josh