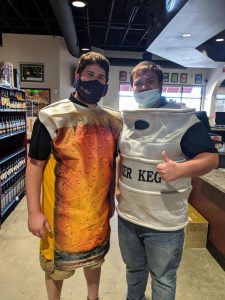 Hey everyone, long time no see! Don't you worry, we haven't forgotten about you guys. We just needed to take a week off and just do what we do best. So let's get you guys caught up on our whereabouts and the most important, beer!
New Beers!!!
Ben's Brewing Barrel-Aged Barry's Brown Ale (tap)

Deschutes Chasin' Freshies

Fair State Spirit Foul

Fair State/Barrel Theory Soft Pants

Founders CBS 2019 (tap)

Lagunitas Born Yesterday

Lupulin Imperial Chocolate Peanut Butter Porter

Mankato/Lupulin Hero Hazy

New Belgium Oakspire

Prairie Millennial Mansion

Schell's Snowstorm

Sierra Nevada Celebration Ale

Toppling Goliath Hopsmack

Toppling Goliath King Sue (tap)

Toppling Goliath Pompeii (tap)
Joe's Week
So not sure if it was Halloween, turning the clocks back, or what but Josh and I definitely "didn't forget" to write our blog last week haha.  I did only tap two new beers last week and they both survived through the week, Fernson Blueberry Pie Sour and White Elm Double Stuffed.  As a reminder, we are a verified venue on Untappd and our menu is available on our website so you can always check the draft list there.
I'm super excited about some of the new options we have on tap this week. My first ever trip to Decorah and the "old" Toppling Goliath taproom turned out to be the debut of Pompeii.  Craft beer legend has it that Batch 1 is far superior to every batch that follows.  We have a super fresh keg that we tapped but I can't argue against tales of old!  I was still living around Willmar at the time and some friends of mine were headed south of Rochester, so of course, I decided to tag along and convinced them to make the "slight" detour south of the border.  I was told that the taproom wasn't very big but was taken aback by how small it actually was considering the quality and reputation of the beers I had enjoyed up to that point. 
Fast forward about a year later as I had just moved to Sioux Falls, I hadn't started my new job yet as I was still sorting through paperwork.  I think in a two-week span TG released King Sue bottles twice in that span. My friend Evan had a pretty lax schedule at the time so once he saw that bottles were being filled he'd leave work, pick me up and we were on our way to Decorah.  About 4 1/2 hours later we'd finally arrive to grab our case limit of bottles, and enjoy a pour or two in the taproom, or on the patio if the weather allowed, and turn back around to head back to Sioux Falls.  To think that I now only have to go mere steps from the front counter to enjoy these beers on draft or grab a 4 pack is such a great feeling.
Josh's Week
Well, Halloween was sure uneventful, but if you stopped in, you probably saw Joe spiriting what we know best. Other than that, school has kept me pretty busy. But the best way to correct papers or prep for the next week of lessons is with a nice IPA or a nice stout. The White Elm Double Stuffed is pretty high up on my list for favorites at the moment. It's creamy and smooth and of course rich on the palate. And as of recent drinks, Drekker's Odin Is My Overlord was pretty tasty. This double New England IPA with Mosaic and Enigma is something spectacular that makes me wish I would've bought my own (thanks Joe!). I have a nice lineup in store for myself and maybe a friend or two of some great stouts to drink when I finish up my student teaching. Stay tuned for what that is in the next couple of weeks!
Until Next Time… 
We know you missed us and we love the support. So we will do our best to keep you up to date on great beers here at our store and great beers we have been tasting throughout the holidays! Don't forget to stop in on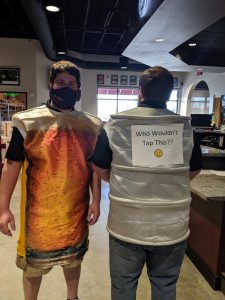 Friday for our beer sale every Friday! 30% all growler fills and 30% off all single beer cans/bottles from the singles rack in our cooler!
REMINDER: Have a growler or two just hanging around collecting dust? Bring it in and get it filled! All we ask is you throw the cap away and rinse it out and we will get you a freshly cleaned growler to exchange!
Cheers and Beers,
Joe and Josh