Gobble gobble!! Thanksgiving is already next week. It's going to be lively here so come on in and grab some beer!
New Beers!!!
Brewing Projekt Resist 

Brewing Projekt Cowbunga 

Brewing Projekt What a Guy DIPA 

Brewing Projekt Space Chase IPA

Brewing Projekt Brontasaurus Rawr IPA

Brewing Projekt Resist Cherry Vanilla 

Brewing Projekt Midnight Cow Cow 

Brewing Projekt Evil GMA

Covert Artisan Ales 17 IPA (tap)

Covert Artisan Ales Operation Dreamsicle (vegan) (tap)

Covert Artisan Operation Dreamsicle (crowler)

North Coast Berliner Weisse 

Oskar Blues Death by Coconut 

Prairie Artisan Ales Key Lime Pie Sour (tap)

Severance Ties Series: Sky Imperial Pastry Stout (tap) 

Severance Re-Gifted Birthday Card IPA 

Severance Secret Double Crosd IPA 

Toppling Goliath Dragon Fandango 

Zipline TwoxTwo 

Zipline Berried Gold Lager 
Josh's Week
Well folks this week was spent mostly drinking keg beer and Joe's beer, so a normal week for me. A few weeks ago Joe and I won a birthday package from Lua and so we went downtown to Monk's and shared a the ones we brought. One we had was the Double-Pushpop: To a Tradition. Super fruity and spectacular on the end. Another was Pie Eyed. It was another sour beer that again was super fruited but I would have another any time of the week. And finally, we had their beer called Again. Waxed top with a birthday candle to light up too. It was super sweet and creamy and it flowed smoothly from tip to bottom. If you haven't heard of Lua Brewing, they are out of Des Moines, Iowa and it is worth a trip. 
Joe's Week 
Since we tapped another keg of Barrel Aged Barry's Brown Ale last week at the store, that meant that we only had one keg left…..of course that keg had to end up in Barry's garage! The temps stayed low enough that we didn't even have to give Tom money for a tub and ice, which worked in our favor since only a handful of us at JJ's, plus Zac showing up for a pour, decided to take this thing down over a couple of days.  Some great conversations were had over that keg, none better than landscape mode!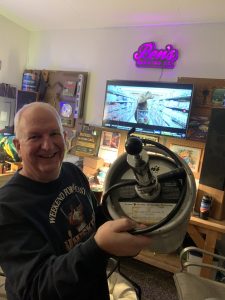 Hopefully everyone has a safe and fun Thanksgiving.  I'm not quite sure what we are going to make yet for food but I'm sure there will be some good beers and bourbon enjoyed. Most of you know that Black Friday is the yearly release of Goose Island Bourbon County. Since we won't receive our allotment until Friday we are thinking for a noon release, but all things are fluid at the moment so make sure to keep an eye on next week's emails along with social media.
Until Next Time…
Whether you're carving a turkey or napping on the couch, make sure to do it with a beer in hand! We are both thankful for all of our customers and followers, you guys are the best and we are glad to call you guys family! Don't forget to stop in today and get 30% off your single beer/can items off our single rack and 30% off all growler fills! 
Cheers and Beers,
Joe and Josh 
P.S. Rinse your growlers and throw the caps you'll get a fresh glass and new cap every time!