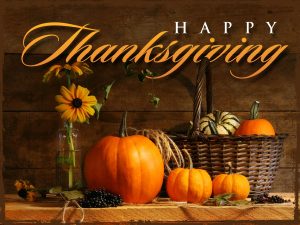 Trust me, I understand the irony of my blog title "Weekly Wineguy" when I am only writing once every few months. I'd blame COVID, but most of you who know me, know that I just get busy and don't have the right kind of time to collect my thoughts for an actual weekly blog post. It's hard enough keeping you engaged with my weekly emails, but I do stay committed to that, and that's enough for now.
That being said, it's Thanksgiving Week, and I have a lot to talk about. Mostly wine. A little spirits, and a little beer. So, the best place to offer my perspective is right here in Weekly Wineguy!
With COVID-19 being the Cousin Eddie of this years' holiday season, I know things are little different. That doesn't mean it can't be awesome. ZOOM will help, and so will some good adult beverages. I guess the bright side of a smaller gathering is that you can spread your budget out over a fewer number of people. We have already seen a trend towards quality versus quantity in the early purchasers, and I don't expect that to slow down any.
Wine for Thanksgiving
The most popular question we get this time of year is, "What is the best wine to go with turkey?" My answer has been the same for over twenty years… Whatever is in your glass! "Okay stop, there has to be a perfect wine for turkey?"
There is a perfect wine for turkey. You want to go with the lighter, fruit driven varietals and styles like Pinot Grigio, Sauvignon Blanc, Cotes Du Rhone Blanc, etc. But here is the inherent problem with that… there is a lot more on your plate than turkey. What goes with the stuffing? What goes with the green bean casserole? What goes with the cranberry sauce? All of these things have unique characteristics that require a different kind of wine. It's what makes this type of meal so much fun is the different flavor combinations that exist on the plate. It's also what makes this meal so challenging from a food and wine pairing perspective.
Which brings me to my answer to the original question… Whatever is in your glass! The goal of Thanksgiving wine on the table is to help digest the multitudes of food, so drink what you enjoy! Here are a few suggestions…
Bonanza Cabernet from Wagner Family (makers of Caymus) – I love this wine and it's reasonable priced at $19.99/bottle (ON SALE for JJ's VIPS!) – It's big, bold and full of character. If you like big, full-bodied red wines, this is your jam!
Georges DuBeouf Beaujolais Nouveau – How can you not have Beaujolais Nouveau on your table? It's tradition, right? It's also only $10.99/bottle. A light, fruity red with notes of strawberry and cotton candy. Released the 3rd Thursday of every year to celebrate the new harvest, and just in time for Thanksgiving!
Emmolo Sauvignon Blanc – Want something specifically for the bird? This is the wine for you. Made by the Wagner Family, it is one of the "fatter" Sauvignon Blancs on the market. Mango, apricot and pear aromas and flavors on a crisp frame with strong acidity and clean finish. ON SALE for JJ's VIP members at $19.99/bottle.
1000 Stories Zinfandel – The big, bold nature of this wine has me thinking nap time already. It is a perfect accompaniment for those who like those big, bold ripe fruit flavors. The bourbon barrel aging just adds another layer the tastiness! VIP Price $17.99/bottle

Now for the good stuff… As indicated, with the smaller gatherings, you may want to take the quality up a notch with some nicer wines on the table… Go big or go home, right?
Chardonnay is a crazy wine to have with Thanksgiving Dinner. Almost too much in the glass and can be overpowering in some cases. However, the subtle, complex and insanely flavorful components of a Montrachet will only enhance your experience. 2016 Louis Jadot Corton-Charlemagne Grand Cru is perfect. This wine checks all the boxes. VIP Price $189.99/bottle
Pinot Noir is another questionable choice for Thanksgiving, but for the opposite reason as Chardonnay. Everything on the plate will overpower the wine, so a Pinot Noir that is exquisitely structured is the only thing that will do. Back to France… 2017 Louis Jadot Pommard is what I would open. Full-bodied with ripe, red berry fruit and an earthiness that is enticing and lends to the super complex nature of this wine. VIP Price $73.99/bottle.
Ever had a grenache? Most of the great grenache wines have historically been procured from the Rhone Valley in France (think Chateaneuf du Pape). However, Austin Hope Grenache from Paso Robles rivals anything from Rhone. This wine is complex, yet soft on the palate offering a robust array of dried cherries, raspberry, cocoa and earth. VIP Price $34.99/bottle.
Riesling. Riesling is the favorite wine of Granny's everywhere because it's sweet and easy. Not this one… Trimbach Riesling from Alsace France is one of the most complex wines on the planet. Slighty sweet, but not from sugar, from viscosity. This wine is a palate cleanser to Nth degree. Huge acid, along with aromas of apple, pear and guava. VIP Price $26.95/bottle.
I really could go on for days about fun wines to try with Thanksgiving Dinner. Other wine styles to consider for a degree of adventure are… Chablis region of France produces some of the best "unoaked" Chardonnays on the planet. We have a few to choose. We mentioned Chateauneuf du Pape earlier, I would recommend anything from that region. Big Zinfandels from California are as adventurous as they get! The most important thing is to enjoy what you are drinking and don't get hung up on what the perfect wine is!
Cocktails for Thanksgiving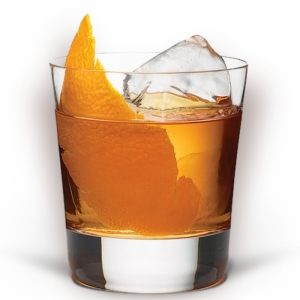 We have, literally,  hundreds of options for cocktails. It all boils down to what you enjoy drinking. We like to, as they say, go with what you when it comes to cocktails, so The 3.0ld Fashioned will be our go to crowd pleaser. 2oz of your favorite bourbon (stay on the high proof side of things, over 100), 2 Tsp of JJ's Bourbon Barrel Aged Maple Syrup (more on this shortly), and 2 dashes of bitters. We use our house bitters here, but Angostura, Fee Brothers and other brands works well too, to customize your cocktail to your liking.
Speaking of our JJ's Bourbon Barrel Aged Maple Syrup. Most of you know the story of this stuff. Most of you also know it is the key ingredient in our house Old Fashioned Cocktail. Did you also know it tasted great on pancakes and oatmeal? Because it does. Jean and I use it in our coffee in the morning with steamed whole milk. Delicious. The bottles are $22.49 VIP Price. Some people would say that is a lot for syrup. But aren't you worth it? Our current batch was aged in our second Blanton's Bourbon Barrel. The next batch will from our most recent Four Roses Single Barrel. We also offer quantity discounts for SIX or more bottles. They make excellent gifts!
Other cocktails to consider…
The Gimlet – Made with our Barrel Aged Tattersall Gin. 2.5oz if gin, .75oz of fresh lime juice, .5oz of simple syrup. Shaken and poured in a martini glass or on the rocks.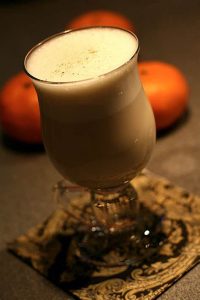 Tom & Jerry – Our batter is THE best on the planet, and we make it right here in house. It's also freezeable, so you can extend the life over a few more weeks. In a (smallish) mug, add a heaping tablespoon of our batter (after it has thawed), 1oz of your favorite brown spirit… time out, what? Traditionally it's rum and/or brandy. Here's the deal… Tom & Jerry's are sweet. If you add sweet liquor to them, they almost get too sweet. That's why I prefer bourbon, but then I also like bourbon, so… use your favorite brown spirit (except Scotch, that would be gross). Anyway, then add HOT (plus 180 degrees, but not boiling) to the mixture while stirring. Add nutmeg or cinnamon and enjoy! We stock Tom & Jerry Batter all the way through New Year's Eve!
Beer
A couple of growlers of whatever Joe has on tap will be great! Gives a bit of variety and is a much more attractive look on your table than a bunch of bottles or cans. This is another situation where you drink what you like, but if you really need a recommendation, stop in and talk to Joe & Josh, they will be happy to help!
Dessert
The Boozy Bakery will have the cases loaded tomorrow for all of your Before, during and after Thanksgiving treats. A nice array of bars, cookies, minicakes and cupcakes! Check The Boozy Bakery Blog for more details! Also keep your eyes peepled for some new fun stuff coming for the remainder of the holiday season!
The most important part of this Thanksgiving Day Holiday is to stay safe. If you are not able to spend it with the people you love, just look forward to next year knowing that your loved ones will still be around because you did the right thing. I don't want to sound preachy, but now is the time to hunker down and keep things simple. That hurts our business, but that's okay. At least this way we know there will be many more holidays to enjoy together! Let us know what we can do to help make this one memorable!