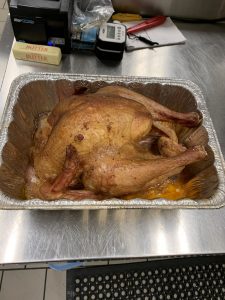 Happy Post-Turkey Weekend! We hope you all survived your in-laws and the food coma that came with all the festivities. If you are still struggling with either of these, come in and pick up some beer! 
New Beers!!!
Ben's Brewing Mission Hill DIPA

Empyrean Match Maker

Goose Island Bourbon County Stout (just the regular, no more variants)

Lupulin Centsless IPA

Lupulin Sophistry 08 IPA

Surly Abrasive Double IPA

Toppling Goliath Dorothy's New World Lager

Toppling Goliath Galaxy Dry Hopped Pseudo Sue Pale Ale
Josh's Week
For this Thanksgiving, I was here at the store working. And no this isn't me complaining Tom. The day went quick and I was thankful for every individual that walked through our doors. While this was going on, Joe was in the back smoking a nice plump turkey. When we closed up we headed to Joe's place to eat with his housemates and friends. The food was absolutely fantastic down to the very bone and bread crumb. Thank you Donny and Brittany for letting me eat and drink at your household for Thanksgiving. And thank you Joe for cooking up a great Turkey. 
As for beer, Joe and I knocked out the Fair State Pilsner on tap at the 3.0 Bar and it is just a great every day pilsner that I would hands-down recommend to anyone looking for a day drinking beer. And to end the night on a fruitier note, we finished off with a little Brewing Projekt Cowabunga. The fruit flavor is an intense and perfect way to wrap up all the many flavors of Thanksgiving into one fruitful swig. 
Joe's Week
Hopefully everyone had a great Turkey Day!  It was a little bittersweet for me as I stayed in town and didn't get to spend it with my family.  On the plus side I did get to spend the day with some great people, and for the first time ever I was in charge of cooking the turkey.  A big shout out goes out to Tom for allowing me to use the smoker.  In my very biased opinion I think I did a great job, although I had no doubts as I was rubbing it down with a secret blend of spices, butter and barrel aged maple syrup!  Aside from the bird, we had plenty of mashed potatoes and gravy, cheesy green bean casserole, Grandma's secret stuffing recipe and some baked corn.  We washed it all down with some Fair State Pils and Fair State Spirit Foul.  Some time on the couch afterwards was definitely in order!
We purposefully pushed the email and blog back a day this week for a few reasons: Thanksgiving, Black Friday and Small Business Saturday. Obviously with Black Friday meant the yearly release of Bourbon County.  Unfortunately, South Dakota only got two of the variants, and even worse was that we only got a case of each of those.  On the plus side, we did get a fair amount of regular so that has to count for something.  Being I worked the early shift at the store yesterday, meant I was able to stop by Lupulin for a quick couple of pours.  I had the Coconut Vanilla Demigod along with Sophistry 08, both were excellent and highly recommended.
Swing by the store today to see what fun things we have available for Small Business Saturday.  We should have a lot of fun and exciting things going on between now and the end of the year. Worst case, flag down myself or Josh for a good recommendation if you're in town.
Until Next Week…
We will be wrapping up November really soon. Can you believe 2020 is almost done? I think we can all agree, most of us are very thankful for that though. But to get us to 2021, don't forget about our Fill-Up Friday's! 30% off all growler fills and 30% off all single bottles or cans of beer on our singles rack. You guys the rack is crazy full so stop in and get a mix and match going!
DON'T FORGET: throw your growler caps away and rinse out your growlers when you finish them. While we do clean all of the growlers coming in, your help is greatly appreciated to get that initial rinse in!
Cheers and Beers,
Josh and Joe