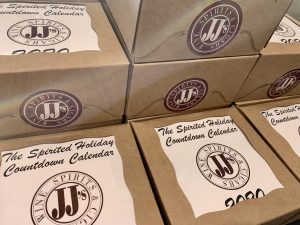 Welcome to the blog space for the The Spirited Holiday Countdown Calendar for 2020. We are thrilled at the response for from folks for this project, and we cannot wait to get started! BIG shout out to my team for assembling the kits! We weren't really sure what we were getting into, and it was a lot!
Each day, through Christmas Day, I will post a short blog about each of the products you will be experiencing. This blog post will be live at NOON each day, so you can set your calendar. All previous blogs will be archived in this space, so you can back and read. I HIGHLY encourage you to leave your comments about each of the items in the comment section at the bottom of each blog post. This is all about engagement and connecting with other adult beverage enthusiasts!
Please have fun. And if you have any questions, contact me directly. tom@jjswine.com
Happy Holidays!
Tom