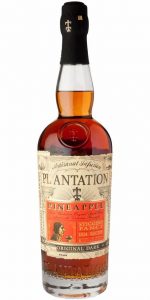 Plantation Stiggins Fancy Pineapple Rum
Ok, time out. Yesterday was a bit of a disappointment, and I apologize for that, but there is a lesson to be learned. The bottle that we poured for the Cooper's Craft 100 Proof was "corked". Meaning the cork was tainted, so the whiskey, while "ok" did not smell good. I didn't notice it until I opened my own sample. But, it explains the comments I have received about this whiskey. If you like it, that's ok, but it's a little off. Stop in, if you bought the Holiday Countdown Calendar, and I will pour you a bit of a good bottle.
Onward… The Plantation Stiggins Fancy Pineapple is not going to be what you expect. It wasn't for me the first time I tried it either. My friend, Paul Squyer, shared a bit of this rum with me a while back, before we were able to sell it. He prefaced my tasting by saying, it's not what you think. And he was right. Here's the skinny…
The barks of Victoria pineapples are infused in Plantation 3 Stars rum, which is then further distilled. Separately, the pineapple fruit is infused in Plantation Original Dark rum. Both distillate and fruit infusion are finally blended together, creating a rich and delicious pineapple bouquet, accented by smoky and clove notes.
Preparation: Not really sure on this one. I would say, keep it simple. You need to try alone before attempting a cocktail concoction. So maybe a slight chill before going in the glass, but don't dilute with ice or water.
Glass: Double Old Fashioned. You should always taste rum in a wide mouth glass (also learned that from Paul)
Cocktail Potential: Sky is truly the limit. Use the google and find various recipes where this will be the feature. For me? On the rocks.
Available: Yep. JJ's VIP Price – $36.79 (Today is Tuesday, so it's $32.19/bottle)
Tom's Tasting Note: Pineapple. I love pineapple. Jean, AKA Mrs. Wineguy and The Boozy Baker is allergic to fresh pineapple, so I don't get to enjoy very often. When I taste this, I think about Jean's birthday every year in June when her Mom would make a Pineapple upside down cake. Ironic, I know. She could eat cooked pineapple. Also makes me think of her Dad, who passed away last year, singing a little song to her every year as well… Sweet little upside down cake, cares and woes you've get 'em. Poor little upside down cake, your top is on your bottom.
Cheers.