Mitchell & Sons Red Spot 15 Year Old Irish Whiskey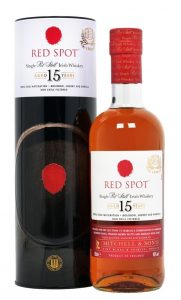 In our third Sunday Sipper of this Holiday Countdown Calendar, I might make a few people angry, but those of you who get to enjoy this wee bit of Irish gold will be pleased with that decision.
Mitchel & Sons Spot Whiskies were first introduced to me, strangely enough, by Tom Slattery. I honestly don't remember the circumstances of the occasion, but he procured me a 700cl bottle of Green Spot of number of years ago. I still have some of that bottle, sipping on it occasionally. Now that we are able to sell the Spot whiskies, it's fun to go back and sip on that first bottle occasionally to note any oxidative changes. II tasted a little bit before writing this… it's still tasty.
Mitchell & Son's Spot Whiskey range dates back many moons, but over time a few expressions have disappeared from shelves, including Red Spot – but those days are over. The relaunched Red Spot is a 15 year old single pot still Irish whiskey, comprised of three different whiskeys aged separately then blended. One is matured in Oloroso sherry casks, one is aged in bourbon casks, and the final one is initially aged in bourbon casks before being finished in Marsala wine casks.
Preparation: Room temperature. No ice, no water.
Glass: Glencairn
Cocktail Potential: Not on your life.
Availability: We will be getting very small allocations of Red Spot in the coming weeks and months. It will be part of our allocated whiskey program. If you aren't sure what that is, please review the program – Allocated Bourbon and Other Rare Whiskies | JJ's Wine, Spirits & Cigars – JJ's VIP Price – $139.99
Tom's Tasting Note: This pour burns in my blood. The first time I tasted it, my only thought went to my heritage. You all know I love me some bourbon, but when I drink something like this, I think of my ancestors in Ireland drinking old whiskey, but not really knowing how good they had it. Granted, the production and artistic aspect of these fine spirits was not perfected until long after my family crossed the pond, but it's still fun to think about. Stewed fruit, slightly maderized red wine and leather on the nose. The palate is soft and sweet with notes of baked apples and spice. The finish is long and engaging. Take a long inhale on the glass before you rinse it out. The lingering aroma is quite enjoyable.