Blanton's Single Barrel – JJ's 3rd Edition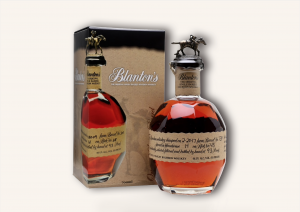 Blanton's Single Barrel was the first single barrel bourbon on the market, back in 1984 under the guidance of Master Distiller Elmer T. Lee. It still reigns as the one whiskey that every whiskey lover wants to have, and in multiple bottles and multiple expressions. Unfortunately, as indicated, everybody wants these bottles and we only get so many to stock on our shelves. That being said, when we get to buy barrels, they usually don't last very long.
Blanton's Single Barrel Bourbon is typically aged for 6 to 8 years. It is aged in Warehouse H at Buffalo Trace, which is the only metal-cladded warehouse at Buffalo Trace and was commissioned for construction by one of the distillery's early leaders, Albert B. Blanton, shortly after the end of the Prohibition era. Being metal, the warehouse transfers heat quicker than brick warehouses, which allows for more rapid aging. Warehouse H is also where we do all of our barrel selections at Buffalo Trace Distillery.
I wanted to open a bottle from our first barrel that we picked back in 2018, but sadly I only have one bottle left, so I couldn't bring myself to opening it. 3rd Edition is not a disappointment.
Preparation: To taste, chill it down slightly. Even though Blanton's is not a "hot" bourbon, it does have a bit of a bite to it.
Glass: Glencairn
Cocktail Potential: This is a smooth sipper on its own, or over a bit of ice. It's probably to low proof for an Old Fashioned or Manhattan.
Availability: This barrel sold out the day we got it. We slowly dispersed a few bottles this Summer in bottle raffles, but sadly there are no more to be had!
Tom's Tasting Note: Blanton's is a tricky one for barrel selection because it gets proofed down so low, compared to straight from the barrel. When we do the selection, much like Buffalo Trace, we aim for character that is present in the barrel, drawn down into the bottling. This one succeeded greatly. Caramel, Spice, a bit of toasty oak and vanilla-leathery notes on the nose.