Jameson Bow Street 18 Year Irish Whiskey – Cask Strength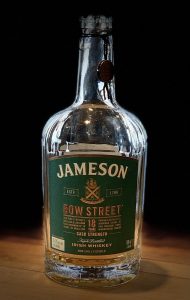 So, for your Christmas Eve pour in the Holiday Countdown Calendar, I really wrestled with what to do. I wanted it to be special. I wanted it to be memorable. And I wanted it to be expensive. Why not? It's Christmas Eve!
So I offer you the only bottle we received of the highly acclaimed Jameson Bow Street 18 Year Old Irish Whiskey – 2019 Release. Those of you who are fans of Jameson whiskies know that the 18 Year Old Jameson is one of the best Irish Whiskies on the planet. Bow Street takes that a step further by bottling it at Cask Strength.
Jameson Bow Street 18 Years is a special blend of rare pot still and grain Irish whiskeys produced at the Midleton distillery. After ageing for almost two decades, these whiskeys are married together and spend their final finishing period at the Jameson Distillery Bow Street in Dublin. This is Jameson's rarest release.
Preparation: Room Temperature, maybe slightly chilled.
Glass: Glencairn
Cocktail Potential: No.
Availability: This was our only bottle allocated for this vintage. Hopefully getting more next year.
Tom's Tasting Note: Back to the Who, the What and the Where… Who made this 18 years ago, What were the circumstances around its production 18 years ago, and where was I 18 years ago when it was made. These are the questions I ask myself when tasting old whiskey. Especially ones that appeal to my Irish ancestry. Granted, 18 years isn't ancient history, but when put into context with the fact that they have been doing this since 1780, it becomes more important. Toffee and spice on the nose, with toffee, leather, sherry nuttiness and vanilla on the palate. Take a good long sniff of the empty glass on this one. You won't ever see it again.