Happy December and welcome to the 2021 Spirited Holiday Countdown Calendar! Let's get this party started! PLEASE engage! Use the comments section to give us your thoughts on each of these items being presented over the next 25 days!
We thought we would start this off with two new releases from Crown Royal this year. Both of the bottles we used for today's sampling came in very short supply. You will find the format for tasting your samples over the next 25 days to be pretty similar. There will be some days that I give you special instructions down the road, but today it's just pour, taste and enjoy!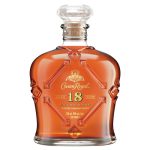 White Cap Edition – Crown Royal 18 Year Old Extra Rare Canadian Whisky
Crown Royal released this edition of "Extra Rare" in 2021 with an exquisite blending of barrels from three different retired distillery properties. Not only giving this whisky impeccable character, even at 80 proof, but making it very collectible. Cheers to those who were able to snag a bottle before it disappeared off the shelf.
Glass: Glencairn
Temperature: Room
Other Preparation: None
VIP Price at JJ's – $151.99
Available – Not at this time
Tom's Tasting Notes: I love this whisky. And it will give you a good indication on the journey you are embarking as it will not be all bourbon, as one might expect. The nose opens with enticing vanilla and stone fruit aromas. The palate is velvety smooth with light oak and caramel spice notes, culminating in a full-bodied finish with a lingering nougat note.
Black Cap Edition – Crown Royal Noble Collection #6 "Winter Wheat"
Crown Royal has been using the Noble Collection to push the envelope on whiskies coming from the North. These are all made in very small batches and all of the recipes are unique in some way. Whether it is a specific barrel finish, or different mash bill. In this case it is the mash bill, comprised mainly of Canadian Hearty Red Winter Wheat (51%), then Corn and Malted Barley. Aged in New Charred American Oak Barrels. This whisky is also proofed a bit higher than most Canadians at 90.0. Giving it a familiar textural component for those who enjoy Wheated whiskies from the US!
Glass: Glencairn
Temperature: Room
Other Preparation: None
VIP Price at JJ's – $79.99
Available – Yes, but for a limited time
Tom's Tasting Notes: This whisky tickles all of the bourbon feels, but then adds another layer of sweet fruit and solid texture. I would put this right up there with some of the best smooth sippers I have tasted in a while. The nose opens with praline, banana bread, and toasted oak aromas. The palate is creamy with bread pudding and toffee notes. Finishes buttery smooth with a touch of warmth and lingering cinnamon and toasted oak notes.