Hopefully you have the idea here after yesterday! I look forward to seeing your comments about todays whiskies. As they are both two of my favorites this year!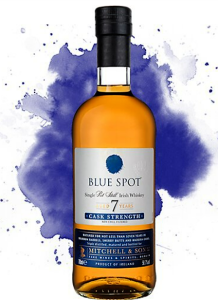 White Cap Edition – Mitchell & Sons "Blue Spot" 7 Year Old Cask Strength Irish Whiskey
Blue Spot was released earlier this year with great fan fare! We were hoping it was going to have more presence on the shelf. But, as is the case lately with a great whiskey… not so much.
Glass: Glencairn
Temperature: Room
Other Preparation: None
VIP Price at JJ's – $91.99/bottle
Available – Not at this time – Watch for it on an upcoming Whiskey Wednesday Raffle
Tom's Tasting Notes: Occasionally in my career spanning over 30 years, I have had a few "aha" moments. Blue Spot was one of those moments. A taste for Irish Whiskey is in the blood of most folks who claim to have a degree of Irish heritage. I happen to have a large degree of Irish heritage, so the taste for fine Irish whiskey runs deep. I had not tasted too many Irish whiskies at cask strength, until I tried this one. And boy did they get this one right. Savor the smell of this whiskey, as it is like no other. Spice, cardamom, nutmeg along with banana custard and apple pie. The palate is thick and spicy and sweet with peaches and citrus.
Black Cap Edition – Writer's Tears Double Oak Irish Whiskey
Writer's Tears has been on our shelves for a few years. Double Oak is relatively new. We got it in in June of this year. Aged in two different vessels (American Oak and French Oak) and then blended together to create a marriage of flavor that just goes on and on. I recently revisited this whiskey in a blind tasting last month, and was reminded of how remarkable it is. Definitely worth of sharing blogspace with Blue Spot!
Glass: Glencairn
Temperature: Room
Other Preparation: None
VIP Price at JJ's – $55.99
Available – Sort of. Currently out of stock, but more on the way!
Tom's Tasting Notes: When you talk about "double barrel" whiskies, you tend to drive your senses to find characteristics of both barrels. I challenge myself to look past that, and find characteristics unique to the whiskey that are comprised of the use of both barrels. Nerd stuff, but it works for me. Aromas of sweet vanilla, cinnamon and poached pear. Tastes of grapes and citrus, followed by a long finish with hints of chocolate and spice.