Our first Old Elk Single Barrel is good lesson in a couple of things. One, sourced whiskey is pretty good too. And two, Joe can pick a solid barrel. Some of you know the story of how this came about, but I will share with you anyway. This whiskey is in both the White Cap Edition and the Black Cap Edition.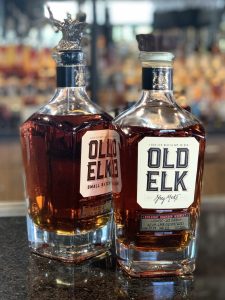 Joe went to Colorado on a mini vacation earlier this year and arranged a visit at the Old Elk Distillery. Now, the 35,000 square foot Old Elk Distillery and barrel aging warehouse in Fort Collins, CO has only been in operation for just under two years, so how do they make whiskey that is aged four to six years? Well, they buy aged barrels and rectify them. Also known as a Non-Distiller Producer (NDP) Which means they purchase aged barrels of bourbon from other sources (Indiana, Tennessee and New York) and then blend them together to get the products you get on the shelf. Or they sell them as single barrels, which is the case with our barrel. They also utilize a proprietary proofing process which adds water to the finished whiskey over a longer period of time than most operations. Does this make a difference? Not really sure, but the whiskies are good, and it sounds cool, so I guess it works!
Glass: Glencairn
Temperature: Slightly chilled with ice or refrigerated
Other Preparation: Not really, maybe a touch of water (111.0 Proof)
JJ's VIP Price: $59.99/bottle
Available: Only in our single barrel library. This was our fastest selling NDP barrel. We might have a bottle on an upcoming raffle.
Tom's Tasting Note: As I indicated earlier, Joe picked a good barrel. They make a few different bourbons at Old Elk, plus Rye Whiskey, Wheated Whiskey and a few other things. The bourbons have different incarnations within the bourbon classification as well. Wheated Bourbon, Straight Bourbon and Sour Mash Reserve. We thought for sure that Joe was going to pick a Wheated Bourbon, but I think even Joe was surprised when the final selection was a Straight Bourbon with a high rye mash bill. The thing I find most interesting about this bourbon is the texture. It's very viscous. Likely because it's cask strength (no proofing) but may also have something to do with high altitude aging. I have tasted other Colorado whiskies before, and they all seem to have that viscous nature to them. The nose is very heavy on sweet caramel, all-spice, cinnamon and black pepper. The taste, aside from the texture, lends to black pepper and spice on the finish. Really good offering from Old Elk.
We had a think tank recently pick another Old Elk barrel from a sample kit. This one will be really good too, so keep your eyes peeled for it sometime late Winter, or early Spring.