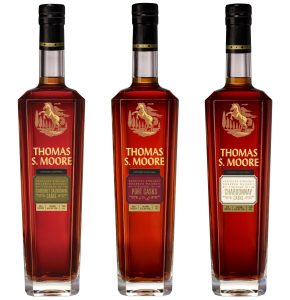 Who is Thomas S. Moore? Good question. Better question… Why have we never heard of him until 2021? Or have we? Thomas S. Moore founded the distillery that is now the Barton's 1792 Distillery in 1879. The DSP number for the Thomas S. Moore Distillery is DSP #12. That means it was the twelfth distillery founded in Kentucky since they started handing out numbers. DSP #1 goes to Heaven Hill Bernheim Distillery, which was first called Beargrass Distillery. Heaven Hill took it over to create their distillate after a fire torched their distillery in Bardstown in 2006.
Anyway, so for years when we purchased 1792 Full Proof Single Barrel Bourbons, we would see a stamp on the barrel that read "Thomas S. Moore Distillery – DSP 12" – Our most recent 1792 barrels are just stamped "Barton – DSP 12". But you get the idea.
White Cap Edition & Black Cap Edition – Thomas S. Moore "Chardonnay Cask" Edition
What they are doing with the Thomas S. Moore Brand is pretty cool. It's also the hot trend in making whiskey, barrel finishing. This isn't new, but it is more common now than it had been before. Three different whiskies were released this year from bearing the Thomas
S. Moore Label. "Chardonnay Cask", "Cabernet Cask" and "Port Cask". When they were released, we did a blind tasting for Whiskey Wednesday, and the overwhelming favorite was, surprisingly, the "Chardonnay Cask".
Glass: Glencairn
Temperature: Room (Lower proof)
Other Prep: None
JJ's VIP Price: $71.99/bottle
Available: Yes, currently on the shelf.
Tom's Tasting Note: I concurred with the results of the blind tasting we did, ranking the Chardonnay Cask finished bourbon the best of the three. I was certainly surprised by these results as we typically find that darker wines elicit more character, creating what is often perceived as a "better" whiskey. Honey, Caramel and hint of orange peel are the dominating aromatics. The palate is soft and flavorful with caramel and honey on the finish. Very easy pour and smooth sipper!