My Mom passed away peacefully in her home exactly five months ago, today. I know it's not the most uplifting start to a blog post, but it's important to this particular sample. Mom wasn't a drinker and didn't really care for us drinking as much as we did back in the day. But it was part of what we did in our house, much like most people I know. But gathering together to do things was also part of our culture growing up and into adulthood, and regardless of what transpired during those activities, she was always so joyful when "Jane's Boys" were all together, enjoying each other's company.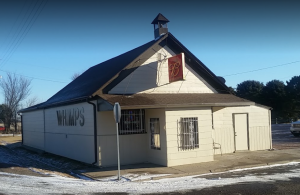 We will get to the whiskey in minute, if you will let me indulge. "Jane's Boys" have come together again, this time a little more formally. We have put together an LLC called "Jane's Boys, LLC" with the purpose of doing some business as a family. Something we have never done before. Our first order of business was the acquisition of a watering hole and eatery in the big city of Burbank, South Dakota called Whimp's Place.
Whimp's Place has been in business since 1966. Started by Whimp, himself, it has been under the care of the Radigan Family, most recently Dan and Missy Radigan and their family, until this past Tuesday, when the business was acquired by Jane's Boys, LLC. The business will continue to operate as it has for decades, for the time being. Our intent is to maintain the traditions of this iconic destination location (great steaks, burgers and all-you-can-eat spaghetti and meatballs on Thursdays) but add some "experience components" that may be familiar to those who frequent JJ's. Stay tuned for more on that as we head into late Winter and Spring.
We are excited for this journey as we all bring a unique set of skills to this. One thing is for sure though, we will do it knowing that Mom is watching, and enjoying the fact that we are doing it together as Jane's Boys. Anyway, that's the big news this week… On to today's Spirited Holiday Countdown Calendar. Something else we all did together back in April.
White Cap & Black Cap Editions – Knob Creek Single Barrel #18 – MQS75
Back in April, when we decided it was time for Mom to stop all treatments for her cancer, we gathered at the family farm in Meckling, South Dakota and celebrated my parents 53rd wedding anniversary. My younger brother, Jim, was also here, so we decided it was an opportune time to do a barrel selection to commemorate Dad's 75th birthday, which was back in January. We wanted to take a trip to Kentucky, but COVID and Mom's illness made that impossible, so this was a fitting substitute. The samples were all very good, but ultimately the vote was unanimous on the final selection.
Glass: Glencairn
Temperature: Room or slightly chilled (120.0 Proof)
Other Prep: None
JJ's VIP Price: $59.99/bottle
Available: None left except for pours in JJ's Bar
Tom's Tasting Note: Classic Knob Creek Single Barrel with big, bold flavors of caramel and spice on the palate. Even at 120.0 proof, this whiskey drinks very smooth and has a finish that goes on for days with a linger hint of oak and spice.
Just like the MQS70 barrel we selected five years ago for Dad's 70th birthday, we let Dad have the final say so on the selection. But as I indicated before, it was unanimous with this one. We released this barrel the week of my birthday back in October and it sold out in a day. A testament to the quality in these Knob Creek barrels and to our ability to pick some good ones!
Looking forward to starting a series of Whimp's Single Barrel Bourbons, once the allocations lighten up anyway. Stay tuned for more on that as well! Cheers!