Good morning, and a very Merry Christmas! I had planned on writing this post about today's Christmas Day pour yesterday, so that I didn't have to worry about getting it out to you this morning, while attempting to enjoy a day off. But boy am I glad that I waited. Because I have a story to share with you, and it goes right into today's pour with a little bit of different perspective.
Old and Dusty Bottles and How Jean Won Christmas
I am the worst person to try and buy gifts for. I have lots of likes and interests, but I am also the type of person to just get it if I want it. That being said, I have always been a fan of dusty bottles of whiskey, but never dove down the rabbit hole of collecting (and enjoying) them because I always felt it violated some sort of ethical code as an adult beverage retailer to procure bottles outside of the normal distribution channels.
Well, I'm over that now. And I have Jean Slattery to thank for it.
Last night, we proceeded with our annual Christmas Eve tradition of Chinese takeout and gift giving with our kids. The list of kids has grown a bit over the years, so what used to be just four of us, is now seven or eight, depending on who can make it as the list now includes chosen children as well, and significant others. So, we had a house full.
The kids all opened their gifts, one by one, the way mom would have liked it, until finally it came to Jean. I had done my annual pilgrimage to a local retailer to find something for her, and I think I did fairly well (thanks to the ladies at Simply Perfect for the assist).
Then it was my turn. I had two boxes to open, both from Jean. I had no idea what to expect as she does tend to surprise me once in a while. And boy did she…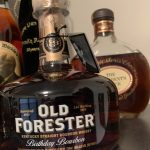 Box number one was a bottle of Old Forester Birthday Bourbon from 2020. One of my favorites in the BB releases, and I was sad that I had never kept a bottle for myself. Not really knowing that, I thought she did well in finding such a gem, and I was very excited about it. Then I opened the other box. And what was to be revealed under the packing material was something I truly never would have found for myself, and something I will cherish to the last drop… It is a (we are pretty sure) 1968 President's Choice for a Distinguished Gentleman release from the President of the Brown-Forman Distilling Corporation. This was a series of bourbon that started in 1963 by the Brown-Forman Co. to present as gifts to business associates by the President of the company. Who, at that time, was George Garvin Brown II, the Great-Grandson of company founder George Garvin Brown.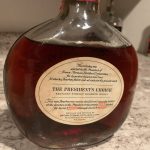 So, what did I do with this bottle of history? I opened it, of course. And shared a taste with my son, Aaron, and little bit with Jean after everyone else had left (sorry kids). And it was magical. There is always a risk of quality degradation with old and dusty bottles. But not this time. Brown sugar, sweet caramel and pipe tobacco on the nose with a thick, joyous mouthfeel clear through to a lingering finish of caramel, cedar and pipe tobacco. Absolutely remarkable, and now I need more old and dusty bottles.
White Cap & Black Cap Edition – Four Roses Single Barrel OESF 1st Edition
I took a trip with some guys back in September of 2017 to select a few bourbon barrels. Our first trip was to the Four Roses Bottling and Barrel Storage facility at Cox Creek, just south of Clermont, KY. It was my first selection of a Four Roses barrel, and we were late, because someone forgot about a time change when booking the trip. We were met at the door by the legendary, Al Young, who had been with the company for 53 years. We had nine barrels of bourbon rolled out for us, all unique in some way. Recipe, age and storage location, all different. But we were not allowed to know any of those facts prior to tasting. We have done three more Four Roses barrels since then, and it has always struck me as fascinating how each barrel tells such a unique story. The barrel we ultimately decided on was an eight-year, eleven-month "OESF" barrel.
Glass: Glencairn
Temperature: Room or slightly chilled (115.8 proof)
Other Prep: None
JJ's VIP Price: $69.99/bottle
Available: No way. Keep reading
Tom's Tasting Note: This bourbon is incredible. And at the time of the selection, we were really growing with our single barrel program. So, to add a piece like this to our collection was truly a treat. Until we didn't have anymore. You see, I neglected to hold back a few bottles for our permanent library, so once the last drop was poured about a year or so ago, there was none left to be had. Until about a month ago.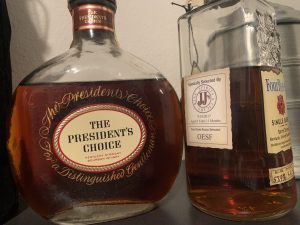 A friend of mine, who happened to be on that selection trip, decided that he did not want to have a vast collection of bourbons anymore, so he sold them all. The person who procured his collection came to me with a few of our single barrels and included in those was four bottles of Four Roses Single Barrel 1st Edition. I was thrilled! And immediately decided at that time to make this our Christmas Day pour for both editions of our 2021 Spirited Holiday Countdown Calendars. The aromas in this bottle are heavy on the caramel, spice and vanilla with a nice balance of floral and menthol. The palate is thick and rich at 115-proof with long lingering flavors of caramel and oak.
The new perspective that I take from this, and all of our single barrel offerings is this. At some point over the course of the next fifty or so years, these bottles will wind up in some persons collection of bottles that will ultimately find their way to a guy like me, who really enjoys what's in the bottle. I hope that person has the same reaction to this bottle, or any special bottle of bourbon, as I did last night with my gift.
My hope is that you have learned some things on this journey. And had fun with it. I can't say I am disappointed that we are done, and I am relieved that I have not missed a single day for the last twenty-five days, as it's a bit of a grind. Especially with everything else we have had going on this month. Thank you for riding along with me. I wish you and yours the Merriest Christmas' and the happiest of New Year's!