No Football… Valentine's Day… JJ's Axes & Ales
Brrrr. It's cold outside! But it's not cold in JJ's Bar, and it's not cold in JJ's Axes & Ales. In fact, it's going to get hotter in there with some new additions that we are happy to say, are now open!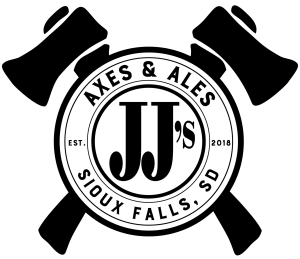 JJ's Axes & Ales Expansion – We have been teasing this for a while now, and to be truthful, we still have a few things left to accomplish. But our new expanded space is ready for guests, and I think you will enjoy what we have to offer! We have added a game room! Electronic dart boards, pool table (second coming in a week or so) and for all of you gamblers out there, video lottery! Stop in and check it out! We will be expanding hours to accommodate the needs of more folks, but until the space is 100% complete, we will still be limited hours. Check https://www.jjsaxes.com for more information and to book your axeperience!
No Football… No Problem – Well, if you count the Pro Bowl as football, I guess you can get your fix. But, for you purists, the Super Bowl is right around the counter. Until then, there is… see above! We are looking forward to next week and all of the fun that comes with folks getting ready for the big game. We are also getting excited for our Valentine's Day Dinner that we are having on Monday, after the Super Bowl. We have already met our goal for reservations, but we do have lots of space left, if you are flexible on time. Click here for more details – Valentine's Day Dinner | JJ's Wine, Spirits & Cigars (jjswine.com) – Dinner for two, drinks, wine and dessert!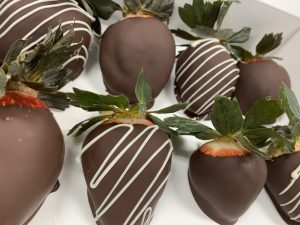 Other Valentine's Day Ideas – The Boozy Bakery is once again offering Chocolate Dipped Strawberries (Boozy and Non-Boozy). We are currently offering a pre-sell on these through 2/8/2022, to be picked up AFTER 2/10/2022. You will pick your pickup day when you check out. Make sure you act fast; these will sell out fast! – The Boozy Bakery – Valentine Day Chocolate Dip Strawberries | JJ's Wine, Spirits & Cigars (jjswine.com)
We have Chicken Pot Pies for a dinner special this week! Plus Fish Tacos for a seafood special. Check out our entire menu or order online at – JJ's Bar Food – Online Ordering (jjswine.com)
Have a great weekend! Let us know what we can do to make it that way!
Spirits On Sale for JJ's VIP Members!
Wine On Sale for JJ's VIP Members!