Whiskey Trip Recap… Super Bowl… Valentine's Day!
The title of today's post is very similar to Tuesday! Well, that's the nature of things when this week is all about those three things! Currently writing this while on my final flight back to Sunny Sioux Falls, and I kind of have a lot to say, so here we go!
Valentine's Day Weekend – Don't have plans yet? Come join us in JJ's Bar this weekend! We have Shrimp Burgers back on the menu and the rest of our food is pretty great as well! See the whole menu at https://order.jjswine.com, or order online for carryout if you are not feeling like putting pants on. (Please put pants on when you come to pick up your food.) We are looking forward to our Valentine's Day dinner on Monday. Reservations are closed for that event, so if you missed out, watch for next year!
The Boozy Bakery Desserts – The bakers have been BUSY this week making all kinds of fun stuff for the cases. Visit The Boozy Bakery Blog page to see what you have to look for when you stop in. They also added chocolate dipped strawberries to the menu and will have some available through the weekend, if you didn't get a chance to pre-order, which is also closed. We also have a pretty good supply of charcuterie boxes for those looking for a trendy meat and cheese snack for your Super Bowl party or Valentine's Day spread!
Super Bowl Weekend – It's also Super Bowl Weekend! Someday the powers that be will get this right and have a day off to follow the big game. It's even more wonky this year as it is a week later, and Valentine's Day is the next day! Good time to rack up some brownie points fellas. We have everything you need to stock your Super Bowl party, so please let us know what we can do to help get you in and out with a full cart and a bunch of the good stuff! Need drink ideas? Stop into JJ's Bar and chat with our bartenders. They have tons of great ideas and will be happy to help you create something for you and your guests!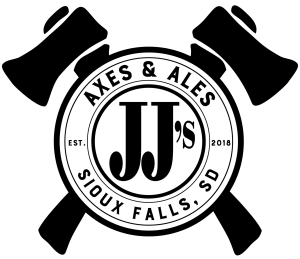 JJ's Axes & Ales – We have a lot going on at JJ's Axes & Ales this weekend too! Including Black Light throwing on Friday and Saturday night. $20 cage fees on Super Bowl Sunday. PLUS, we have our new game rook open with pool table(s… soon to be two), electronic darts and Video Lottery! Come and try your luck! Visit https://www.jjsaxes.com to make your reservations!
Last thing to talk about today is a little lengthy. I want to share our escapades this week, mixed in with a little angst over the current state of our industry. Particularly in our market. If you are interested, keep reading. If not, have a great weekend!
Our market is getting the short end of the stick when it comes to the products that you want. And I am sorry for that. I wish I could take responsibility for the situation, but honestly, we have done, and continue to do everything that has been asked of us to make things better, but that doesn't seem to help.
Now, before any of my friends in the wholesale sector get riled up, this is not their fault either. It's the nature of an industry that is continually playing catch up while big box and large chain retail stores are really the ones controlling the flow of product and it is procured for you.
Why am I telling you this? Because we aren't giving up! The one thing that this week has taught me is that there is a lot of different things out there for us to explore, and then bring back and offer to you, to keep you engaged in the tumultuous ebbing and flowing of this industry.
Monday morning, we made our way to Buffalo Trace Distillery for a tour and tasting. We were fortunate to be guided around the property by Freddie Johnson, eho really is the face of the franchise when it comes to Buffalo Trace Distillery. Three generations of Freddie's family have worked at the distillery including his Grandfather and Father. He is truly a living legend.
It was pretty cool to see the progress being made on the distillery expansion. They are adding a second still and have already added twelve new fermenters to add to the existing fermenters. They are also building a new 58,000-barrel warehouse every four months. Put that into perspective. If you haven't watched the documentary, Neat, you should. Freddie speaks on behalf of Buffalo Trace in the film, and he will certainly bring a tear to your eye.
We spent Monday hanging out with the future Master Distiller for Woodford Reserve. Let that sink in for a minute. Elizabeth McCall is the heir apparent to the title when current Master Distiller Chris Morris decides to retire in a few years. The conversation that we engaged in while blending our barrel has definitely led me to believe that people like her will make great strides to change the industry through innovation, expansion and experience development. All of that translates to great things coming from Woodford Reserve, and we can't wait to see what is next. And, in the meantime, we can't wait for this bourbon to show up.
On Tuesday, we took a trip to Old Forester Distillery. Unfortunately, because of the situation noted above, we were not able to do a barrel selection. As a matter of fact, it has been three years since we acquired our last Old Forester single barrel. Now offered in two different expressions; Cask Strength or 100 Proof. We will choose Cask Strength when the opportunity arises. After we left Old Forester, we made our way to a bar that I have anxious to see called Neat.
Neat is a bar. A fairly unique bar in that most of what they sell was acquired through Kentucky's Vintage Spirits Law. What does that mean? It means that they buy bottles from normal Joe's and sell them to their customers, mostly by the drink. "Old Dusty's" we call them. Bottles that were lost or hidden away in Grandpa's attic, or used as decoration on a mantel for years, not knowing what lie inside.
I wanted to do something cool. So, I did a comparative poor of two Bottled In Bond Bourbons, separated by fifty years. Old Grand Dad was the brand. The 1971 version was poured out of a three-liter bottle on a service swing. We've all seen them. The comparative pour was Olg Grand Dad Bottled In Bond from 2021, one of my favorite bourbons under $30/bottle. I won't get into too many details about the differences, but I will say, the 1971 version aged gracefully, and was one of the finest whiskies that this old booze peddler has ever tasted. Was I caught up in a moment? Maybe. But damn, that was good stuff. We happened to stop into this place while they were having a release party for a new bourbon being launched soon. We were sworn to secrecy about the branding, and did not get to try it, but they did have leftover snacks, so there was that.
Had a great conversation with the proprietor. A younger gentleman by the name of Owen. Owen knows his stuff, and with what they are doing with the hospitality component of the business (building luxury rental condos), he and his partners, really grasp the experience side of this business. I left there with some great ideas. Hell, I went in there with some great ideas, but I left with renewed focus on what we need to do to continue to elevate your experience. We made a run at a Vintage Spirits Law in our state legislature this year. Actually, had some pretty good support for it, or lack of opposition anyway. But one particular group which shall remain nameless is concerned about "unintended consequences" so we pulled the bill before it was quashed. We will make a run at it again next year. In the meantime, if you have any old bottles (sealed) sitting around. Bring them in and I will give you good estimate of what they might be worth. Might even buy it from you for future use, once we get this measure passed. And it will pass, it just might take time.
We finished the night at another Vintage Spirits bar called Frankfort Avenue Liquor. This place had just opened up when Joe and I visited last Summer. We didn't have time then to have a beverage, but we did this time. I tried their Old Fashioned made with Old Forester Signature, and it was good. But it still was no 3.Old Fashioned, which takes me to the final leg of our journey.
New Riff Distilling… A New Riff on an old tradition. That's what they say there. It's a new distillery that is nestled on the South side of Cincinatti in the Kentucky town of Newport. We did our selection at their "West Campus" which is where there modern, state of the art, yet built the old way rick-house was. It was cool. Our handler, a nice lady named Creola, took us on a little tour before our selection. Showed us the rick-house, the bottling line, and the single barrel storage facility. All leading us to this cool tasting room where we found five samples of New Riff barrels (all about 4.5 years old) that had been kicked out of their standard stock as they all had unique characteristics lending to a wide array of aromas and flavors from glass to glass. We sniffed, tasted and selected. and I think we really hit a homerun with this one.
Back to the 3.Old Fashioned. If you remember, we picked up a load of JJ's Single Barrel Barrel Aged Maple Syrup a few months ago. This syrup had been aged in our first New Riff Barrel that we selected from a sample kit over a year ago. So, when this new barrel comes in, we will be making your 3.Old Fashioned with New Riff Single Barrel Bourbon and JJ's Single Barrel Barrel Aged Maple syrup, aged in a New Riff barrel. How cool is that! I, for one, am really excited about it.
That was the trip! Many thanks to Steve and Ryno from Woodgrain Brewing for joining us. I love when folks from other aspects of our industry come on these selection trips with me. Gives a whole different level of insight for them, and for me. Also, thanks to my good friend, Toby Benson, for tagging along. As a retired old man at the age of 50, he has nothing better to do with his time, and I enjoy having him along as he also provides a different level of insight, and friendship. Be on the lookout for some fun collaboration stuff with WoodGrain when these projects come to market. You could tell that Steve and Ryno's gears were turning as they sipped on some whiskies.
Next trip is coming up in June, hopefully. Stay tuned as we reveal what we will be selecting. We have a few things nailed down, but have a few more in the pipeline as well, just waiting on allocations!
As we were just in the land of Bengals, I guess I have to go with team Burrow in the big game on Sunday. Who Dey?!