2's Day… Toby's Lounge… Whisk(e)y Wednesday!
What an interesting day/week we have ahead of us! For one, it's "2's Day"! 2/22/2022 on Tuesday, so 2's Day! Happy 2's Day Everyone! How are we celebrating? Bonus discounts! 30% off any TWO items in the same category! Two wines… 30% off, Two Spirits… 30% off… Two Beers… 30% off! Two FULL UNCUT Cases… 35% off! Today only, if you are braving the weather! This sale is on IN STOCK items only, so if you call or email an order in, we will only be able to fill what is available, and please, have your credit card ready!
Tito's 2's Day – Also for this 2's Day, and for the rest of the week, we are offering our BEST price and by far the best price in town on Tito's Handmade Vodka… $26.99/1.75 Liter Bottle, $19.99/1.0 Liter Bottle and $16.99/750 ml Bottle. Tito's is issuing it's first price increase in about six years effective March 1st, so I would suggest stocking up while the price is hot! Most retailers within a short distance of JJ's are selling the 1.75 Liter bottles for $29.99-$32.99/bottle. We are consistently cheaper than that, but this month it has been exceptionally low. Stock up! See other sale items for February at this link – VIP Sale Items | JJ's Wine, Spirits & Cigars (jjswine.com)
Toby's Lounge – What else is happening today? Well, Jane's Boys, LLC (Myself, Nick & Jim Slattery) have closed a deal to acquire Toby's Lounge in Meckling, South Dakota. Why is this important? Because it's an iconic destination location for a lot of you who live in this area or attended the University of South Dakota. Why else? It's where I poured my first drink in this industry 31 years ago. It's also where my younger brother Jim met his wife Carmen and its where older brother Nick has made many memories with his family and friends in his twenty plus years in the Vermillion area.
It's where our family farm is. The Sealey Family (Mom's side) farm was established in 1915 just one-mile South and one-mile East of Meckling. Over the last 51 years of my life, there have been many trips to Toby's for broasted chicken, and maybe a few drinks as we got older. It is a haven for locals, a respite spot for weary travelers, and a vision of great adventures to come for three boys growing up and going to visit the Grandparents over the years.
Along with our recent acquisition of Whimp's Place in Burbank, Toby's will carry on the traditions of those who came before us, but with a little flare you would expect from me in the adult beverage area, Nick in his robust tableside manor, and Jim in his desire to constantly learn and make the customer service experience exceptional. We look forward to seeing you!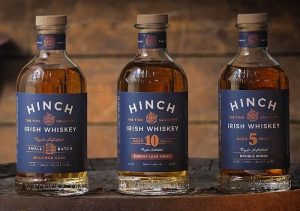 Whisk(e)y Wednesday – Tomorrow is Whisk(e)y Wednesday at JJ's! So, all spirits will be 30% off List Price, and it doesn't matter how much you buy! We also have half price whiskey flights in JJ's Bar and some excellent food for you to enjoy and soak up all of the whiskey goodness! We do have a feature flight this week. Ahead of St. Patrick's Day, we will be featuring a new line of Irish Whiskies from Hinch Distillery. We will be tasting FOUR whiskies, as there are four being released this week! 10-Year-Old Sherry Cask Finish, 5-Year-Old Double Wood, Peated Cask Finish, and Small Batch.
We will also be holding a bottle raffle! The raffle will commence at 6:00pm sharp(ish) with the following up for grabs…
Blanton's Single Barrel Bourbon
Stagg (Jr.) Kentucky Straight Bourbon – 130.9 Proof
1792 Full Proof JJ's Single Barrel – 8th Edition
Yellowstone 115.0 Proof Single Barrel – JJ's 1st Edition
To get into the raffle is easy! Stop in and be present at raffle time (all entries MUST be in by 5:45pm). It's free to enter! You will get a total of four chances by purchasing our feature flight, and an extra two chances by purchasing a food item!
That's it for today! Stay safe out there. It's not pleasant and will probably keep getting worse through the day. Thanks for reading!
Tom