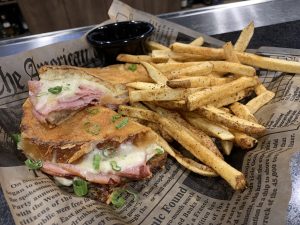 What an interesting week I have had. I will get into that in a hot minute for those who are interested in reading about it, but for now let's get down to business!
Louis Jadot Burgundy Preorder – Just a reminder that ALL of the 2020 Louis Jadot preorders have to be in TOMORROW (Saturday 2/26)! The original deadline was yesterday, but they have given me a little extra time to get these orders together, so you still have time! If you are not sure what I am talking about, please see this link – Louis Jadot 2020 Preorder Form – This is a preorder form for products that will be in this Fall. If you are interested in any of these, please let me know by NOON today!
JJ's Bar and all things Food – We have some really fun things for you to try this weekend when you stop into JJ's Bar! Whether you are stopping in for a quick bite and a cocktail, or looking for a really good meal, we have you covered! Along with our regular menu, Chef Kaleb has put together a couple of really interesting specials for you to try this week.
Croque Monsieur – A melted French style Ham Sandwich with smoked ham, Gruyere cheese, mozzarella and bechamel. Toasted in Breadico bread and crusted with Parmesan, served with Dijon mustard and JJ's Fries.
Croque Madame – All of the above with a sunny side up fried egg on top… ask for a fork.
Lobster Melt – Shredded lobster knuckle blended with ricotta and Gruyere. Topped with a layer of melted better in between two slices of Breadico bread. Grilled and served with lemon butter and a side of JJ's Fries.
Looking for a little bit lighter snack? The Boozy Bakery is creating some new Bento Charcuterie Boxes, now available most of the time. These are perfect for one to two people, and may be served in JJ's Bar, or you can find them in our Grab-n-Go cooler out front. We are also changing our larger Charcuterie boxes a bit with some new cheese offerings and, pretty soon, built to order boxes and tablescapes that you will be able to order online. We aren't quite there yet, but soon. In the meantime, if you are interested in these for an upcoming party or event, please email theboozybakery@jjswine.com for more information! If you stop in (early) to our FREE product EXPO on Tuesday, March 1st, you will see one of the tablescape designs we are working on for events on JJ's Event Room! Speaking of the EXPO…
March Product EXPO – Our March product EXPO is this coming Tuesday, March 1st! This will be on the heels of our ribbon cutting at JJ's Axes & Ales, so our reps have decided to step it up a notch and bring some pretty awesome stuff for you to check out! What will you see at this week's event?
Roughly 30 wines and sparkling wines from around the world, ranging $15-50/bottle.
Spirits ranging from Bourbon, Tequila, Rum and some flavored items. We will be introducing the new 818 Tequilas, which I found to be surprisingly good!
Possibly a few beers from a few local craft brewers. Waiting on confirmation of which ones!
Definitely plenty of things to try! Plus, we will be showing off one of our new Charcuterie tablescapes that will be available to anyone who uses JJ's Event Room in the near future! JJ's Bar and kitchen will be open with our full menu on Tuesday as well! So, if you are hungry after throwing some axes and tasting some adult beverages, we have you covered!
JJ's Axes & Ales Ribbon Cutting – We will be cutting our ribbon at JJ's Axes & Ales with the Greater Sioux Falls Area Chamber of Commerce on Tuesday, March 1st at 4:30pm. This will be followed by FREE axe throwing until 6:00pm. We will have limited refreshments available as well, but all who attend are certainly welcome to enjoy the March Product EXPO as well! It's going to be another cold weekend, so be sure to book your axe throwing experience now before we fill up! https://www.jjsaxes.com – Or just stop by for some brews, pool, darts and maybe a little gambling in our new Game Room!
LIVE MUSIC Returns to JJ's Bar – NEXT WEEK, and every week on Thursdays through March, we will have LIVE MUSIC from 6:00pm to 8:00pm. Our good friend, Elisabeth Hunstad will kick this off next Thursday, March 3rd! We are excited to bring live music back to JJ's Bar after such a long break. These Thursday night "gigs" will be mood setters for those looking for a nice date night. So, nothing to loud or party-like… unless you ask for it! Stay tuned for other live music events coming up this Spring and Summer, the least of which is Levitt at the Falls!
February Hot Deals – We have some great deals coming up in March, but these hot deals we have going on right now in February will expire after this weekend! If you haven't had a chance to snag some of these, now is the time! Check out this page – VIP Sale Items | JJ's Wine, Spirits & Cigars (jjswine.com) – to see what you HAVE to have! Tito's Handmade Vodka for $26.99/1.75 Liter bottle? Yes, please.
As I indicated earlier, I have had an interesting week. I alluded to some of it in my post on 2's Day, but I will share a little bit more, so read on, if you are interested. If not, that's cool, stop in and I will tell you all about it!
Monday – Monday, Jean and I drove to Meckling to do a final inventory at Toby's Lounge before we (Jane's Boys, LLC) signed the papers to take over ownership of Toby's. The first time the business has been owned by someone not Toby, or Toby's family since 1971. But honestly, that isn't entirely true. Growing up in this area, you learn the meaning of family. Family isn't just blood relatives, it's people you are connected with, regardless of lineage. We have been connected with the Larson Family for as long as I can remember. When Toby gave me my first job as a bartender back in 1991, it wasn't because I had filled out an application, it was because we were part of an extended family that spanned many miles and many generations. So, when putting this all into context, and when we (or Nick, on our behalf), signed the papers to take ownership if Toby's at 2:22pm on 2/22/22 (funny) it wasn't signaling a halt to something old and the beginning of something new. It was a continuation of a legacy that was built over 51 years, and I am proud to say, that won't change.
Tuesday – My original plan for 2's Day was to drive to Meckling and get the Toby's deal locked up with my siblings and have some fun with it for the afternoon. But mother nature had other plans, so we decided to do that on Monday and stay close to home on Tuesday. It was not without some fun though as I got to participate in something pretty cool, and collaboratively, pretty unique. I was invited by my friend, Lori Visker, to participate in Cooking with a Cardiologist. A virtual event featuring my friend and colleague, Chef Dominique and Dr. Orvar Jonnson, Cardiologist at Sanford Health. We had about 200 attendees online as we talked about food, wine and a heart healthy diet. My component to this was obviously the wine. Dr. Jonnson picked the recipes and assisted Chef Dom in preparing the dishes. After the show wrapped, we spent some time in Dr. Jonnson's wine cellar sipping some tasty bottles and having some great conversation. It really was a fun night!
Wednesday – Typical Whisk(e)y Wednesday at JJ's Bar. Haven't been to one yet? You should. We have a great time, and you get to learn about some great whiskies! Next week is another Irish Whiskey flight as we lead up to St. Patrick's Day. Watch next week's email/blog for details.
Thursday – Drove back down to Meckling. After we closed the deal with Toby's on Tuesday, we decided to wait a couple of days to re-open. Get some tech components figured out, do some house cleaning and prepare a craft cocktail station (yes, you can now get a JJ's 3.0ld Fashioned at Toby's Lounge in Meckling, South Dakota. Goes great with Broasted Chicken!) We spent some time with a local reporter talking about the importance of the acquisition. Not only for us, but for the community. We cried a little, laughed and really put a lot of things into perspective as we welcomed our first guests for the dinner hour (it's not lunch in these parts). It was pretty surreal, and I am looking forward to seeing where we can take it!
That brings us to today! As I sit in my home office writing this, I just got off a call with a couple of friends discussing an event we have coming up in April. This will be our 2nd Annual Cocktails for a Cause Event supporting Breathe Bravely, a local non-profit that offers support and services through music for those afflicted with Cystic Fibrosis. Last year's event was a huge success, and we can't wait to show you what we are doing to take it up a notch this year!
As I close this, I have the news on the background. The world is ugly right now. Focus on the important things. Family, friends and fellowship. No matter what guides your beliefs, know that family, friends and fellowship are the only things that truly matter. And in focusing on this, we can get through this ugliness and hopefully come out on the other end better humans as a whole.