March is officially here, and it is coming in like Lamb! So, you what that means… 1) our patio will be open tonight (and tomorrow, cross your fingers), and 2) we are probably in for a long month (out like a lion.) But for now, we will take the loveliness, as we do have a little bit going on this week!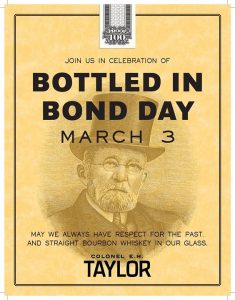 JJ's Axes & Ales Ribbon Cutting PLUS March EXPO – Today is the first Tuesday of March, so we are once again hosting our monthly product EXPO in JJ's Event Room. We will have about forty different products on display, plus Jean and Cara have been diligently beefing up our charcuterie game, so we will have some of their efforts on display as well with a lovely tablescape for you to graze on! Before that, we will be cutting our ribbon at JJ's Axes & Ales for the Greater Sioux Falls Area Chamber of Commerce followed by FREE axe throwing until 6:00pm! Never tried it? Today is a good day to do so! We will be opening our doors at 4:00pm with free axe throwing (10 throws with a little coaching), then ribbon cutting at 4:30pm, then head over to EXPO for FREE snacks and beverages! Still hungry and thirsty? JJ's Bar is offering a full menu starting at 3:00pm until 8:00pm. We will have the patio open tonight too with the heaters on, so it should be pretty enjoyable.
Whisk(e)y Wednesday – Tomorrow is Whisk(e)y Wednesday, so all spirits are 30% off List Price, plus HALF PRICE flights in JJ's Bar! Thursday is the 125th anniversary of the adoption of the Bottled in Bond Act, so we will be celebrating by sipping on Bottled in Bond Bourbons! Don't know what the Bottled in Bond Act of 1897 is? Check out the Wikipedia Page.
We will be tasting FOUR Bottled in Bond Bourbons, and this will be a blind tasting. We will also play a little matching game for extra chances into this week's bottle raffle. Match the sample with the brand and get an extra chance for each correct answer! You will automatically get TWO entries for purchasing the feature flight. You may then earn up to FOUR additional chances by matching correctly. You can also earn an extra TWO chances by purchasing a food item! That gives you a total of EIGHT chances in this weeks bottle raffle, if you guess all of the whiskies correctly! What are we pouring?
Colonel EH Taylor Small Batch Bottled in Bond
Henry McKenna Single Barrel Bottled in Bond
New Riff Bourbon Bottled in Bond
Old Forester 1897 Bottled in Bond
So, we are already telling what you are tasting, you just need to match the name with the sample! Should be fun. Entry in the raffle is free. You can get one entry just by showing up BEFORE 5:45pm and putting your name in. We will not be taking any entries passed 5:45pm unless you have been sitting at a table or in JJ's Bar before that time. The wheel will start spinning at 6:00pm sharp(ish). What's on the raffle?
Colonel EH Taylor Single Barrel Bottled in Bond
Henry McKenna Single Barrel Bottled in Bond
Weller Special Reserve Bourbon
American Mule Day – March 3rd, along with being Bottled in Bond Act Day, is also (ahem) Moscow Mule Day. Given the current climate in Eastern Europe, we decided to recognize this day, but in a much more appropriate way… American Mule Day! Stop in for a Tito's Handmade Vodka Mule for only $6! We will also have LIVE MUSIC featuring our good friend, Elisabeth Hunstad from 6pm-8pm! Side note: We did attempt to locate some Ukranian Vodka for the occasion but were unsuccessful. We, Jean, myself and the rest of the JJ's family, fully support the country of Ukraine as they fight to remain a free and democratic nation. This is truly a dark time for their sovereign country and the whole region. Please keep them in your thoughts.
JJ's Single Barrel Barrel Aged Maple Syrup Batch #6 – I took a trip up to Minnetrista Minnesota on Sunday to pick up our 6th batch of syrup from Somerskogen Sugarbush. This batch was aged in Joe's Old Elk Barrel, and it is delicious. We are pulling a lot more barrel character again in this batch, much like the New Riff barrel that we currently have available. We have decided that the younger barrels definitely make more oaky syrup, and I kind of like it that way! We did do a little Facebook promotion on Sunday called "What is the Boss Up To?" Everybody who got in the ballpark of accurate will get a chance to win a bottle of our newest batch of syrup! We will spin that wheel after the bottle raffle on Wednesday night! You need not be present to win. We will contact you. If you are not in Sioux Falls, your bottle will be waiting for you next time you visit!
NOW HIRING! – JJ's is now taking applications for Spring and Summer positions! We are looking for experienced and not-so-experienced, but highly motivated individuals to join our team for what will be a very busy Summer! For more information, please visit https://jjswine.com/jobs.
That's it for today! Really looking forward to this nice weather and smiling faces! It's also Fat Tuesday, so a very good reason to get out and enjoy this weather! Our bar and kitchen open at 3:00pm!
Tom