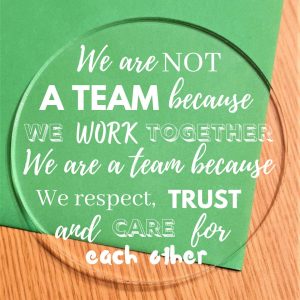 Good morning and happy Friday to you! Looks like it's going to be a lovely day today, so I hope you get a chance to get out and enjoy it! We don't have a ton going on this weekend out in the community, so it will be nice to stay close to the shop and spend some time with all of you! Hopefully the wind stays down so that we might have a little patio weather today. Stop down and check it out!
Employee Appreciation Day
There truly is a National Day of "Something" every day, or at least it seems like it. Today is kind of a big deal though. First Friday of March every year is Employee Appreciation Day! Now, while we, as owners, try to show our gratitude to our employees fairly frequently throughout the course of the year, it is important to take note of days like this and offer our sincere thanks and gratitude to the people we employ.
So, to all of our employees at JJ's Wine, Spirits & Cigars, JJ's Axes & Ales, JJ's Events, (and on behalf of my siblings) Whimp's Place and Toby's Lounge, thank you. We truly appreciate each and every one of you, even if we don't say it as often as we should!
Special thanks to those who have stuck it out with us over the last couple of years of unprecedented craziness, and who are planning on sticking it out as we push forward into a whole new world of opportunity and expectation.
Friday Seafood Feature
Being the first Friday of lent, we have brought back a favorite! Kaleb's Shrimp Po Boy was a huge hit last year, so it's back for a limited time! I tried one yesterday and it was delicious! Battered and fried shrimp, coleslaw, remoulade and sliced tomatoes on a fresh Breadico roll. Served with JJ's Fries for $14.95. Order online for carryout, or check out the rest of our menu at https://order.jjswine.com
Fresh Beer Friday
Did you know that every Friday is Fresh Beer Friday at JJ's? What does that mean? New beers on tap plus 30% off all growler fills and single bottles! It's a great way to expand your beer horizons without having to commit to a whole pack! Joe tapped FOUR new kegs this week. See what is ON TAP at this link – Draft Beer To Go – Or Stay! – JJ's Wine, Spirits & Cigars (jjswine.com)
If you haven't checked out our beer department lately, you should! Joe has been doing an excellent job of maintaining a good mix of new stuff, trendy stuff and classic favorites! We have also recently expanded our liquor based ready-to-drink offerings into the cooler! You will find most of them in cooler door number 4!
March Sale Items
This will evolve a little over the course of the month, but we have hot off the press sale items for you to take advantage of this month. Check out our VIP Sale Items page to see what the hot deals are! Bogle Wine is on sale for $7.99/bottle. Juggernaut Wines are $16.99/bottle. Bota Box Wines are $14.99/3 Liter Box! We also have a good variety of spirits and beers on sale as well, so be sure to have a peak – https://jjswine.com/vipsale
JJ's Single Barrel Barrel Aged Maple Syrup Batch #6
I took a trip up to Minnetrista Minnesota on Sunday to pick up our 6th batch of syrup from Somerskogen Sugarbush. This batch was aged in Joe's Old Elk Barrel, and it is delicious. We are pulling a lot more barrel character again in this batch, much like the New Riff barrel that we currently have available. We have decided that the younger barrels definitely make more oaky syrup, and I kind of like it that way!
NOW HIRING!
JJ's is now taking applications for Spring and Summer positions! We are looking for experienced and not-so-experienced, but highly motivated individuals to join our team for what will be a very busy Summer! For more information, please visit https://jjswine.com/jobs.
LIVE MUSIC is Back in JJ's Bar!
It was really nice having our friend Elisabeth Hunstad LIVE in JJ's Bar last night! We have put together a nice line up of more live music through the rest of the month. In case you are a planner…
Thursday, March 10th – Chris Beyer
Thursday, March 17th – James Dean
Thursday, March 24th – Janae Sturma
Saturday March 26th – Audrianna & Greyson Schulz
Thursday, March 31st – Micah Wetzel
Music starts at 6pm and goes until 8pm on Thursday, 9pm on Saturday!
That's it for today! I hope you have an awesome weekend! Let us know what we can do to make that way!
Tom