March Madness… Kaleb on KELO… Chickencock Cotton Club Rye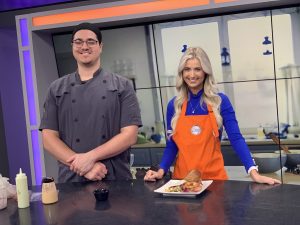 Happy Friday! It's going to be a great weekend here at JJ's! Kicked off last night with some cool tunes from our good friend Chris Beyer! We are doing LIVE MUSIC every Thursday this month and next as we push towards Springtime! Watch our socials to see who is playing each week! Next week is another local favorite, James Dean!
Kaleb on Keloland Living
I encouraged Kaleb to jump out of his comfort zone a bit this morning and do a food demo for our friends at Keloland Living. Kaleb was asked to come on to show off his seafood features we are doing this week. In the short time we had, he put together The Po Boy with fish and Shrimp Tacos! We are featuring both of these in JJ's Bar this weekend, starting today when the bar opens at NOON! Watch Kaleb's appearance on Keloland Living at 2:00pm today!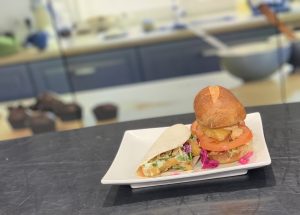 As I mentioned, our kitchen opens at NOON along with JJ's Bar today and tomorrow! For lunch, or an early start to your weekend festivities! Check out our menu and order carryout at https://order.jjswine.com
March Whisk(e)y Madness Bracket Challenge
We are going to have a tournament! We have selected sixteen whiskies, that are currently available (not allocated) that we are going to send home with you in the form of a tasting kit. There will be two ounces of each of the whiskies for you. You will be pouring yourself 1/2 ounce for each round, comparing the appropriate bottles, and then voting on which one is your favorite!
This will start on Thursday, March 17th. The same day as the NCAA basketball tournament, but you don't have to complete the first round in one sitting. We are giving you the better part of week to work your way through the first sixteen samples and register your votes!
Did I mention the whole process is a blind tasting? You will only learn the contents of each bottle AFTER it has lost a round or is crowned the JJ's March Whiskey Madness Whiskey Champion! What do you do with the losers? Drink them, of course!
This is going to be a lot of fun, and we fully expect to sell out, so don't hesitate to buy your kit. Here is the link – JJ's March Whisk(e)y Madness Bracket Challenge
Chickencock Cotton Club 20-Year-Old Rye Whisky and New Riff Single Barrel Bourbon – JJ's 2nd Edition

We received TWO very special whiskies in this week. One we released on Wednesday, and it is flying out the door, so you'll want to stop in ASAP. The other we just received this morning after waiting for about three months!
New Riff Single Barrel Bourbon – JJ's 2nd Edition was released on Wednesday. This delicious whiskey is selling for $63.99/bottle (JJ's VIP Price) and is now the key component to our 3.0ld Fashioned in JJ's Bar! Further, we are using our LAST barrel of JJ's Single Barrel Barrel Aged Maple Syrup as well, which was aged in our New Riff Single Barrel – 1st Edition. Kinda cool? You can also pick up some of that batch of syrup along with our current release, aged in Old Elk Bourbon Barrel.
The second whiskey we received this morning. Chickencock Cotton Club 20-Year-Old Canadian Rye Whisky. The JJ's VIP Price on this bad boy is $479.99, and we did not get much. There is a great deal of excitement surrounding the release of this whisky, so if you are remotely interested in collected whiskies, you will want to stop in and snag a bottle before it is gone!
Now Hiring
We have a lot coming up this Summer, and we need people! We are currently hiring for event positions, bartenders, servers and retail clerks. Please visit – https://jjswine.com/jobs for more information and to download an application. All applications MUST be turned in, in person. Please do not email unless you are relocating.
That's it for today! I hope you all have a great weekend! One last point of note… it is my older brother, Nick's birthday tomorrow! If you see him out and about in the Vermillion area, be sure to wish him a happy birthday!