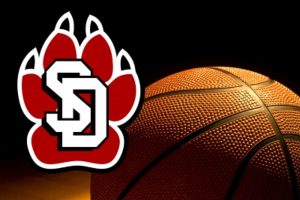 Happy Tuesday! We have a strange week ahead with not a whole lot of extracurricular activity going on (events, holidays, etc.) so we are here and 100% focused on your experience! Whether you are shopping for goods to take home or hanging out in JJ's Bar with tasty food and drinks, we are ready for whatever comes our way this week… until Saturday!
USD Coyotes in the Sweet 16
The USD Lady Coyotes are playing in the Sweet 16 Round of the NCAA Women's Basketball Tournament! Pretty exciting stuff for my alma mater, so we are going to have a watch party here at JJ's on Saturday as they take on the Michigan Wolverines! The game is at 5:30pm on Saturday, March 26th. We will have open seating in JJ's Bar, first come, first served, and we will also have seating available in JJ's Event Room with the game on our big screen! We will take reservations for groups of 8 or more in The Event Room (NO RESERVATIONS IN THE BAR AREA), with the ability to seat 56 people in there, plus standing room. We will have a bar in there, and you may order food from our regular menu. We have an event setup on Facebook for this, please indicate on there if you are "Going" so we can plan accordingly! – https://fb.me/e/4wBxBJNwF – If you would like to reserve a table for 8 people in The Event Room, please email tom@jjswine.com! GO YOTES!
Whisk(e)y Wednesday – Top Rated Barrell Bourbon
We have a lot of Barrell Craft Spirits bottles on our bar. Some of them very highly rated. So, our feature flight this week is going to be a flight of four of the top rated Barrell Bourbons we currently have open! The regular Whisk(e)y Wednesday flight price for this one would normally be around $22, but we are offering this one for $15! We also have SIX bottles on our bottle raffle this week, and I am fairly certain you will be happy to get your hands on any of them. Please keep in mind that WINNING our bottle raffle entitles you to an opportunity to PURCHASE one of these bottles. It's not free, that would be illegal.
So, how do you enter into a bottle raffle at JJ's? Show up! Be here by 5:45pm as we start spinning the wheel at 6:00pm sharp(ish). You get one entry into the raffle by just being here. You will get a total of FOUR entries by purchasing our feature flight. You can earn an EXTRA two entries by purchasing a food item off our awesome menu! What's up for grabs this week?
Eagle Rare Bourbon x TWO – $38.49 (WW VIP Price*)
Colonel EH Taylor Small Batch Bourbon – $38.49 (WW VIP Price)
Blanton's Single Barrel Bourbon – $59.49 (WW VIP Price)
Caribou Crossing Single Barrel Canadian – $52.49 (WW VIP Price)
Henry McKenna Single Barrel Bourbon – $38.49 (WW VIP Price)
*WW VIP Price is the price AFTER JJ's VIP Discount and the extra discount for Whisk(e)y Wednesday. ALL Spirits are 30% off List Price every Wednesday, along with HALF PRICE whiskey flights in JJ's Bar!
Quite the haul! We may add a couple other items to the list as well, depending on how the spirit moves me. Also… if you like the Barrell Bourbon in the flight, you will get a chance to make us an offer on the remainder of the bottle! No offer is too small, we need to move some product. If we get into a bidding war, it could get fun!
Spring Cocktails in JJ's Bar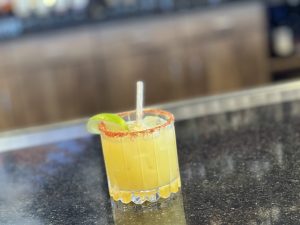 The team has assembled our Spring Cocktail menu for 2022! We have some great concoctions for you to enjoy while hanging out in JJ's Bar. My personal favorites are the Mr. Bendo Went to Hawai'i and Carrie's Key Largo Martini. Mr. Bendo Went to Hawai'i is a Calamansi Mezcal Margarita is inspired by our recent trip to Hawai'i. The combination of the Calamansi fruit and Li Hing Mui in the rimmer takes me right back to the islands!
We are also working on finalizing a few changes to our main menu, but that is going to have to wait a little while longer. Featured food items this week will be a Crispy Fish Gyro, a Pecan crusted walleye sandwich and chicken and dumpling soup!
That's it for today! Weather is looking a little sketchy the next couple of days, but the weekend looks nice. Hoping to have the patio open, which is great even if it's a little chilly.
Have a great week!