Oh boy this is going to be a fun weekend! But before we get into that, I have some exciting event news to announce! We are, once again, helping our friends with Breathe Bravely raise a little money and awareness for Cystic Fibrosis.
2nd Annual Cocktails for a Cause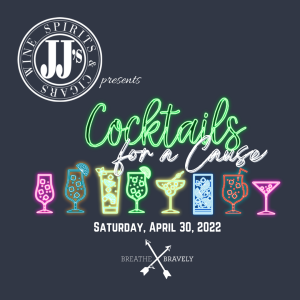 On Saturday, April 30th, in JJ's Event Room, we are going to be staging an event that will guide you through the creation of three craft cocktails. And I guarantee, we will have some fun in the process! What are we making? You'll have to wait and see, but I know you will enjoy the drinks and all of the fun that goes along with it!
To see more details about the event and purchase your event kit, please click on over to the event page on our website – Cocktails for a Cause 2022 | JJ's Wine, Spirits & Cigars (jjswine.com) – there you will see a few different options to click through. If you have any questions, please reach out directly – tom@jjswine.com – and I will do my best to answer!
We are really excited to bring this unique event to you once again. We have enlisted the help of a few more people to pull it off as well, so get ready for some fun!
USD Lady Coyotes in the Sweet 16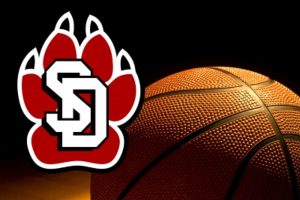 Who is ready for some USD Women's Basketball?! The USD Coyotes are in the Sweet 16 for the first time in school history! So, we are celebrating, and cheering, with a game watch party here at JJ's! We will have the game on our big TVS in JJ's Bar, plus we will have the game on in our event room with reserved seating for groups of 8 or more. We still have a couple of tables left, so if you want one, please email tom@jjswine.com asap!
What else are we doing? We will have Fernson Yippeo Red Ale on tap for $5/16oz Glass or $15 to pour from your own growler (64oz), kinda like a pitcher, but our way! We will also have a Coyote Cocktail prepared, but we are still tweaking that recipe, so I can't tell you what it is yet! That will also be $5. All weekend (starting today) we are offering pizzas, cold and hot dips and other shareables for $2 off the regular price!
Speaking of Food & Fun
Today is crappy outside, so we have a couple of options for you… Axe Throwing! Visit Home – JJ's Axes & Ales – Sioux Falls – SD (jjsaxes.com) to make a reservation! Did you know we also have pool tables and electronic dart boards for you as well. Feeling lucky? We have six video lottery machines ready to take your money, and maybe pay some back! Our payouts have actually been pretty decent of late!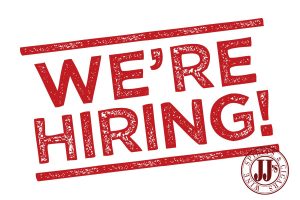 Today in JJ's Bar we are offering all of our pizzas, dips and other COLD shareables for $2 off! This will last through the USD game tomorrow! We also have some pretty awesome seafood features today for your Friday… Tempura Battered Walleye Gyro and Walnut Crusted Walleye Sandwich. Both served with JJ's Fries. We also have chicken and dumpling soup! View our entire menu and order online at https://order.jjswine.com
NOW HIRING! – JJ's is now taking applications for Spring and Summer positions! We are looking for experienced and not-so-experienced, but highly motivated individuals to join our team for what will be a very busy Summer! For more information, please visit https://jjswine.com/jobs.
This will be a great weekend! Once the game is over tomorrow, we will have live music in JJ's Bar playing until 10:00pm with Audrianna & Grayson Schultz! We haven't had them here before, but they sound like a lot of fun.
Have a great weekend! Let us know what we can do to make it that way!
Tom