Last week was fun! Thanks to all of the USD Coyote fans that came out to celebrate the season and cheer on the Lady Coyotes against Michigan. The game didn't quite go as planned, but they were in it all the way to the end (missed a 3 pointer at the buzzer) and made all of us Coyote faithful proud! Our team did an amazing job keeping everyone fed and beveraged. I couldn't have been prouder of the effort they put into this event and look forward to more in the future!
Anybody participating in the March Whisk(e)y Madness Bracket Challenge, be sure to click on over to the page today and get your votes in for this round of 8! We will be closing voting tomorrow morning and posting the results as we head to the final four! – JJ's March Whisk(e)y Madness Bracket Challenge | JJ's Wine, Spirits & Cigars (jjswine.com)
2nd Annual Cocktails for a Cause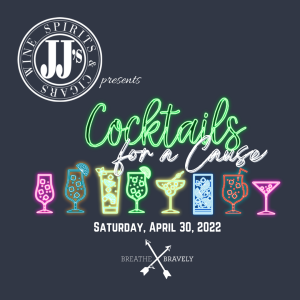 On Saturday, April 30th, in JJ's Event Room, we are going to be staging an event that will guide you through the creation of three craft cocktails. And I guarantee, we will have some fun in the process! What are we making? You'll have to wait and see, but I know you will enjoy the drinks and all of the fun that goes along with it!
To see more details about the event and purchase your event kit, please click on over to the event page on our website – Cocktails for a Cause 2022 | JJ's Wine, Spirits & Cigars (jjswine.com) – there you will see a few different options to click through. If you have any questions, please reach out directly – tom@jjswine.com – and I will do my best to answer!
We are really excited to bring this unique event to you once again. We have enlisted the help of a few more people to pull it off as well, so get ready for some fun!
More Basketball this Week!
We won't be having anything "big" this week to watch the Jackrabbits in the WNIT Final Four, but we will have the game on in JJ's Bar. We have too many commitments in outside events to do anything crazy like last week. We will also have the men's final four games on Saturday in JJ's Bar. The first tip-off is at 4:09pm (DST), so be sure to get here early enough to grab a seat!
Whisk(e)y Wednesday – Barrel Finishes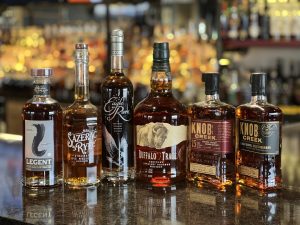 Every Wednesday is Whisk(e)y Wednesday at JJ's! All Spirits are 30% off ALL DAY LONG and you DO NOT need to stock up to get that deal on the top shelf stuff! We also offer HALF PRICE whiskey flights in JJ's Bar, along with fantastic food, as well as great beers and wine! We do have another BLIND feature flight for We did a "barrel finish" tasting a few weeks ago, and it was a hit! So, we thought we would do another one!
You will be provided the barrel finish for each whiskey, then you will be tasked with matching that finish with the whiskey! Should be fun, and again, educational! We also have a bottle raffle! What's up for grabs?
Legent Bourbon Whiskey – $38.49 (WW VIP Price)
Sazerac Rye (Baby Saz) – $31.49 (WW VIP Price)
Eagle Rare Bourbon – $38.49 (WW VIP Price)
Buffalo Trace – JJ's Single Barrel 10th Edition – $52.49 (WW VIP Price)
Knob Creek 15-Year-Old Bourbon – $111.99 (WW VIP Price)
Knob Creek Single Barrel – MQS75 Edition – $52.49 (WW VIP Price)
Pretty solid line up! Just a reminder, it is FREE to join in on the raffle, but the bottles are not! If you "win" a bottle, you have won the right to purchase the bottle! How do you get into the raffle? Show up! You get one entry for just being here at 5:45pm. The wheel starts spinning at 6:00pm. If you purchase the feature flight this week, you will get TWO chances on the raffle. If you purchase a food item, you will get TWO extra chances on the raffle. If you match the correct barrel finish with the whiskey, you will get an extra chance for each correct answer! In total, you could get up to SIX chances on the raffle!
JJ's VIP Pricing
What is all of the "VIP Price" you hear about? Well, it's special pricing reserved for JJ's VIP Members! The JJ's VIP Price for all items marked is a 20% Discount iff the List Price of that item. But that's not all. If you buy SIX items in the same category, you gett an EXTRA 10% discount on top of the VIP Price! Being a JJ's VIP ember also gets you other benefits like My Wine Monday Pricing, Whisk(e)y Wednesday Pricing and Fresh Beer Friday Pricing. Those days you will get 30% off the List Price regardless of how much you purchase! Plus, there's more… Reward Points! Earn one point for every dollar spent on alcohol purchases. Redeem those points for extra discounts! There are rules, but it's not complicated. Visit our JJ's VIP Rewards page for more information – JJ's VIP Rewards 2.0.01 | JJ's Wine, Spirits & Cigars (jjswine.com)
Still Crappy Outside – We have you covered!
Today is crappy outside, so we have a couple of options for you… Axe Throwing! Visit Home – JJ's Axes & Ales – Sioux Falls – SD (jjsaxes.com) to make a reservation! Did you know we also have pool tables and electronic dart boards for you as well. Feeling lucky? We have six video lottery machines ready to take your money, and maybe pay some back! Our payouts have actually been pretty decent of late!
We also have some pretty awesome food and drinks in JJ's Bar – We launched our Spring cocktail menu last week, and it is a hit! I have to admit, Noah's "Equinox" edged out my "Mr. Bendo Went to Hawaii" cocktail, but all of our new drinks performed really well! This week for food specials, we are offering more seafood. The Tempura Battered Walleye Gyro is back for a second week, as is the Walnut Crusted Walleye Sandwich. Soup this week is a seafod soup that Kaleb has been working on and it smells divine!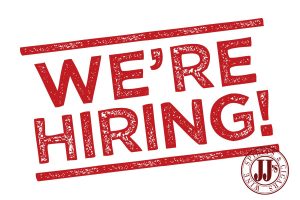 NOW HIRING! – JJ's is now taking applications for Spring and Summer positions! We are looking for experienced and not-so-experienced, but highly motivated individuals to join our team for what will be a very busy Summer! For more information, please visit https://jjswine.com/jobs.
We have a very busy week this week! Lots of events including the Boe Forum at Augustana. This year's speaker is the former US ambassador to the Russian Federation, Dr. Michael McFaul. Should be an interesting talk, given the current chaos in Eastern Europe.
Hope you have a great week!
Tom