April is here! But it still feels like Winter. Hopefully not for long. The rest of the week is looking pretty good, so we will just hope that it stays that way! We are excited to get our patio garage doors open and enjoy some fresh air in the upcoming days and weeks. But, for now, we will settle for getting you the goods to get home or cozy up in JJ's Bar with a nice cocktail and awesome food! We also have LIVE music again this week on Thursday featuring the soothing sounds of Kobe Jordan from 6:00pm-8:00pm!
APRIL PRODUCT EXPO
Today is the first Tuesday of the Month, so we are pleased to bring you another JJ's FREE Product EXPO in The Event Room! This will run from 5pm to 7pm TONIGHT (Tuesday 4/5/2022), but fear not, if you want to keep having fun, you can always bounce over to JJ's Bar for drinks and food! We will have about 50 different products on display tonight, most of which will be happy to go home with you as they are all items, we currently have available. This is a great way to find fun new adult beverage products, but also a fun way to meet other wine and spirits enthusiasts in a very casual and light-hearted atmosphere. It all starts at 5:00pm!
WHISK(E)Y WEDNESDAY – Middle West Spirits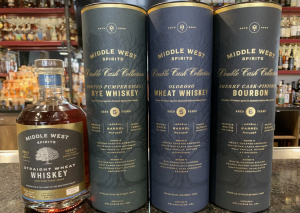 We have a new product line to introduce. And we are very excited to do so as we sampled these products a few weeks back and were very impressed with the quality. Middle West Spirits hails out of Columbus, Ohio in the heart of the Ohio River Valley. They have been producing whiskey and other spirits there since 2010 and are now ready for the big stage with some pretty tasty products. We are bringing in, for retail sales, five whiskies and a bourbon cream. Of the whiskies, two are rye, two are wheated whiskies and one bourbon. Our feature flight for Whisk(e)y Wednesday this week will be comprised of the bourbon, the two wheated whiskies and one of the ryes. We will have more details available for you tomorrow when you stop in! Of course, we will also have a bottle raffle…
Weller Special Reserve Bourbon – $34.99 (WW VIP Price)
Eagle Rare Bourbon – $38.49 (WW VIP Price)
Baker's Single Barrel Bourbon – $62.99 (WW VIP Price)
Blanton's Single Barrel Bourbon – $59.49 (WW VIP Price)
What does it take to get into the raffle? Be here! We will STOP taking entries from anyone who shows up after 5:45pm. We will start spinning the wheel at 6:15pm, giving you plenty of time to get your flight and order some food! You will get one entry for just being here, you can get FOUR entries by trying our feature flight of Middle West Spirits whiskies, and you can get TWO extra entries by purchasing an item off of our food menu! For a total of up to SIX entries into the raffle! Just remember, winning the raffle means you win a chance to PURCHASE a bottle.
REMEDY BREWING CO. HOOS JOOS IPA & DREKKER!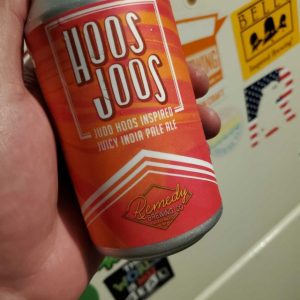 Have you been watching American Song Contest on NBC hosted by Snoop Dogg and Kelly Clarkson? Maybe these music reality shows aren't your cup of tea, but we do have some local representation in the mix with the Judd Hoos Band. The band is from the Black Hills area, but they spend a lot of time in Sioux Falls. And in that time have forged a pretty solid relationship with the guys at Remedy Brewing Co. So, to show their love to the band, the guys at Remedy have developed "Hoos Joos IPA". This is a6.5% Alcohol Hazy IPA with lots of hops, citrus and exceptional drinkability, or so they say. I haven't been able to try it yet, but look forward to it going on top tomorrow in JJ's Bar and for growler fills!
The first Wednesday of every month is also when we receive our monthly allotment of brews from Drekker Brewing out of Fargo. If you want to get your hands on some, be sure to be here early enough in the day to grab some as it usually doesn't last very long. This month we have… Heaps Milks Stout, Bloody Hell, Revenge of the Hippies, Never Have I Ever, Garbage People, Slushy 450 N, Slang DuJour, Chonk, Braaains (Strawberry, Papaya, Dragon fruit), Braaains (Lemon, Apricot), and Berry Prrrty Sour.
That's it for today! New Sale Items for April have been posted to the JJ's VIP Sale Item Page. Have a look to see what kind of great deals we are running this month. As you know, you always get a great deal as a JJ's VIP Member, but these deals are exceptionally great, so be sure to check them out!
Have great week! Let us know what we can do to make it that way!