Happy Good Friday morning to you all! We are excited for today for a couple of reasons, but first I have a couple of important announcements concerning a couple of events coming up next week that you will want to pay attention to. Before that though, we also have a couple of very special bourbon releases this week!
Knob Creek Single Barrel and Four Roses Small Batch Select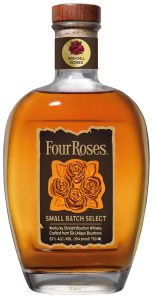 It's a good day to be a bourbon fan in Sioux Falls! We are releasing today our 18th Edition Knob Creek Single Barrel Bourbon! We tasted the final product yesterday and it is delicious! It also won't last long, so be sure to get in and snag some bottles! We are also releasing Four Roses Small Batch Select! This is the first time this expression of Four Roses has ever been available in South Dakota! We have a good supply coming in, but it is allocated TWO bottles per VIP account through the weekend. If there is any left next week, it's up for grabs!
Current Single Barrels in stock… Knob Creek Single Barrel #18, Knob Creek Rye Single Barrel #3, New Riff Single Barrel #2, Rebel Single Barrel #1 and Old Elk Single Barrel #2! Lots of great stuff for your Easter gathering!
Whisk(e)y Wednesday for Judy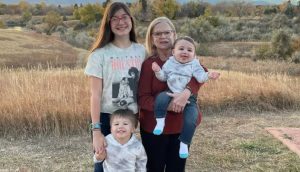 Just yesterday I found out that a good friend of JJ's & The Boozy Bakery, Judy Kirkman, has been dealing with some major health problems. Judy and her friends come to JJ's Bar quite often for a beer and to play games while enjoying our space. Our whole team knows Judy and want to help through this tough time. Her friends have set up a GoFundMe to help with uncovered medical bills and other things. Visit this link to help directly – https://gofund.me/0c1e8659 – or, come to JJ's Bar on Wednesday for Whisk(e)y Wednesday and show your support then! Our crew has agreed to donate all of the tips received that night to Judy's GoFundMe, and Jean and I have agreed to MATCH that amount. Stay tuned for more details of what will be offered for the Whisk(e)y Wednesday Feature Flight and Bottle Raffle, but please plan to come and do your part to help this awesome lady!
Italian Wine Tasting – Piedmont
Also, next week, we will be hosting an Italian wine tasting event in JJ's Event Room. This will be a guided tasting through the Piedmont region, and we think you will find it most informative and fun. Our good friend, John Thuringer, from Republic National Distributing Co. will be guiding us through the SIX different wines being offered. We will also have a grazing table by The Boozy Bakery for you to snack on before the tasting and during. The doors to JJ's Event Room will open at 6:00pm on Thursday, April 21st, with the guided tasting to start at 6:30pm and it will last about an hour. To purchase a "seat at the table" or a whole table, please visit – Italian Wine Tasting – Piedmont | JJ's Wine, Spirits & Cigars (jjswine.com) – Tickets are $35 each OR you can purchase a table of eight for $250.00.
March Whisk(e)y Madness Bracket Challenge Winner
This probably drug on a little longer than it needed to. I have a plan to do this again and shorten up a little. That being said, was this fun, or what! Click here to see the final results – https://jjswine.com/2022/03/07/mwm2022/ – Buffalo Trace Single Barrel #10 as the winner probably won't surprise you, but the challenger may, once you learn a little more about Bowman Brothers. If you know, drop it in the comments!
Good Friday, Ben's Brewing Co. & LIVE MUSIC!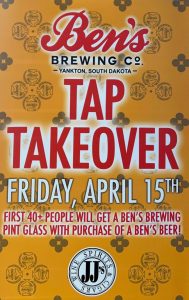 Today is Good Friday, but we won't get into the church stuff, that is what church is for! We are going to have some fun on this 2022 Tax Day and our friends at Ben's Brewing out of Yankton are helping! Starting at NOON today we will be featuring SEVEN Ben's Beers ON TAP and the first 40ish customers who purchase a Ben's Brewing beer get to keep their glass!
That's not all! Also tonight, we welcome back Miss Elisabeth Hunstad for some live music in JJ's Bar! She rocked the house last night and will be here again from 6:00pm until 9:00pm. So, you can early for beer and stay for music! Need to eat too… We have JJ's Seafood Rolls and Lobster Bisque for our food features this week. The Seafood Rolls are a fresh combination of whole knuckle lobster and blue crab in a tasty seafood salad stuffed in a Breadico roll served with JJ's Fries. Should be a great day!
Wine and Easter Dinner
I have more fun with wine pairing for Easter than I do for Thanksgiving. It's a little easier because the food options aren't as diverse as T-Day with so many things going on one plate. Easter is pretty traditional with either ham or a prime rib, so the wine pairing is fairly easy, and I do have a few favorites! If you are going to do ham, I highly recommend to all of you "I-only-drink-red-wine" people to jump outside your box and try a Riesling from Germany or Alsace. The vibrant acidity and sweet tree fruit aromas and flavors go perfect with Easter ham and all of the other things on the plate. For your prime rib folks, you have to go with a big, massive red wine, and there is nothing bigger and bolder than a California Cabernet or Red Blend and we have a few to choose from. I like Paso Robles Cabernets because of the big bold fruit and the well-structured, but not overpowering acidity, that helps to amplify the flavor of rich red meat like prime rib. Stop in for more tips and advice. I will be around all weekend, but if I am not, ask my team, they will be happy to help!
JJ's Axes & Ales and Easter Weekend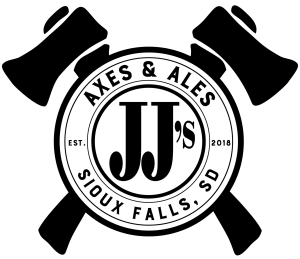 The weather isn't looking too promising for this weekend, and we know you have family and friends visiting for Easter, so you may need something to do! Make a group reservation at JJ's Axes & Ales and spend some time with us! We have a new XL Cage for groups up to sixteen people for $400.00 that also includes two uncapped growlers (think pitchers) of quality craft beer of your choice! Also included in ANY Private cage rental is FOUR free games of pool OR FOUR free games of darts! So when you are done throwing axes, you can stay and have more fun in our expanded game room! Visit https://www.jjsaxes.com to book a reservation. If you are interested in our XL Cage, please click the appropriate item when you are making your reservation, it's pretty straightforward!
Store Hours for Easter Weekend
JJ's and JJ's Axes & Ales will be CLOSED Easter Sunday JJ's will be back open the day after for normal Monday hours from 10:00am to 7:00pm with 30% off all Wines for My Wine Monday! JJ's Axes & Ales will be back open on Tuesday!
What are we eating this year for Easter? Jean is being inspired by her Polish ancestry and preparing a traditional Polish menu including Cabbage Rolls, Biali (Polish white sausage), and Polish pork stew all washed down with a spot of Krupnik, a traditional Polish honey liqueur that you can't find around here, so we made our own! Should be a good day spent with Jean's mom (98 next month!) and her siblings, and whoever else wants to join in!
That's it for this week! I hope you all have an awesome Easter Weekend! Please let us know what we can do to make it that way!
Tom