I hope you had an awesome Easter weekend. We enjoyed a nice day off with Jean's mom and siblings as well as Aaron and Tucker. Jean prepared a mostly Polish menu for our Easter repast, and it was delicious! Lots of sausage, onions and oodles of flavor. There are a couple of things we may try to talk Kaleb into trying in JJ's Bar for a future feature item.
Fairly quiet this week with Spring finally looking to make an entrance. Looks to be a little wet, but at least the cold is starting to go away. I won't hold my breath on it staying this way, but we are ready for whatever comes our way!
Whisk(e)y Wednesday for Judy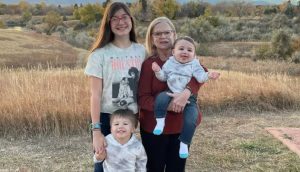 Last week, I found out that a good friend of JJ's & The Boozy Bakery, Judy Kirkman, has been dealing with some major health problems. Judy and her friends come to JJ's Bar quite often for a beer and to play games while enjoying our space. Our whole team knows Judy and want to help through this tough time. Her friends have set up a GoFundMe to help with uncovered medical bills and other things. Visit this link to help directly – https://gofund.me/0c1e8659 – or, come to JJ's Bar on Wednesday for Whisk(e)y Wednesday and show your support then! Our crew has agreed to donate all of the tips received that night to Judy's GoFundMe, and Jean and I have agreed to MATCH that amount. Stay tuned for more details of what will be offered for the Whisk(e)y Wednesday Feature Flight and Bottle Raffle, but please plan to come and do your part to help this awesome lady!
We also have a feature flight and bottle raffle this week! Feature flight is going to be a comparative flight of FOUR 1792 Single Barrels. It's always a favorite because of the uniqueness of each barrel, so it will be a good lesson in single barrel selection! I haven't picked which one to taste yet, but you will find out when you come in tomorrow! Bottle raffle will commence once the last name is entered. All entries must be received by 5:45pm, or you at least have to be in JJ's Bar by 5:45pm. It's free to enter the raffle, but you get extra chances for purchasing the feature flight (four total) and two extra chances for purchasing a food item! What's up for grabs this week?
Eagle Rare Bourbon Whiskey
Blanton's Single Barrel Bourbon Whiskey
Sazerac 6-Year-Old Rye Whiskey
Weller Special Reserve Wheated Bourbon Whiskey
Caribou Crossing Single Barrel Canadian Whisky
Legent Small Batch Bourbon Whiskey
Jacob's Pardon American Whiskey Batch #2
Woodford Reserve Kentucky Derby Edition
As you can see, a pretty solid offering of raffle bottles this week! We hope you get a chance to stop in and have some fun! Whisk(e)y Wednesday also means 30% off List Price of ALL Spirits in the store! No need to stock up to get the best deal on any single bottle purchased! That goes for our current selection of Single Barrel Bourbons as well!
Kaleb is doing TWO burger features this week (starting tomorrow). One will be a Surf and Turf Burger with an Angus Beef patty topped with Lobster salad, garlic aioli and tomatoes on a Breadico bun. The other is a Schnitzel Burger… a German inspired creation featuring Angus beef dredged in flour and fried. Topped with mustard slaw, pickles and onions on a Breadico bun. Both of these tasty burgers will be served with JJ's Fries. The soup this week will be French Onion!
Italian Wine Tasting – Piedmont
We are hosting an Italian wine tasting event in JJ's Event Room on Thursday! We will close admittance to this tasting on Wednesday evening, so be sure to sign up today! This will be a guided tasting through the Piedmont region, and we think you will find it most informative and fun. Our good friend, John Thuringer, from Republic National Distributing Co. will be guiding us through the SIX different wines being offered. We will also have a grazing table by The Boozy Bakery for you to snack on before the tasting and during. The doors to JJ's Event Room will open at 6:00pm on Thursday, April 21st, with the guided tasting to start at 6:30pm and it will last about an hour. To purchase a "seat at the table" or a whole table, please visit – Italian Wine Tasting – Piedmont | JJ's Wine, Spirits & Cigars (jjswine.com) – Tickets are $35 each OR you can purchase a table of eight for $250.00.
That's it for today! Here's to sunny weather and patio vibes in the near future! Let us know what we can do to help you with your Springtime fun!
Tom