Wow, what a gorgeous day it was yesterday! Only to be followed by the next three days of yuck. But that's ok, it's nice inside our businesses, and we still have some great indoor entertainment for those looking to get out and have some fun!
We spent this week getting ready for what is going to be a fun Summer! Scheduling, planning, etc. We cannot wait to show you what we have planned, so stay tuned to your email to see what we have cookin!
Speaking of cookin… Kaleb's Burger features are really good. The Schnitzel Burger is fried and topped with mustard slaw and served on a Breadico Bun. The Surf & Turf Burger is 100% Angus Beef topped with Lobster Slaw and Garlic Aioli served with fresh tomatoes on a Breadico bun. Soup this week is French Onion!
WHISK(E)Y WEDNESDAY FOR JUDY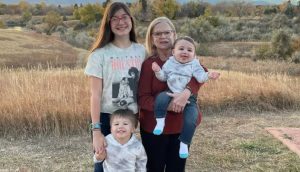 On Wednesday this past week, our team decided to offer all of the tips that were accumulated during our Whisk(e)y Wednesday festivities to a fundraising effort setup by the family of Judy Kirkman, who is undergoing some serious health problems.
Judy has been a long-time friend of JJ's, spending time in JJ's Bar sipping on wine and enjoying snacks from The Boozy Bakery while playing games with her friends. I am proud to say that we raised $870 that night, plus Jean and I will be offering a matching donation equal to that amount for a grand total of $1740! If you would like to contribute more to Judy's cause, please visit this link to help directly – https://gofund.me/0c1e8659
An update on Judy's health. A brain tumor was discovered a few weeks ago which prompted immediate surgery. Recovery from the surgery has been difficult due to the severity of the cancer, which she will never be able to completely get rid of, but it is manageable with chemo and radiation treatments. She is home now and will begin in-home therapy to regain speech and memory that were affected by the cancer and surgical procedure. They are hoping to start chemo and radiation treatments next.
We had never met Judy's family before this week, but they were here for the event on Wednesday. It was nice to connect. Please keep them, and Judy, in your thoughts as they proceed down a path of recovery.
JJ's AXES & ALES – STAY & PLAY!
Have you seen "The Gameroom" at JJ's Axes & Ales? It's pretty sweet. We have two pool tables in there, plus we added three electronic dartboards and Video Lottery!
When you purchase a "Private Cage" Axe Throwing Package, we are throwing in a few games of pool or darts, along with your axe throwing experience!
We just got the windows blacked out in The Gameroom, plus we added a new sound system so the vibe is pretty sweet. Visit https://www.jjsaxes.com to book some time for axe throwing, or just stop in during normal business hours and shoot pool, darts or try your luck with video lottery! We are open from 12:00pm to 10:00pm Tuesday through Saturday. And 12:00pm to 7:00pm on Sunday!
NEW WHISKIES & NEW WINES!
We have some new things for you to snag when you stop in this weekend! Our Italian wine tasting last night was a whole lot of fun, and very educational. The other benefit is some things on our shelves to throw in your cart when you come to shop! New wines from Piedmont Italy and also a few new selections from Chianti have shown up in this past week.
In the world of whiskey we are proud to announce that Pinhook Rye and Small Batch Bourbon are now available. We are all pretty excited about this one, but no one is as excited as Joe. I believe last count, he has 20 different Pinhooks in his personal collection!
We also received a fresh allocation of Stranahan's Diamond Peak Small Batch Malted Whiskey, Bushmills 12 Year Old, Bruichladdich Port Charlotte is back for you peat lovers, and we also received a new expression from Ardbeg called Wee Beastie!
Looking for something a little bit lighter? Gray Duck Seltzers are now available from the makers of Gray Duck Vodka. We tried a couple of them and they were pretty tasty!
That's it for today! I hope you have a great weekend! We will be out at a couple of events this weekend, so if you see us, please say hello!