Did anybody attempt to get tickets to see the original Star Wars trilogy at The State Theatre? Good luck! Sold out in just a few hours, and that is awesome for a variety of reasons.
One, The State Theatre is pretty awesome. If you haven't been to a film or an event there, you need to. Allison and her team are offering top notch hospitability; and the luxurious environment that has been built into the facility is pretty amazing!
Two, May is Star Wars month! This year celebrates the 45th anniversary of the release of the first movie in 1977. I only remember this because it was released the year my brother Jim was born, and he is by far the biggest Star Wars nerd that I know.
And three, Wednesday is Star Wars Day (May the 4th be with you!) Even though the original film was released on May 25th, 1977, May the 4th has been dubbed Star Wars Day just because it sounds like it should. So what are we doing to celebrate at JJ's? We are doing a Star Wars Cocktail Flight for Whisk(e)y Wednesday…
Star Wars Day Cocktail Flight and Bottle Raffle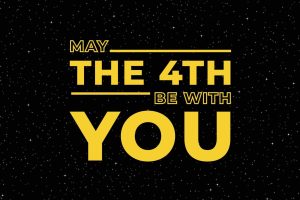 This week, for our feature flight on Whisk(e)y Wednesday, we are offering four unique cocktail samples for you to sip on. The recipes have been developed by my team for a few weeks now, and they can't wait to see what you think! We are not going to divulge what each cocktail is just yet. You will have to come in and participate to see what we are offering! I do know this… they will all be named with a certain film in mind… This will be a lot of fun, and the drinks are pretty amazing.
We will also be doing a weekly bottle raffle with the following items up for grabs…
Henry McKenna Single Barrel
Four Roses Small Batch Select
Eagle Rare Kentucky Bourbon
Jacob's Pardon Batch #2
How do you get in the bottle raffle? Be at JJ's Bar before 5:45pm! Your first entry is FREE, but you will get additional entries by purchasing our feature flight, and more entries by purchasing one of our amazing food items! Purchasing the feature flight of Star Wars themed cocktails will get you FOUR entries in total. Purchasing a food item will get you TWO additional entries. We will start the raffle as soon as all of the names have been entered into the Wheel of Names!
May is Cystic Fibrosis Awareness Month
We had a great time on Saturday with our friends from Breathe Bravely, both in-person and virtual. We had over 160 participants in this year's event and raised solid money for Breathe Bravely so that Ashley Ballou-Bonnema can continue her mission to provide support through music for those afflicted with Cystic Fibrosis.
May is Cystic Fibrosis Awareness Month, so we are going to continue the fundraising and try and sweeten the pot from what has already been accumulated through Saturday's event. One of the drinks that we created together was the "French 65 Roses", our spin on the classic "French 75" cocktail. We are going to continue offering that drink in JJ's Bar for the duration of May, but for each drink sold through the end of May, we will be contributing $5 to Breathe Bravely. So what is in the "French 65 Roses"? (For those who participated on Saturday, we are tweaking the recipe just a little to make it a little more complicated and well worth ordering.)
Drumshambo Irish Gin
House-made Pomegranate Simple Syrup
Fresh Squeezed Lemon Juice
Capo Viejo Brut Cava Sparkling Wine
This drink is delicious and perfect for a Spring patio day! All of the ingredients are also readily available for you to purchase and take home to make yourself… except for the pomegranate simple syrup, but we can teach how to do that as well!
On a sad note, Sioux Falls lost another icon on Saturday to Cystic Fibrosis. "Clipper Jim" Dresch cut many heads of hair at his shop on South Western Avenue for decades. Jim was also a longtime customer of JJ's and he will be missed here and in the community as he was a staunch advocate for others afflicted with CF. RIP Clipper Jim!
Coming up the Rest of the Week
TONIGHT – 5:30 to 7:30pm we will have our LAST free product EXPO before Summer! We will have about 40 different items on display tonight for you to sip on and sample, plus some very wise product reps to impart their knowledge! Then slip on over to JJ's Bar for a bite, The kitchen is open until 8:00pm! We have something else planned for Tuesday's this Summer, stay tuned for more info on that!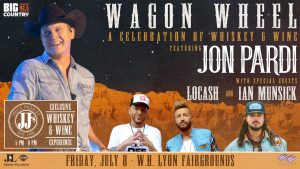 We covered Whisk(e)y Wednesday, but don't forget, all SPIRITS are 30% off List Price every Wednesday, no matter how much you buy! It's a great day to get that special bottle for Mom (Mother's Day is Sunday) or for your newly minted college graduate! All of the state universities will be celebrating commencement this weekend! This Wednesday, we will also be drawing for a pair of tickets to Wagon Wheel and the JJ's Wine & Whisk(e)y Experience featuring Jon Pardi and friends! The event is July 8th at the WH Lyon Fairgrounds. You can purchase tickets to all of the activities at – https://pepperentertainment.com/wagonwheel/
Thursday is May 5th, also known as Cinco de Mayo, a celebration of Mexican Heritage, History and Culture (CLICK HERE to learn more about Cinco de Mayo and the Mexican victory over France at The Battle if Puebla in 1862). Tequila & Mezcal flights will be half price plus we will be offering our signature Codigo Margarita for $8! Also hoping for a taco food feature, but that is TBD as of now. We will also have LIVE MUSIC again featuring Chris Beyer! Chris always manages to draw a crowd, so be sure to get here early to grab a seat! Hoping for nice weather so we can have some outdoor music!
Friday is the First Friday of the season in Downtown Sioux Falls. We will be here when you need us, but feel free to celebrate the greatness of our downtown community, then come see us for a night cap! Or come see us first, then head Downtown, it's great to have options!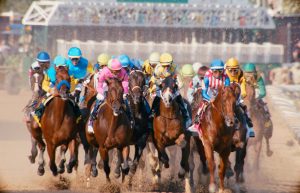 Saturday is the 148th running of the Kentucky Derby! We will have Mint Juleps and (crossing my fingers) hopefully I can talk Kaleb into making a traditional Hot Brown. Watch for Friday's email to see who won that argument. Post time is 5:57pm but if you want to sing Old Kentucky Home, you need to be here by 5:39pm. So, that being the case, you may want to just hang out all day! If you would prefer to take your Mint Juleps home, we can help with everything but the mint! We will even have our house-made simple syrup for you to purchase!
Sunday, May 8th is Mother's Day! JJ's will be open for retail only, for those who forgot and need to grab a last-minute bottle of wine for mom, or bourbon. JJ's Axes & Ales is also open for some Mother's Day Axe Throwing fun! Make your reservation now at https://www.jjsaxes.com! Or just stop by and enjoy the space! We also have pool, darts and cold beers on tap!
That's a wrap for today! Want to really keep up with us on Social Media? We are mostly active on Facebook. We are working on the rest of the SMs, but Facebook is where we seem to find the majority of our audience. Click this link – JJ's Wine, Spirits & Cigars | Facebook and like our page! Then check back and engage frequently so that we stay on your new feed. How do you engage? Like, Comment & Share our posts!
Have a great week!