We are back from vacation! And we had a wonderful time in Boston and the surrounding area. We ate, we drank, we walked… and walked… and walked. History, culture, nature and society all bundled up into a tight little space. We had such a great time, and look forward to going back again! Probably spend more time inland as we really loved what we found in the tiny town of Concord. But for now, it's back to business!
Cocktails & Cars – JJ's this Summer!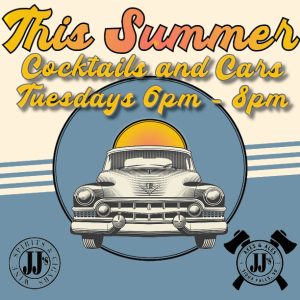 This Summer, we are going to be doing something a little different on Tuesdays. We are inviting ANYONE with a classic, custom or otherwise badass truck, car or motorcycle that you want to show off! We will be showcasing these vehicles EVERY Tuesday through the Summer, starting June 7th, from 6pm to 8pm in our North parking lot. We will expand to other parts of our lot as needed, but stick with the North for now. What is going to be happening?
Walk around and check out the cars while enjoying a beverage from JJ's Bar! We will have drink and food specials to be had during each event.
Stop in and throw axes at JJ's Axes & Ales, or throw some darts, or shoot some pool!
Listen to LIVE music on JJ's patio from 6pm to 8pm.
We really want to make this a weekly destination event for car enthusiasts, cocktail enthusiasts and live music enthusiasts who are looking for something to do on an otherwise quiet Tuesday evening in the Summer!
Anybody who brings a vehicle down to participate in the show will receive a complimentary beverage. If that's not your thing, we will make sure you get something for taking the time to shine up your wheels and bring them down!
Whisk(e)y Wednesday

We are headed back to Scotland for Whisk(e)y Wednesday this week! Well, not actually headed back to Scotland, but metaphorically in the sense that we will be tasting pretty tasty Scotch! Tonight for our Whisk(e)y Wednesday feature flight, we will be offering Benriach Single Malt Scotches from Speyside. There will be FOUR different expressions of Benriach in today's flight…
Benriach The Original Ten
Benriach The Smoky Ten
Benriach The Twelve
Benriach The Smoky Twelve
This will be a great experience to learn about smoky and non-smoky scotches, plus as always we have a lot of fun, and there is a bottle raffle. What is up for grabs this week?
Eagle Rare Bourbon
Weller Special Reserve Bourbon
Blanton's Single Barrel Bourbon
Henry McKenna Single Barrel Bourbon
Sazerac Rye
How do you get into this week's raffle? Be at JJ's by 5:45pm and let us know you want to be in the raffle! It's that easy. You get one entry just by being here. You can get extra entries by purchasing our feature flight (FOUR in TOTAL) plus more entries by purchasing a food item (TWO more in TOTAL) for a total of SIX entries! It's looking like an excellent patio day, so plenty of room for everybody! Kaleb has made a few changes to our menu this week. We will be adding our Chimichurri Steak Sandwich to the regular menu, as well as Pretzel Bites and Kenny Pepper Beer Cheese dip. For features this week, we will be offering a Chimichurri Steak Salad made with the juicy striploin we use for our Chislic and the new Chimichurri Steak Sandwich. Fun stuff!
Along with feature flights and bottle raffles, don't forget that Whisk(e)y Wednesday also means 30% off ALL spirits out the door! It's a great day to reach for the top shelf for your college graduate, or just to fill a hole in your premium whiskey collection!
Meet the Coach – Augustana Hockey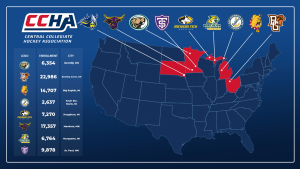 Last night was fun! We hosted a little event in JJ's Bar to introduce Garrett Raboin (RAH-bean) to a few folks from Sioux Falls and what was supposed to be a smallish affair, turned into a rather large one. Who is Garrett Raboin? He is Augustana University's new Hockey Coach as the Vikings push towards their inaugural season in Division I hockey in 2023-2024 academic year.
Along with introducing Coach Raboin to Sioux Falls, Augustana also announced a conference affiliation, and this is a really big deal as I learned last night that this NEVER happens with a new program. The Vikings will be taking the ice in the CCHA (Central Collegiate Hockey Association) against the likes of Bemidi State University, Minnesota State Mankato, St. Thomas University in St. Paul and Bowling Green University in Bowling Green Ohio.
We are excited to watch all of this unfold in our community, and as a proud partner of Augustana University Athletics, we look forward to seeing what the future holds for JJ's when all of this shakes out. Exciting stuff!
That's it for today! We look forward to seeing all of you in the shop, in the bar, or pitching axes this week! If you need anything, please let me know!