We had a very interesting weekend. We hosted a couple of weddings on Sunday. One at The Sanford Barn and the other at JJ's. Both were fairly well attended and a lot of fun! The weather was a bit of a bugger, but we managed to get through everything before the major stuff hit late Sunday night! We have another busy week coming up, so let's get to it!
Levitt at the Falls 2022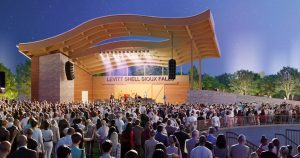 Our first Levitt concerts of the 2022 Season are this Friday and Saturday! The weather is looking fairly cooperative, so we are expecting some pretty solid crowds! What are we offering this year?
We added FOUR new tap lines on to our beer trailer, so we will have a total of SIXTEEN draft options for you, including a couple of refreshing seltzers from local producers! As a matter of fact, ALL but four of the beverages on tap will be from local breweries! The other four? Well, the usual suspects. We will have online menu up and running tomorrow at this link – https://jjswine.com/levitt – Bookmark this page so you can check back each week to see if there are any changes!
The process is the same as last year. Order your drinks, pay for your drinks, grab your drinks, enjoy the show! We will be wristbanding anyone who isn't obviously old enough to purchase adult beverages, but we will do that when you order your drinks, so no additional line to stand in. We will once again be taking all forms of payment. We highly recommend just paying with a card, it moves things along much faster.
Any questions, please don't hesitate to ask! See you at The Levitt!
Whisk(e)y Wednesday
Today is the first of FIVE Whisk(e)y Wednesdays in June! We will be doing some fun educational tastings, helping you to expand your whiskey horizons a bit, starting this week! There is a common theme to the whiskies being presented this week, so you will be tasked with determining that theme as you sip through some tasty whiskies in a blind tasting format.
All of them are American made, and none of them are bourbon, per se. I think you will enjoy this, plus if you guess the common theme, you will get extra chances into this week's bottle raffle, and we have some nice things up for grabs!
Blanton's Single Barrel Bourbon – TWO Bottles – WW VIP Price – $59.49/bottle (Whiskey Wednesday VIP Price)
Colonel EH Taylor Small Batch – WW VIP Price – $38.49/bottle
Henry McKenna Single Barrel – WW VIP Price – $38.49/bottle
Eagle Rare Bourbon – WW VIP Price – $38.49/bottle
1792 Full Proof – JJ's 9th Edition Single Barrel – WW VIP Price – $48.99/bottle
Pretty solid raffle lineup! The Whisk(e)y Wednesday VIP Price takes into account the 30% discount you get on ALL spirits on Wednesdays! No need to buy a bunch to get the best deal, so reach for the top shelf! How do you get into this week's raffle? Be at JJ's by 5:45pm. It's free to enter the raffle, you just have to be on site when the wheel starts to spin. You will get extra chances by purchasing this week's feature flight, which is only $10 (FOUR total). You will also get extra chances by purchasing a food item (TWO) or guessing the common theme of tonight's feature flight (TWO). Giving you a total of EIGHT entries in tonight's bottle raffle! We will start the wheel spinning as soon as all names are entered, but remember you MUST be at JJ's by 5:45pm to get an entry!
Cocktails & Cars – JJ's this Summer!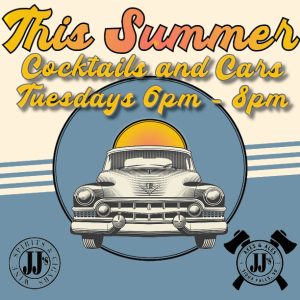 CALLING ALL CARS! This Summer, we are going to be doing something a little different on Tuesdays. We are inviting ANYONE with a classic, customized, collectible or otherwise badass truck, car or motorcycle that you want to show off! We will be showcasing these vehicles EVERY Tuesday through the Summer, starting June 7th, from 6pm to 8pm in our North parking lot. We will expand to other parts of our lot as needed but stick with the North for now. What is going to be happening?
Walk around and check out the cars while enjoying a beverage from JJ's Bar! We will have drink and food specials to be had during each event.
Stop in and throw axes at JJ's Axes & Ales, or throw some darts, or shoot some pool!
Listen to LIVE music on JJ's patio from 6pm to 8pm.
We really want to make this a weekly destination event for car enthusiasts, cocktail enthusiasts and live music enthusiasts who are looking for something to do on an otherwise quiet Tuesday evening in the Summer!
Each event will feature a special deal for anyone who brings a vehicle down. For this first event, anybody who brings a vehicle down to participate in the show will receive a complimentary beer from select options off of our draft beer list. If that's not your thing, we will make sure you get something for taking the time to shine up your wheels and bring them down!
FINAL EXPO until Fall
Also this coming Tuesday, we will have our final FREE product EXPO before we head into Summer. This will once again be held in JJ's Event Room from 5:00pm to 7:00pm (yes the time is different from before.) We will have a wide array of products available for sampling, and our kitchen is now open until 9:00pm, so you will still have plenty of time to hang out in JJ's Bar and grab a bite to it, or check out Cocktails & Cars!
Wagon Wheel 2022
Starting tonight, and through the end of the month, we will be giving away TWO free tickets to Wagon Wheel and The JJ's Wine & Wisk(e)y Experience on Friday July 8th! Winner will receive TWO tickets to the concert plus TWO passes to the Wine & Whisk(e)y Experience, which runs from 5pm to 8pm before the concert featuring Jon Pardi! Stop in to sign up for the drawing which will take place AFTER our whiskey Wednesday bottle raffle! To purchase tickets, visit – https://pepperentertainment.com/wagonwheel/
That's it for today! Looking like lovely weather tonight to hang out on JJ's Patio and sip some whiskey and have a bite to eat! Kaleb is featuring Shrimp Tacos this week and another Slider feature.
Have a great week!
Tom