It's June 3rd, 2022! It's the first full weekend of the Summer and it is also opening night at The Levitt! We are excited once again to be your adult beverage provider for all of the concerts where adult beverages are being served. It's also First Friday in DTSF so we expect a fairly good crowd to watch The Burroughs while sipping on some tasty beverages! Keep reading, more info ahead…
Levitt at the Falls 2022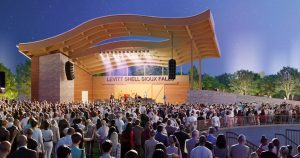 We added FOUR new tap lines on to our beer trailer, so we will have a total of SIXTEEN draft options for you, including a couple of refreshing seltzers from local producers! As a matter of fact, ALL but four of the beverages on tap will be from local breweries! The other four? Well, the usual suspects.
Our online menu and description of our service plan is up and running – https://jjswine.com/levitt – Bookmark this page so you can check back each week to see if there are any changes!
The process is the same as last year. Order your drinks, pay for your drinks, grab your drinks, enjoy the show! We will be wrist banding anyone who isn't obviously old enough to purchase adult beverages, but we will do that when you order your drinks, so no additional line to stand in. We will once again be taking all forms of payment. We highly recommend just paying with a card, it moves things along much faster.
You MAY bring your own cup! If you have a favorite YETI or other type of insulated beverage holder, we will be happy to fill it with your preferred beverage of choice! Make sure it is clean. We will require you to wear a wristband when using your own cup, as we want the boys in blue to know that you had it filled with a beverage from our bar.
Please keep in mind that while you are allowed to bring snacks and NON-alcohol beverages to the Levitt park, it is AGAINST THE LAW to bring your own adult beverages. If you are caught, your beverages will be confiscated and you will be asked to leave the park. It's not worth the risk and create an uncomfortable conversation with myself or the cops.
You may also reuse your JJ's cup! While we do use top notch compostable plant based plastic cups, we do want to minimize waste. So, we encourage you to bring your cup back to the bar when you are ready for a refill!
Any questions, please don't hesitate to ask! See you at The Levitt! Here is the link to the web page again as well – https://jjswine.com/levitt
Cocktails & Cars – JJ's this Summer!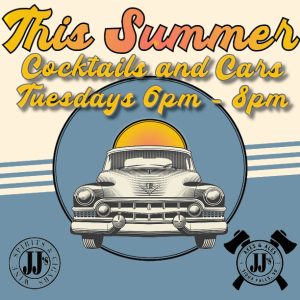 CALLING ALL CARS! This Summer, we are going to be doing something a little different on Tuesdays. We are inviting ANYONE with a classic, customized, collectible or otherwise badass truck, car or motorcycle that you want to show off! We will be showcasing these vehicles EVERY Tuesday through the Summer, starting June 7th, from 6pm to 8pm in our North parking lot. We will expand to other parts of our lot as needed but stick with the North for now. What is going to be happening?
Walk around and check out the cars while enjoying a beverage from JJ's Bar! We will have drink and food specials to be had during each event.
Stop in and throw axes at JJ's Axes & Ales, or throw some darts, or shoot some pool!
Listen to LIVE music on JJ's patio from 6pm to 8pm.
We really want to make this a weekly destination event for car enthusiasts, cocktail enthusiasts and live music enthusiasts who are looking for something to do on an otherwise quiet Tuesday evening in the Summer!
Each event will feature a special deal for anyone who brings a vehicle down. For this first event, anybody who brings a vehicle down to participate in the show will receive a complimentary beer from select options off of our draft beer list. If that's not your thing, we will make sure you get something for taking the time to shine up your wheels and bring them down!
FINAL EXPO until Fall
Also, this coming Tuesday, we will have our final FREE product EXPO before we head into Summer. This will once again be held in JJ's Event Room from 5:00pm to 7:00pm (yes the time is different from before.) We will have a wide array of products available for sampling, and our kitchen is now open until 9:00pm, so you will still have plenty of time to hang out in JJ's Bar and grab a bite to it, or check out Cocktails & Cars!
Wagon Wheel 2022
Wagon Wheel & The JJ's Whisk(e)y & Wine Experience is coming up July 8th! We will be giving away TWO free tickets to Wagon Wheel and The JJ's Wine & Whisk(e)y Experience every Wednesday through the end of June after our weekly bottle raffle! Stop in to sign up at any time! Winner will receive TWO tickets to the concert plus TWO passes to the Wine & Whisk(e)y Experience, which runs from 5pm to 8pm before the concert featuring Jon Pardi! Stop in to sign up for the drawing which will take place AFTER our whiskey Wednesday bottle raffle! To purchase tickets, visit – https://pepperentertainment.com/wagonwheel/
That's it for today and for this week! We look forward to seeing you over the weekend!
Have a great weekend!
Tom