Summer is in full swing! And so are we at JJ's! And it all started this past weekend in Downtown Sioux Falls! Our first Levitt concerts were awesome! We had a little bit of a rain hiccup on Friday, but you still turned out to hear the funky sounds of The Burroughs! Saturday the weather couldn't have been more perfect! The Clover Fold entertained well past 9:00pm, which meant we kept selling beverages well past 9:00pm. And it was fun! Big props to the Levitt crew for a great start to the year. And especially big props to our event team! We have a top-notch crew running the Levitt concerts this year, and we can't wait until this weekend for more action. But, before that happens, we have a couple of really cool things going on this Summer, and one of them starts tonight!
Cocktails & Cars – JJ's this Summer!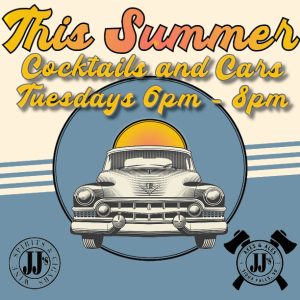 CALLING ALL CARS! This Summer, we are going to be doing something a little different on Tuesdays. We are inviting ANYONE with a classic, customized, collectible or otherwise badass truck, car or motorcycle that you want to show off! We will be showcasing these vehicles EVERY Tuesday through the Summer, starting June 7th, from 6pm to 8pm in our North parking lot. We will expand to other parts of our lot as needed but stick with the North for now. What is going to be happening?
Walk around and check out the cars while enjoying a beverage from JJ's Bar! We will have drink and food specials to be had during each event.
Stop in and throw axes at JJ's Axes & Ales 10 throws for $10, or throw some darts, or shoot some pool!
Listen to LIVE music on JJ's patio from 6pm to 8pm. Tonight we are featuring local musician Lucas Olson
We really want to make this a weekly destination event for car enthusiasts, car clubs, cocktail enthusiasts, and live music enthusiasts who are looking for something to do on an otherwise quiet Tuesday evening in the Summer!
Tonight, we are offering Buy One Get One half off any of our beers on tap from 4 to 8pm. We are also offering $3 domestic cans and a selection of $5 craft cans. Weather pending, we will have the can special on our patio bar! Food features are still TBD at this time but stay tuned!
PLEASE NOTE: ALL adult beverages consumed in JJ's parking lot MUST BE PURCHASED FROM JJ'S BAR. Meaning, you cannot buy a 6-Pack or any other package from our retail store (or any other store) and drink it in our parking lot. If this happens, you will be asked to leave. Also, no outside food is allowed. If you are hungry, we have an awesome kitchen and great menu for you to order from and the kitchen is now open until 9:00pm! Please don't be that guy and cause an uncomfortable conversation, as that conservation will take place with me, and I am not good at uncomfortable conversations.
FINAL EXPO until Fall
Also tonight, in JJ's Event Room, we have our final FREE Product EXPO for the first half of the year! This event will return in September. As I noted this is a FREE event, sponsored by most of our area wine and spirits sales reps. We couldn't put on this free event without them, so please show them some love by supporting the products that they are offering you samples of. Tonight's EXPO will be from 5:00pm to 7:00pm in JJ's Event Room, giving you plenty of time to take in Cocktails & Cars or grab a bite and more cocktails when you are done!
Whisk(e)y Wednesday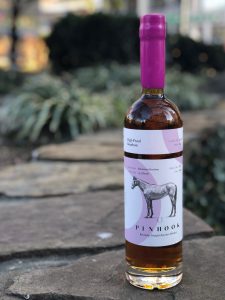 Tomorrow is Wednesday! That's Whisk(e)y Wednesday at JJ's. What does that mean? ALL spirits are 30% off List Price, no quantity purchase necessary! Found something you like at EXPO on Tuesday? Come back and buy it on Wednesday for a better deal, OR just buy SIX items on Tuesday, it's the same discount! We have a very special flight for you this week featuring whiskies from Pinhook Distillery.
Pinhook is relatively new to the area, so we thought it was high time to feature their goods! We will be tasting FOUR different whiskies from Pinhook… Straight Rye, Straight Bourbon, (which means aged AT LEAST two years) 6-Year-Old Vertical Bourbon and High Proof Bourbon. The last two are no longer available for sale as they sold out right after they hit the shelf. We are going to have a little bit of fun with this flight, and maybe learn a little as well. This will be another blind flight, and you will be charged with matching the whiskey style with the sample poured. The flavor profiles of these are so different, it should be a good lesson. (Hint… If you want to learn ahead of time what the Straight Rye and Straight Bourbon taste like, stop in for our FREE product EXPO tonight. The sales and marketing team from Pinhook will be here showing their goods.) If you get any of them correct, you will get an extra chance into this week's bottle raffle for each correct answer!
So, what is on this week's bottle raffle?
Weller 12-Year-Old Kentucky Bourbon
Weller Special Reserve Kentucky Bourbon
Blanton's Single Barrel Kentucky Bourbon
Eagle Rare Kentucky Bourbon
Blood Oath Pact #8
Remember, getting into the raffle is FREE, you just have to be at JJ's Bar by 5:45pm. You can earn extra chances by purchasing this week's feature flight, getting correct matching answers and getting our new #WhiskeyTrivia answer correct. You may also earn extra chances by purchasing a food item off of our amazing menu! In total, you could have up to TEN chances in this week's bottle raffle!
Wagon Wheel 2022
Wagon Wheel & The JJ's Whisk(e)y & Wine Experience is coming up July 8th! We will be giving away TWO free tickets to Wagon Wheel and The JJ's Wine & Whisk(e)y Experience every Wednesday through the end of June after our weekly bottle raffle! Stop in to sign up at any time! Winner will receive TWO tickets to the concert plus TWO passes to the Wine & Whisk(e)y Experience, which runs from 5pm to 8pm before the concert featuring Jon Pardi! Stop in to sign up for the drawing which will take place AFTER our whiskey Wednesday bottle raffle! To purchase tickets, visit – https://pepperentertainment.com/wagonwheel/
South Dakota's Laziest Race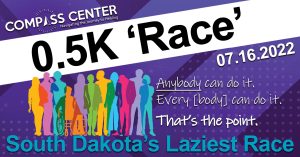 Mark your calendars for Saturday, July 16th at 10:00am! We are hosting South Dakota's Laziest Race in our parking lot. This is an annual fundraiser for my friends at The Compass Center featuring a .5K "Race" around our parking lot, stops along the way "JJ's Style" and finishing with drinks, food and LIVE music from Elisabeth Hunstad (2:00pm to 5:00pm) and Chris Sandvig (5:00pm to 8:00pm). Visit the Facebook Event Page for more information and purchase tickets. – https://fb.me/e/eQNqm94eN – If you can't make it, please consider a donation to The Compass Center. They do some pretty remarkable work in our community.
That's it for today! We are excited to bring all of these fun activities this Summer at JJ's! I hope you get to take a few of them in! If not, let us know what else we can do to help your Summer along!
Have a great week!
Tom