Today (June 14th) is National Bourbon Day AND it's Father's Day Week! Time to celebrate Dad, and BOURBON! And we have the perfect way to show the old man how you feel! Well, a few ways, but you get the idea. So, to start this off… We are having a little sale! If you don't have time to shop, a JJ's E-Gift Card is a great gift too! – CLICK HERE
National Bourbon Day & Father's Day Week THREE DAY Sale!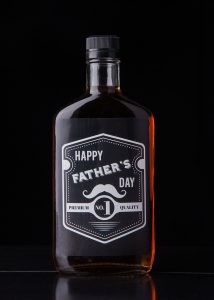 Starting TODAY and through Thursday (6/16/2022) everything in the store is 30% off List Price (unless it is already on sale). Wine, Single Beers, Spirits. Everything is 30% off! Plus, there's more… Buy any TWELVE items in the same category (12 Wines, or 12 Single Beers, or 12 Spirits) and we are bumping your discount to 35% off List Price! This is a great time to stock up the lake house, load up for a party, or just replenish your cabinets! This sale WILL END at close of business on Thursday, so be sure to get in and get your share! RULES: No email orders, no hold orders, no call-in orders. To qualify for the bonus discount YOU MUST STOP IN AND make your purchase!
New Riff Single Barrel Smoked Old Fashioned Set
This one has been a few months in the making, and now we are ready to share. There aren't many of these available, so you may want to jump on it ASAP! Each kit contains…
One bottle of New Riff Single Barrel Bourbon – JJ's 2nd Edition
One Bottle of JJ's New Riff Barrel Aged Maple Syrup
One bottle of Angostura Orange Bitters
One small cast iron skillet
One bag of pecan wood chips
One torch lighter
You will also be provided with the recipe to make your Old Fashioned. Pretty cool gift! We are collecting orders for these kits through Wednesday. They will be ready to pick up on Friday after 12:00pm. If you would like one, please CLICK THIS LINK to send a separate email requesting a kit. Each kit is $125 and is packaged and ready to be gifted! PLEASE email your request. It will be the best way to manage the orders.
Smooth Ambler Single Barrel Bourbon – 1st Edition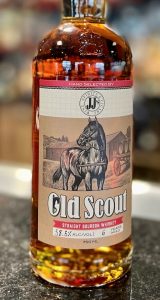 We have a new single barrel selection in stock! This is our first barrel from Smooth Ambler Distillery and we are pretty excited about it! As with all new barrels, we had a group sip when it came in last week and all agreed it was extremely tasty. This is a 6-Year-Old barrel with a 36% Rye component in the mash. Which means, "high rye". Offering a higher degree of sweetness and spiciness on the palate. List Price on this bourbon is $69.99. We are offering a "New Release Special Price" of $46.99/bottle through this weekend only! And we also received a pretty good supply, so the limit is up to six bottles per customer. As always, this builds your allocation points towards the year-end bottle releases, so be sure to snag a few while you can! We do have a few other single barrels in stock as well…
Knob Creek Rye – 3rd Edition
Knob Creek Single Barrel Bourbon – 18th Edition
Oak & Eden Bourbon & Spire – JJ's Edition
Old Elk Single Barrel Bourbon – 2nd Edition
These all make great Father's Day gifts as well!
Whisk(e)y Wednesday – Father's Day Week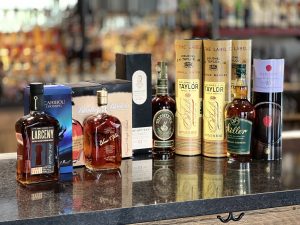 This week, being Father's Day Week, we thought we would take the Feature Flight up a couple of notches and offer something truly unique for this week's Whisk(e)y Wednesday. The cost for this flight is $45 and will include the following whiskies…
Jack Daniel's 10-Year-Old Tennessee Whiskey
Michter's 10-Year-Old Bourbon Whiskey
Lock, Stock & Barrel 20-Year-Old Rye Whiskey
Chicken Cock 20-Year-Old Canadian Rye Whisky
Not to be outdone with an impressive line-up, our bottle raffle is even more impressive with the following TEN items up for grabs this week…
Blanton's Single Barrel Bourbon – TWO Bottles
EH Taylor Small Batch – TWO Bottles
EH Taylor Single Barrel – TWO Bottles
Elmer T. Lee Single Barrel Bourbon
Weller Special Reserve Bourbon
Michter's Barrel Strength Rye Whiskey
Mitchell & Sons Red Spot Irish Whiskey
Lagavulin "Offerman Edition" 11-Year-Old Scotch
Caribou Crossing Single Barrel Canadian Whisky
Getting into the raffle is super easy. Just be at JJ's Bar by 5:45pm and get your name in the drawing! The spinning wheel will start once all of the names have been entered. You can earn extra chances in the drawing by purchasing the Feature Flight (FOUR) or purchasing a food item off of our amazing menu (TWO).
Cocktails & Cars with Elisabeth Hunstad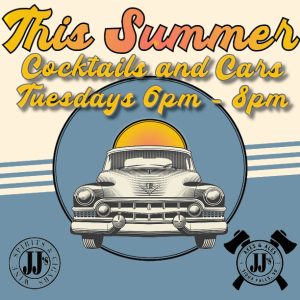 Last week's inaugural Cocktails & Cars Event was a BIG hit! We are excited to do it again! This week, we will have our good friend Elisabeth Hunstad providing the musical entertainment from 6:00pm to 8:00pm.
The parking lot will be blocked off after 4:00pm, giving you time to get your ride shined up and down here before 6:00pm. Vehicles will be on display from 6:00pm to 8:00pm (or later). We are once again offering Buy One Get One Half Off beers from our main tap list, if both beers are purchased at the same time. This offer will go from 4:00pm to 8:00pm. We are also offering our JJ's Pizzas and Pretzel Bites & Beer Cheese for $2 off from 4:00pm to 8:00pm as well, with our kitchen open until 9:00pm!
PLEASE NOTE: After some consideration, we have decided that KIDS are allowed to join you for Cocktails & Cars, but there are rules. They must be with you at all times. They are NOT allowed in the bar (except to use the restroom) or on the patio at any time. Bring lawn chairs if you are bringing your vehicle down and the kiddos can stay with your car. Bring bottled water as we will not be serving water or pop in the parking lot. We are still an adult-centric business, so we do not cater to children. Please respect that.
Wagon Wheel 2022
Wagon Wheel & The JJ's Whisk(e)y & Wine Experience is coming up July 8th! We will be giving away TWO free tickets to Wagon Wheel and The JJ's Wine & Whisk(e)y Experience every Wednesday through the end of June after our weekly bottle raffle! Stop in to sign up at any time! Winner will receive TWO tickets to the concert plus TWO passes to the Wine & Whisk(e)y Experience, which runs from 5pm to 8pm before the concert featuring Jon Pardi! Stop in to sign up for the drawing which will take place AFTER our whiskey Wednesday bottle raffle! To purchase tickets, visit – https://pepperentertainment.com/wagonwheel/
That's it for today! Hope to see you all out and about this week! If there is anything we can do to help make it that way, let me know!
Tom