Today is Friday, June 17th. It's Father's Day Week and we just wrapped up a three-day sale! Glad to see some of you taking advantage of the opportunity to stock up or snag something cool for your dad! That being said, just because the sale is over, does not mean the deals are over. We have tons of great things that are still priced pretty great, and for those who may not already know, let's recap JJ's VIP Discounts…
20% Off List Price all day every day! Shop the VIP Price on the tag!
30% Off List Price whenever you purchase SIX or more items in the same category (Wine, Spirits, Single Beers) – All items count, items ON SALE will not discount below the Sale Price
Mondays – 30% Off ALL wine ALL Day – 35% Off FULL Un Cut Cases
Wednesday – 30% Off ALL spirits ALL Day
Friday – 30% Off ALL Single Beers ALL Day!
So, you see, even when we aren't doing a "Sale", there is always great opportunities for great deals! Anyway, on to the weekend!
BBQ Anyone?
Kaleb suggested to me a BBQ platter for you this weekend, and I, being a fan of all things BBQ and all things Kaleb makes, said, "Oh hell yes!" So, TODAY (after 3:00pm) and TOMORROW ONLY, we will be featuring a JJ's BBQ Platter featuring smoked brisket (from the point), smoked pork, smoked chicken and smoked short ribs. Plus, Kaleb's corn bread, sweet & spicy pickles and fresh coleslaw! The price is $27.95 and there will be enough on the plate to share, unless you are really hungry! Order online for carryout at https://order.jjswine.com
Also featured this week in JJ's Bar is a wall full of whiskey! Ok, that's featured every day, but have you seen it lately? We are pretty proud of it. If you haven't been down for a bite and one of our Signature Cocktails, or just stopped in to check things out, we would love to see you! We are officially, as of Monday, FOUR years into this grand experiment, and we couldn't be more excited about the future!
The Boozy Bakery at Sioux Falls Pride Festival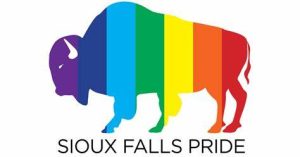 The Boozy Bakery team will be set up at this year's Sioux Falls Pride Festival! They will be selling all sorts of sweets and treats from 11:00am until they run out! Be sure to check out their booth located somewhere in the chaos! At JJ's we are proud to support the message of inclusion that "Sioux Falls Pride" represents and welcome all of those in the LGBTQ+ community with open arms!
Smooth Ambler Single Barrel Bourbon – 1st Edition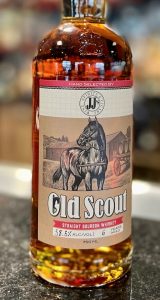 We have a new single barrel selection in stock! This is our first barrel from Smooth Ambler Distillery, and we are pretty excited about it! As with all new barrels, we had a group sip when it came in last week and all agreed it was extremely tasty. This is a 6-Year-Old barrel with a 36% Rye component in the mash. Which means, "high rye". Offering a higher degree of sweetness and spiciness on the palate. List Price on this bourbon is $69.99. We are offering a "New Release Special Price" of $46.99/bottle through this weekend only! And we also received a pretty good supply, so the limit is up to six bottles per customer. As always, this builds your allocation points towards the year-end bottle releases, so be sure to snag a few while you can! We do have a few other single barrels in stock as well…
Knob Creek Rye – 3rd Edition
Knob Creek Single Barrel Bourbon – 18th Edition
Oak & Eden Bourbon & Spire – JJ's Edition
Old Elk Single Barrel Bourbon – 2nd Edition
These all make great Father's Day gifts as well!
Cocktails & Cars with Micah Wetzel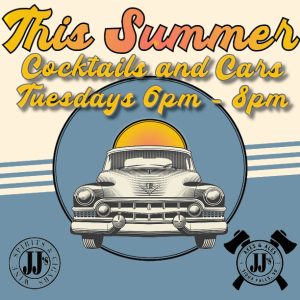 This event is going to continue to grow! Next week, we will have our good friend Micah Wetzel providing the musical entertainment from 6:00pm to 8:00pm.
The parking lot will be blocked off after 4:00pm, giving you time to get your ride shined up and down here before 6:00pm. Vehicles will be on display from 6:00pm to 8:00pm (or later). We are once again offering Buy One Get One Half Off beers from our main tap list, if both beers are purchased at the same time. This offer will go from 4:00pm to 8:00pm. We are also offering our JJ's Pizzas and Pretzel Bites & Beer Cheese for $2 off from 4:00pm to 8:00pm as well, with our kitchen open until 9:00pm!
PLEASE NOTE: After some consideration, we have decided that KIDS are allowed to join you for Cocktails & Cars, but there are rules. They must be with you at all times. They are NOT allowed in the bar (except to use the restroom) or on the patio at any time. Bring lawn chairs if you are bringing your vehicle down and the kiddos can stay with your car. Bring bottled water as we will not be serving water or pop in the parking lot. We are still an adult-centric business, so we do not cater to children. Please respect that.
Wagon Wheel 2022
Wagon Wheel & The JJ's Whisk(e)y & Wine Experience is coming up July 8th! We will be giving away TWO free tickets to Wagon Wheel and The JJ's Wine & Whisk(e)y Experience every Wednesday through the end of June after our weekly bottle raffle! Stop in to sign up at any time! Winner will receive TWO tickets to the concert plus TWO passes to the Wine & Whisk(e)y Experience, which runs from 5pm to 8pm before the concert featuring Jon Pardi! Stop in to sign up for the drawing which will take place AFTER our whiskey Wednesday bottle raffle! To purchase tickets, visit – https://pepperentertainment.com/wagonwheel/
That's it for this week! I hope you have an amazing weekend! I am taking a couple of the team to Kentucky net week to select a few bourbon barrels. I will be gone Monday through Thursday but can always be reached through email if you need anything! Have a great weekend and stay cool!
Tom