Greetings from Louisville, KY! It's hot down here. I know it's not much better back home, but it's really hot down here. Good thing we have plenty to keep us busy for this short trip or else I would probably dwell on how hot it is down here. We are here doing some barrel picks. I brought Ted (Egg Pie) and Carrie along on this adventure, along with Ted's Dad, my cousin, the other Tom Slattery. We drove down for this trip. Largely because plane tickets were outrageous, even three months ago when we booked it, but mostly so we had a little more flexibility on what we were able to bring back with us! It was a nice drive. Long, but we managed to enjoy ourselves!
What are We Picking?
We have a fairly full itinerary this week with four barrel selections on the docket. We are headed to Buffalo Trace Distillery today to select a Blanton's Single Barrel Bourbon and a Buffalo Trace Single Barrel Bourbon. We haven't had a Blanton's since 2020, so we are excited to see what we come up with there! Then, tomorrow we are headed to Jim Beam, where it all started for me, to pick our first on-site Knob Creek barrel in three years. I am excited to see what they have done with the place as it has been under renovation since the beginning of the pandemic. After that, we are headed to Maker's Mark for a Private Selection. This will be our 3rd PS barrel. As you recall, we get to create the finish of our bourbon by mad-sciencing different expressions together to come up with our own unique flavor profile. Exciting stuff!
Follow along on our socials to watch the process. I will try to post regularly, but that is to be determined!
Cocktails & Cars – Week 3!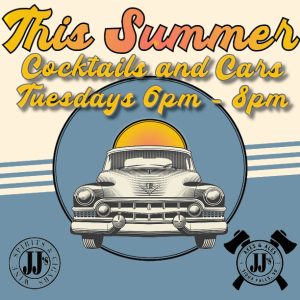 This weekly event is going to continue to grow! We had another 20 or so cars present last week and with the heat quelling just a bit, we expect a few more tonight! Micah Wetzel will be providing the entertainment from 6:00pm – 8:00pm. Cars are welcome to start assembling in the NORTH parking lot after 5:00pm and stay as long as you want! So what do you do while here?
Walk around and check out the cars while enjoying food and a beverage from JJ's Bar! We will be offering Buy One Get One HALF OFF tap beers and signature cocktails this week. Plus we will be offering $2 off pizzas and Pretzel Bites & Cheese.
Stop in and throw axes at JJ's Axes & Ales 10 throws for $10, or throw some darts, or shoot some pool!
This is going to be a fun night! I wish we could be there to enjoy it with you, but we are stuck here in the heat sipping bourbon!
PLEASE NOTE: ALL adult beverages consumed in JJ's parking lot MUST BE PURCHASED FROM JJ'S BAR. Meaning, you cannot buy a 6-Pack or any other package from our retail store (or any other store) and drink it in our parking lot. If this happens, you will be asked to leave. Also, no outside food is allowed. If you are hungry, we have an awesome kitchen and great menu for you to order from and the kitchen is now open until 9:00pm! Please don't be that guy and cause an uncomfortable conversation, as that conservation will take place with me, and I am not good at uncomfortable conversations. ALSO – Kids are welcome to join you to check out the cars, but are NOT ALLOWED in JJ's Bar or on the patio except to use the restroom, so please plan accordingly.
Whisk(e)y Wednesday
Tomorrow is Wednesday! That means Whisk(e)y Wednesday at JJ's! ALL spirits are 30% Off List Price and ALL whiskey flights are HALF PRICE! There will be no feature flight or bottle raffle this week as we are in Louisville, but we will be returning next week with a special event featuring a brand-new product to the area, and it is all tied to our Wagon Wheel event coming up on July 8th! Stay tuned for details on that!
Wagon Wheel 2022
Wagon Wheel & The JJ's Whisk(e)y & Wine Experience is coming up July 8th! We will be giving away TWO free tickets to Wagon Wheel and The JJ's Wine & Whisk(e)y Experience every Wednesday through the end of June after our weekly bottle raffle! Stop in to sign up at any time! Winner will receive TWO tickets to the concert plus TWO passes to the Wine & Whisk(e)y Experience, which runs from 5pm to 8pm before the concert featuring Jon Pardi! Stop in to sign up for the drawing which will take place AFTER our whiskey Wednesday bottle raffle! To purchase tickets, visit – https://pepperentertainment.com/wagonwheel/
South Dakota's Laziest Race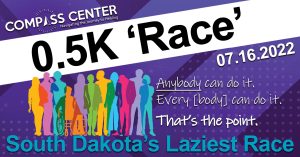 Mark your calendars for Saturday, July 16th at 10:00am! We are hosting South Dakota's Laziest Race in our parking lot. This is an annual fundraiser for my friends at The Compass Center featuring a .5K "Race" around our parking lot, stops along the way "JJ's Style" and finishing with drinks, food and LIVE music from Elisabeth Hunstad (2:00pm to 5:00pm) and Chris Sandvig (5:00pm to 8:00pm). Visit the Facebook Event Page for more information and purchase tickets. – https://fb.me/e/eQNqm94eN – If you can't make it, please consider a donation to The Compass Center. They do some pretty remarkable work in our community.
That's it for today! I hope you have a great week, and we will see you when we get back!
Tom