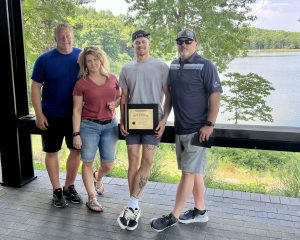 We made it home! Rolled in last night around 9:00pm. It was a long day of driving, but worth the effort given that we were able to bring a few things back with us! Much thanks to all of our hosts on this trip. Justin and crew at the James B. Beam Distillery were awesome as always, and Woody and Crew were equally awesome at Maker's Mark. Tim, our local rep, joined us on the trip and was a great host while we toured around and picked some pretty great barrels from Knob Creek and Maker's Mark.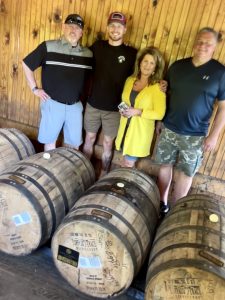 A bit of a surreal moment at Maker's Mark while crafting our Private Select Barrel. The lake you see behind us in the photo is a feeder lake that is used as the primary water source for proofing down Maker's Mark Whisky before it goes into barrel and then again into bottle. At one point during our tasting, we were graced by the presence of a young female deer sipping water from the lake. It was a distinct point of perspective in all of this chaos and technology, that nature still plays an important role in the world of bourbon, and the balance between nature and technology must be respected in not only this process, but in all things.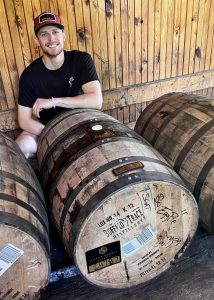 On Tuesday we visited Buffalo Trace Distillery and selected a barrel of Buffalo Trace (the branding on this one is going to be fun) and Blanton's Single Barrel Bourbon. We got a tour prior to our picks from Shelly and did our picks with our old friend Susannah.
Thanks to my travel partners for your patience in the travel component. Driving down there and back is a bit of haul, but Tom, Ted and Carrie were troopers and we had a great time. Even met up with one of our cousins, Nick Slattery, who lives in Louisville, and had some fun with him on Wednesday night.
We are currently working on barrel allocations for picks later this year, but the way it is shaping up, we will have to wait until next Spring before we can go back again. Who knows? It's a crazy business these days.
Denham at The Levitt
Levitt should be fun this weekend! The band that was originally scheduled to perform on Saturday had to cancel for some reason. So, local performer Denham and crew will be taking the stage as this Saturday's headliner! Denham does a very high energy show and has a pretty solid local following. JJ's will be there, and tonight, with JJ's Bar at the Levitt opening for Happy Hour ($1.00 off all drinks) at 6:00pm! Happy Hour runs until the live music starts!
Wagon Wheel 2022 – Pardi Batch Spirits Bourbon Release Event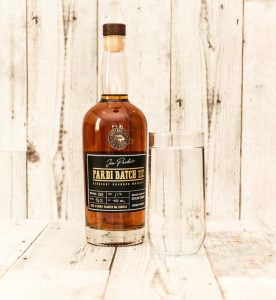 Wagon Wheel & The JJ's Whisk(e)y & Wine Experience is coming up July 8th! We are kicking off the final countdown to Wagon Wheel with a special event on Wednesday, June 29th. As part of Whisk(e)y Wednesday at JJ's, we will be offering the newly released Pardi Batch Spirits Bourbons as part of your feature flight. These whiskies are named for country star Jon Pardi, who will be this year's headliner at Wagon Wheel. We will have a live remote broadcast from KTWB and also giving away tickets to the concert AND JJ's Whisk(e)y & Wine Experience! That's not all…
We will also have the Pardi Batch Spirits Bourbons available for sale! And, this night only, you can purchase a bottle that we will then have signed by Jon Pardi the day of the show. There is a limited number of bottles available for sale, so you will want to be sure to pop in for Whisk(e)y Wednesday next week to snag one! We will also have a pretty extensive bottle raffle next week, since we missed this week. More on that later.
To purchase tickets to Wagon Wheel and The JJ's Whisk(e)y & Wine Experience, visit – https://pepperentertainment.com/wagonwheel/
South Dakota's Laziest Race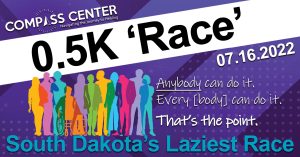 Mark your calendars for Saturday, July 16th at 10:00am! We are hosting South Dakota's Laziest Race in our parking lot. This is an annual fundraiser for my friends at The Compass Center featuring a .5K "Race" around our parking lot, stops along the way "JJ's Style" and finishing with drinks, food and LIVE music from Elisabeth Hunstad (2:00pm to 5:00pm) and Chris Sandvig (5:00pm to 8:00pm). Visit the Facebook Event Page for more information and purchase tickets. – https://fb.me/e/eQNqm94eN – If you can't make it, please consider a donation to The Compass Center. They do some pretty remarkable work in our community.
Cocktails & Cars – Week 4!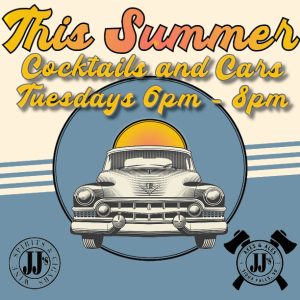 This weekly event is going to continue to grow!  Tom Watson will be providing the entertainment from 6:00pm – 8:00pm. Cars are welcome to start assembling in the NORTH parking lot after 5:00pm and stay as long as you want! So what do you do while here?
Walk around and check out the cars while enjoying food and a beverage from JJ's Bar! We will be offering Buy One Get One HALF OFF tap beers and signature cocktails this week. Plus we will be offering $2 off pizzas and Pretzel Bites & Cheese.
Stop in and throw axes at JJ's Axes & Ales 10 throws for $10, or throw some darts, or shoot some pool!
PLEASE NOTE: ALL adult beverages consumed in JJ's parking lot MUST BE PURCHASED FROM JJ'S BAR. Meaning, you cannot buy a 6-Pack or any other package from our retail store (or any other store) and drink it in our parking lot. If this happens, you will be asked to leave. Also, no outside food is allowed. If you are hungry, we have an awesome kitchen and great menu for you to order from and the kitchen is now open until 9:00pm! Please don't be that guy and cause an uncomfortable conversation, as that conservation will take place with me, and I am not good at uncomfortable conversations. ALSO – Kids are welcome to join you to check out the cars, but are NOT ALLOWED in JJ's Bar or on the patio except to use the restroom, so please plan accordingly.
That's it for today. We look forward to seeing you. Stop in and shop, have a bite to eat, or sip a cocktail on our patio. Eat a dessert, drink some wine. Throw some axes, shoot some pool. Take your mind off whatever is making you a bit more anxious today than yesterday. We are here for you.
Tom